The remains of the late Lead Camera Technician of The Multimedia Group, Modestus Eloame Zame was laid to rest today June 9, 2023.
The somber burial service took place at the Transitions Funeral Home at Haatso in Accra. The event began at 10:30 am.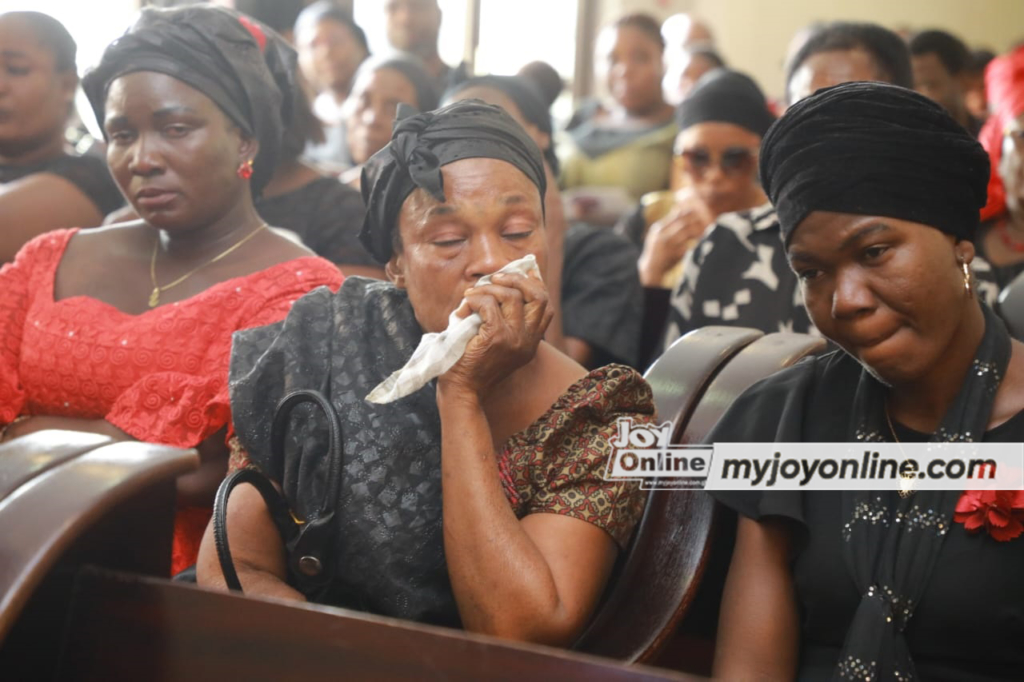 Clad in black, the family members, staff and team members of the company and close friends filed past the remains to bid their farewell.
Pacus, as he was affectionately called, left behind a wife and three children.
His mortal remains were interred in a private ceremony after many who gathered at his funeral struggled to come to terms with their loss.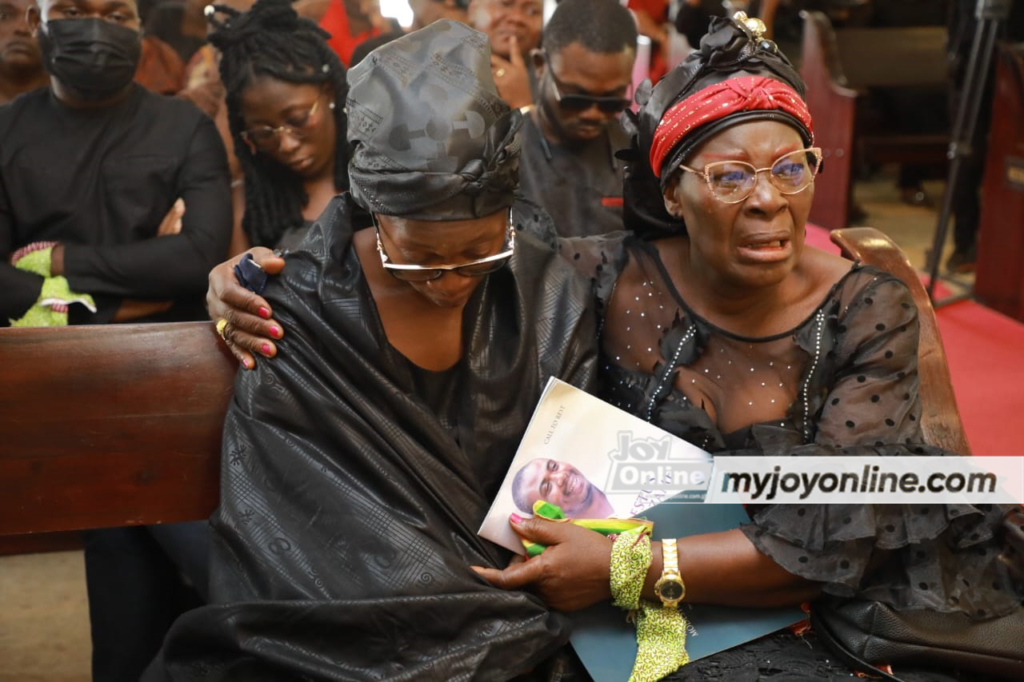 His Thanksgiving service will be held on Sunday, June 11 at Adonai Revival Church, Ghana – Pantang Borla Road at 7:00 am.
Tributes
In a tribute read by Raymond Larbi, with the Human Resource Department on behalf of The Multimedia Group acknowledged Pacus as a team leader who exhibited care for his people.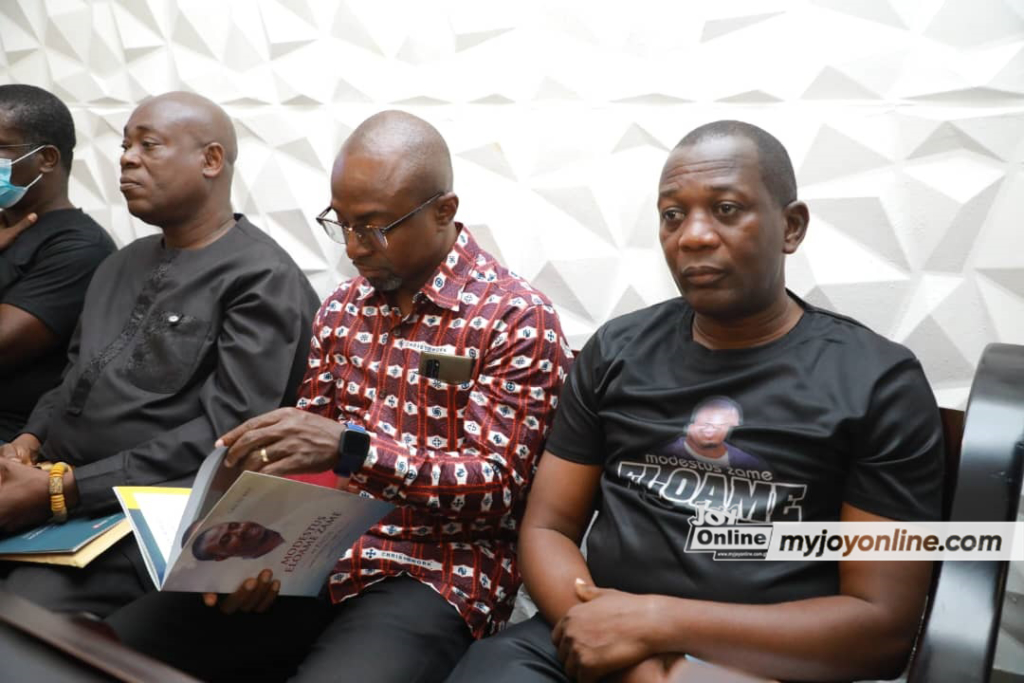 "We never thought our brother and colleague, armed with beautiful plans for the years ahead, would lose his life in his prime. Modestus, we have asked ourselves many questions but we know that in death, you would not want us to focus on the sadness and sorrows your demise has brought upon us and so we will stop asking questions which will only worsen our pain," Raymond said.
"Though death is a daily reality of our life here on earth, it never crossed our minds that we would be standing here so soon to pay our last respects to the mortal remains of the modest and gentle giant of a gentleman, Modestus."
The widow, Lordina Dzifa Zame in a touching tribute said Modestus was a good husband and loving father who had good plans for the family but could not unveil it as his time on earth had come to an end.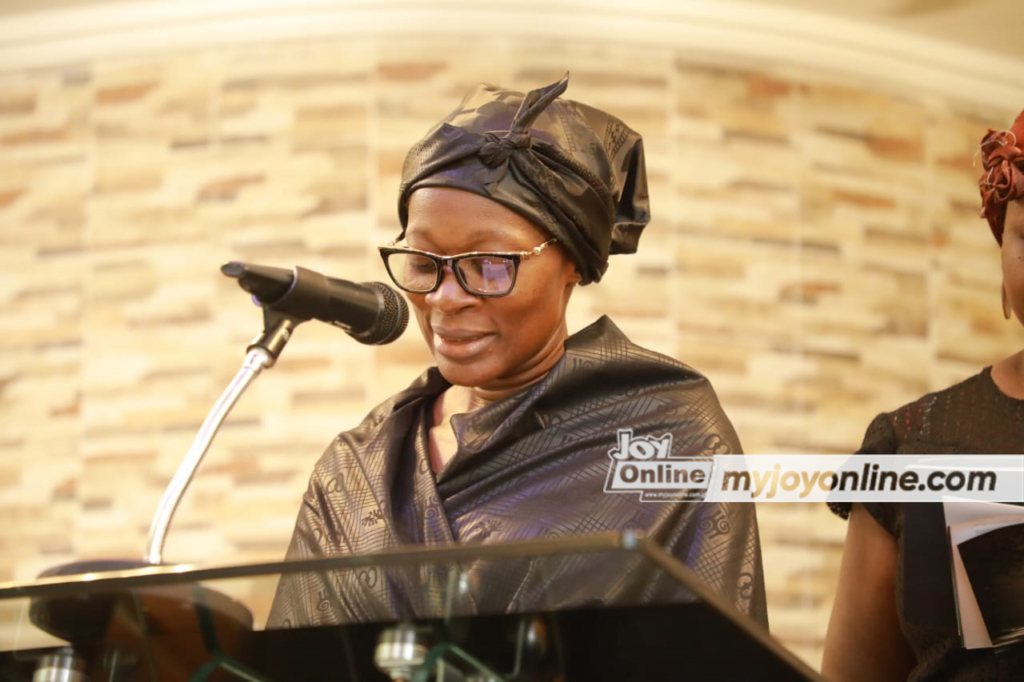 "It is very hard for me to accept the fact that my Modestus is no longer with us, especially when you had to go suddenly and so shocking at the prime of your life and most especially when it seems like an irreplaceable part of the family is gone. MLV, Mawunyo, our last daughter keeps asking of you. What do I tell her? Ohhh! Modestus!
"It was so heartbreaking seeing you motionless on that fateful day, April 13, 2023. I called out to you. I knew you heard me, but you didn't respond. You gave up your soul after a gentle fight for survival."
In another tribute, Modestus' mother expressed enormous sorrow for the loss of her son. Madam Comfort Gablah described her son as a modest and kind man as his name reflects.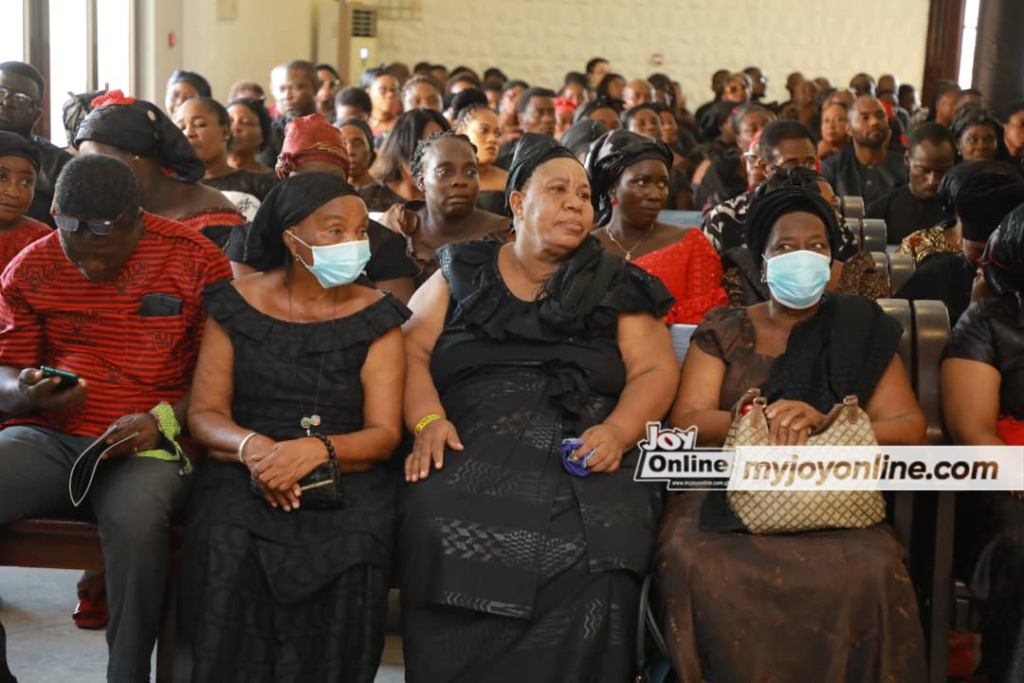 "You had this incredible gift of making everyone you met so comfortable. Everyone you met had a story to tell about how likable, amusing, and helpful you were. You were truly a help and a gift to many. You lived a lifestyle depicting the meaning of your name Modestus, which means "modest and humble." Your middle name Eloame, which means "He (God) loves people," is evident here as we have gathered to celebrate your life.
"I was proud of you when you were my young boy, proud of you when you were a teenager, and most proud of the man you became. I thank God for the time He gave me to be your mother. I am glad you lived a life so touching, loving, and modest."
The children also in a heartfelt message to their father said "We have missed you, Daddy. We have missed the good times we shared together despite your busy schedule. We have missed riding with you, we've missed driving with you to the pork khebab stand.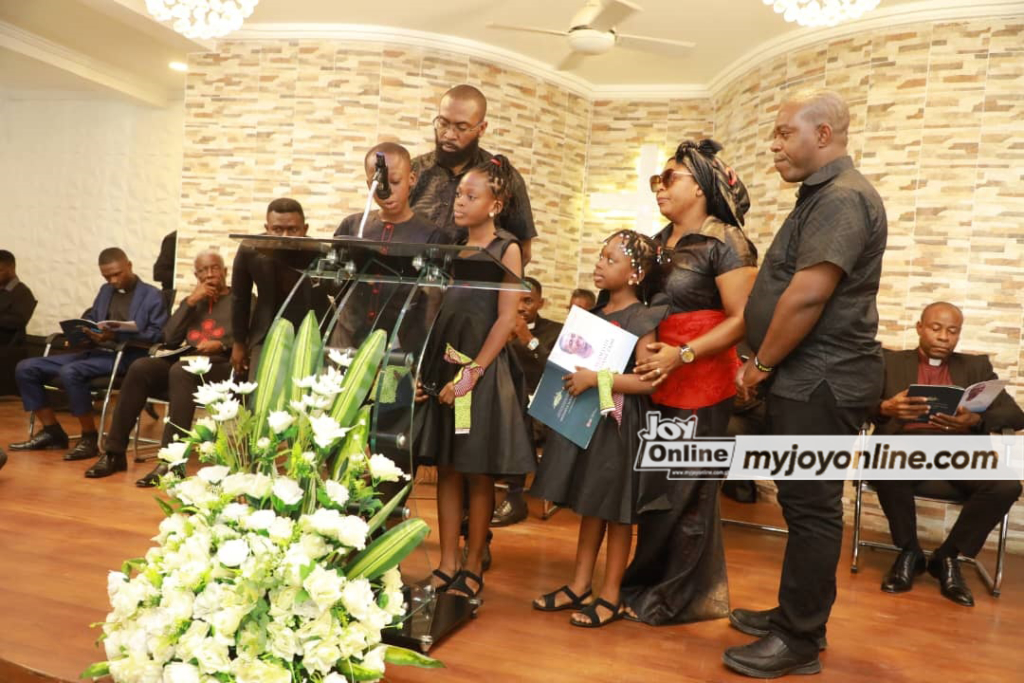 "You promised to take us to the garden to celebrate my birthday this month. What happens to that promise? It is hard to believe you won't be around on my 11th birthday and the many birthdays to come. You were the best dad ever and would continue to be the best," they read.
"Daddy, daddy, daddy, it is so heartbreaking we are not going to see you again. We take consolation in the belief that those who die in Christ shall rise again; for the earth is only a transition place."
Biography of Modestus Zame
Modestus Eloame Zame was born on October 15, 1979, to Dr. Martin Yao Zame and Madam Comfort Gablah. He was the third child among four siblings. Modestus is survived by his wife, Mrs. Lordina Dzifa Zame, and their three wonderful children, Mawulikplim Yao Zame, Mawuena Ablah Zame, and Mawunyo Aku Zame.
Modestus began his primary education at Madina Estate Primary School in Madina, Accra, and completed his Junior Secondary School (JSS) education at Haatso Calvary Presby Basic School in Haatso, Accra.
He attended Keta Senior High Technical School (Ketasco), formerly Keta Secondary School in the Volta Region, from 1997 to 1999. Based on Modestus's Dad recognition of his son's drive and passion for the outdoors and urging him to pursue a career in Photography – as a means of capturing the essence of his environment and telling stories, Modestus pursued and obtained an Advanced Photography Certification from Tema Technical Institute in 2003, in Tema.
He then continued to obtain a Bachelor of Fine Arts Degree in Motion Picture Photography in 2008 from the National Film and Television Institute (NAFTI) in Accra. Later in his career, he also received various forms of training in Photography from DW Akademie here in Ghana and also in Germany. Modestus, until his passing (on April 13, 2023), was the Lead Camera Technician for Multimedia Group Limited, Accra, where he had worked since 2008.
In this role, Modestus demonstrated exceptional leadership skills, effectively managing teams and driving them toward achieving company goals. His ability to inspire and motivate others, combined with his strong analytical and strategic thinking, led to the successful execution of numerous projects.
In his strides to do more professionally, Modestus collaborated on several commercial projects with film agencies, multimedia networks, and corporate entities, including DW TV (based in Germany), Vox Africa (in the UK), Associate Press (in the US), Business Insider (an American online media company), France 24 (a French state-owned international news television network based in Paris), and corporate institutions (including the Korea International Cooperation Agency (KOICA) based in Ghana).
In his bid to give back to society, to inspire, motivate, and help upcoming and young photographers in Ghana, Modestus started the Modest Multimedia Institute in 2017. The institute has since trained and equipped about 70 people in Photography, videography, and video editing. Modestus is not only remembered for his professional accomplishments but also for his heart of service to society.
He volunteered with the United Nations Youth – Ghana and was appointed in 2019 as a United Nations Youth – Ghana Coordinator for the Volta Region to promote UN Security Council Resolution 2250, which seeks recognition and empowerment of youths' efforts in peacebuilding. Modestus was admired for his personal attributes and impact on others.
He had a charismatic and pleasant personality and excellent people skills, enabling him to foster strong relationships with his colleagues, teammates, clients, and others. Beyond his professional achievements, Modestus was also an active member of the Adonai Revival Church located at Abokobi School Junction, overseeing the church's technical team and serving as a Deacon. Modestus will forever be affectionately remembered by many!
DISCLAIMER: The Views, Comments, Opinions, Contributions and Statements made by Readers and Contributors on this platform do not necessarily represent the views or policy of Multimedia Group Limited.