"Your sun will never set again and your moon will wane no more" (Isaiah 60:20a)
The shocking sad news of the passing of Salome Franҫois, Founder and Executive Director of New Horizon Special School (NHSS) on September 28, 2022, cast a complete dark shadow over the otherwise beautiful skies of her family, the children of NHSS as well as the numerous admirers of hers both local and abroad.
I received the unfortunate news of Mrs Franҫois's demise very early on September 29 while on my way to Kumasi, with a very heavy heart. My whole five-hour journey was a sad one. 
I had come so close to Auntie Salo, as I affectionately called her, for a period of 25 years. A lady by all standards, charming in manners, intelligent, compassionate, quiet, respectful to all and always with a smile; you will simply love her for what she stood for in life – passion for people with intellectual disabilities.
For half a century, Mrs Salome Franҫois had always been there for the children in the special school she had set up with her all in 1972. She had been part of the lives of the children and they had been part of her life.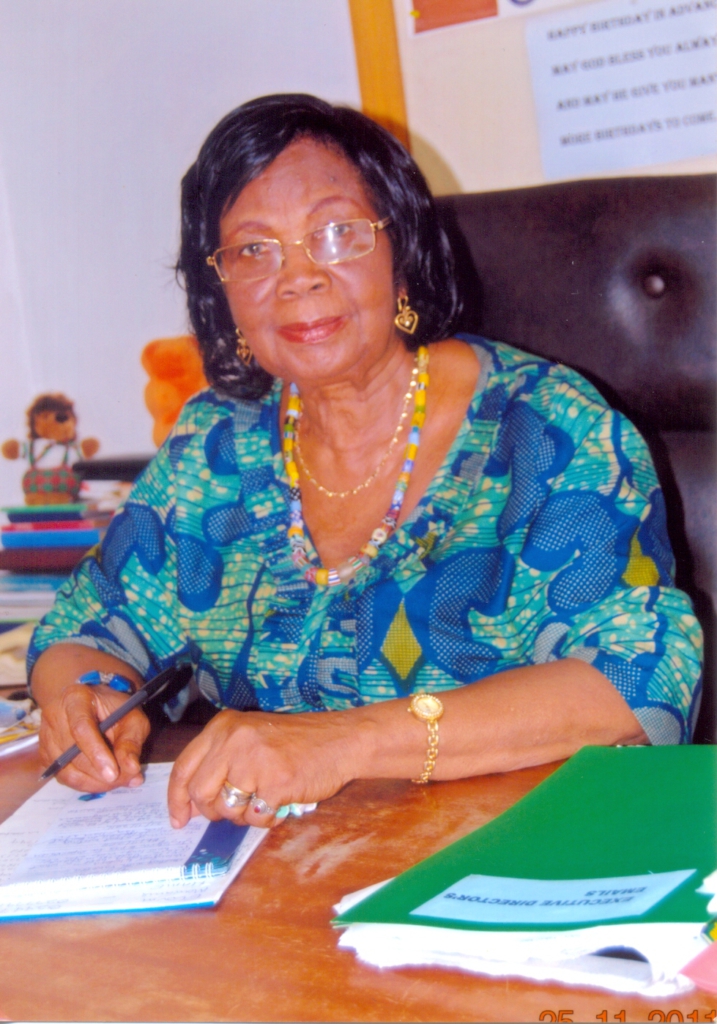 On this sad occasion, as one bids her farewell, one can imagine her looking down on the children from heaven with the love of the Lord and saying to them: "Your sun will never set again and your moon will wane no more; the Lord will be your everlasting light and your days of sorrow will end." (Isaiah 60:20).
The multiple award-winning Salome Franҫois had a passion, 50 years ago, to do a spectacular thing for her society by breaking the myth which abandoned children with intellectual disabilities. She set out to break the doom that shrouded the lives of these children with a school that was going to give them their freedom and acceptability through education and eventually a vocation.
After her education at Wesley Girls' High school in 1948, she went abroad and studied Radiography at the Royal Free Hospital, London, United Kingdom (UK). She returned to Ghana in 1954 and worked at Ghana's premier hospital, Korle Bu, as Senior Radiographer.
However, in 1963, she gave up her prestigious job as the first female senior Radiographer to take care of her intellectually disabled daughter, Helen. She had a passion to give her daughter the best in education, a passion which drove her to establish the first private school in Ghana to give formal education to a section of the society, who until then, had been victims of stigmatisation.
Mrs Franҫois never allowed her vision to go dim. She was determined to prove to the world how special children with intellectual disabilities were, a drive that sent her knocking at doors and getting into people's homes in Accra to look for and appeal to parents to allow their disabled children to benefit from an open kind of special education as opposed to committing them to a life of secrecy which confined them to the house.
It was a tough one as those parents she successfully approached were not willing to open up to the idea of schooling for their wards.
As committed as she was to her course, she did not allow her spirit to be dampened by the refusal of her parents. And so with just three children, including her own Helen, she started the first class in her home with the assistance of volunteer teachers from the Friends of American Women Society, a not-for-profit Association.
In 1972, with support from her husband, she set up the NHSS in Cantonments, Accra. The school which currently provides daycare, education as well as vocational opportunities, has on roll, over 100 pupils and students ranging between ages six and 63.
A selfless committed and dedicated woman who was determined to forgo a lucrative career in Radiography and change the status quo by demystifying deep-rooted traditional beliefs, Mrs Franҫois found joy and satisfaction in dedicating her life, resources and time to impacting and bettering the lives of people with special needs.
In all that, though she employed and paid salaries to teachers and other non-teaching staff of the school, she never took any salary for herself.
Mrs Franҫois has received numerous awards and public commendations both local and international for her selfless and dedicated service to humanity. 
Such awards and recognitions include MTN's Hall of Fame, H4P Lifetime Special Award, Millennium Excellence Award, Fidelity Bank's 2020 International Women's Day recognition, Commonwealth Enterprise and Investment Council's special recognition on the celebration of her 93rd birthday.
In 2019 when the then Prince of Wales, Prince Charles, now King Charles II of England, visited Ghana, the British High Commission hosted a reception for her and jointly cut her special birthday cake with him.
She will be laid to rest on November 25, 2022, after filing past at 8.30 am followed by a funeral service at 9.30 am, all at the Accra Ridge Church.
She will be sorely missed by her four biological children, Helen, Georgette, Sylvia and George as well as the hundreds of NHSS children past and present who had the honour of calling her "Mummy".
The staff and parents of NHSS and the numerous admirers home and abroad will miss her gentle yet firm and warm personality they once crossed paths with.
Wesley Girls' High School Old Girls Association, particularly the 1948 Year Group cannot wipe away their tears.
Mrs Franҫois, you have served your community and world so creditably. The Most High has found it fit to call you home to Himself. May your gentle soul rest peacefully from your toils here on earth until the Ressurection Day.
Amen.
DISCLAIMER: The Views, Comments, Opinions, Contributions and Statements made by Readers and Contributors on this platform do not necessarily represent the views or policy of Multimedia Group Limited.