President Donald Trump says it would be "fun" to run against former chat show doyenne Oprah Winfrey, amid calls for her to launch a White House bid.
"Yeah, I'll beat Oprah," Mr Trump told reporters during a meeting to discuss immigration reform with US senators.
His daughter Ivanka Trump joined a wave of praise for the media mogul's speech at Sunday's Golden Globe awards.
A Winfrey confidante says the actress is "intrigued" by the possibility of declaring a 2020 presidential campaign.
Her impassioned speech about the importance of tackling inequality drew plaudits from coast to coast.
Mr Trump said during his meeting on Tuesday that campaigning against Ms Winfrey would be "a lot of fun".
He added: "I did one of her last shows. Her last week. She had Donald Trump and my family."
"I like Oprah but I don't think she's going to run. I don't think she's going to run. I knew her very well," he added.
Two decades ago on CNN, Mr Trump said that if he was to ever run for president, he would choose Ms Winfrey as his running mate.
"Oprah. I love Oprah. Oprah would always be my first choice," he told interviewer Larry King in 1999.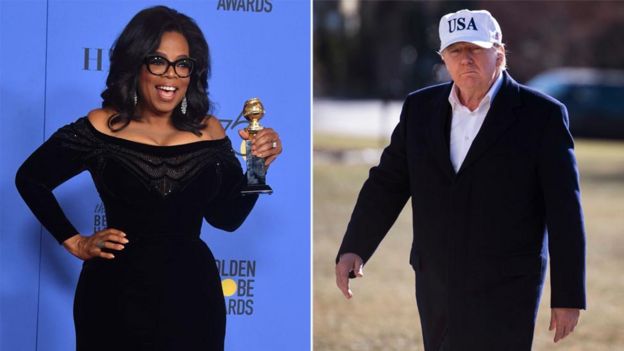 "If she'd do it, she'd be fantastic. I mean, she's popular, she's brilliant, she's a wonderful woman."
In 2015 - less than one week after announcing his candidacy - Mr Trump again suggested that Ms Winfrey would be his top pick for vice-president.
"I think Oprah would be great. I'd love to have Oprah," he said, adding "I think we'd win easily, actually."
Winfrey confidante Gayle King said earlier on Tuesday that the media mogul was not currently running for president.
"I do think she's intrigued by the idea, I do think that," Ms King told the CBS This Morning programme.
"I also know that after years of watching The Oprah (Winfrey) Show you always have the right to change your mind. I don't think at this point she's actually considering it."
The US first daughter, meanwhile, drew online brickbats on Monday after she tweeted her support for Ms Winfrey.
Critics said Ms Trump's support for the president was incompatible with her endorsement of Ms Winfrey's Time's Up campaign.
Mr Trump has been accused by multiple women of sexual harassment and assault, all of which he has denied.
Ivanka Trump, who describes herself as an adviser to the president on "job creation, economic empowerment, workforce development & entrepreneurship", has made women's issues one of her key policy areas since joining the White House.
In November, she told a Tokyo summit that sexual harassment of women should "never be tolerated".
Like Oprah Winfrey, Ms Trump has been subject of rumours about her potential presidential ambitions.
A book about the Trump administration - Fire and Fury: Inside the Trump White House - alleges Ms Trump and her husband Jared Kushner struck a deal that she might run for president in the future.
The boss's daughter
Anthony Zurcher, BBC News, Washington
She's a staffer in a conservative White House who sometimes embraces more moderate policies. She's married to a man with an administrative portfolio of remarkable breadth. She embraces feminist principles but works for a president who once boasted of making unwanted sexual advances.
She's also the boss' daughter.
Ivanka Trump has to walk a fine line in everything she does, as the national spotlight falls squarely on her for the foregoing reasons and more.
Needless to say, her tweet about an Oprah Winfrey speech - viewed not just as an emphatic condemnation of a sexual harassment culture and a presidential trial balloon, but also as a thinly veiled rebuke of Mr Trump's presidency - turned heads.
Ms Trump gave a well-received address at the Republican National Convention that sounded moderate - even a bit Democratic - but her agenda has fallen flat since inauguration. Recommendations on climate change and immigration have been disregarded, and her childcare proposal has languished.
Maybe that's why, if Fire and Fury's Michael Wolff is correct, Ms Trump harbours her own presidential ambitions. While she roams the halls of power now, she has left no mark on the nation. When she does draw attention, it's for the wrong reasons.
DISCLAIMER: The Views, Comments, Opinions, Contributions and Statements made by Readers and Contributors on this platform do not necessarily represent the views or policy of Multimedia Group Limited.