This was once a place people came to be helped and healed. But the intensive care unit at the Iskenderun Devlet Hastanesi hospital was turned to rubble when the earthquake hit over a week ago.
Rescue workers on the site say they believe 300 people were inside – staff, patients, visitors. They can't say how many survived.
The anger here is growing, not least because many here have seen a building report from the health ministry's website. In red it says "earthquake resistance test came back negative".
It was released in 2012. It's not known what – if any – remedial work was done, but locals at the site are discussing it and sharing it with one another.
Alican Kenar's grandmother and her brother were in the hospital when it collapsed. His grandmother's body was only found on Tuesday evening, more than a week after the quake struck.
"This is all the fault of a person or people, and the government, of course," Mr Kenar told us. "It's obvious, everyone can see that. It's not destiny, this is fault."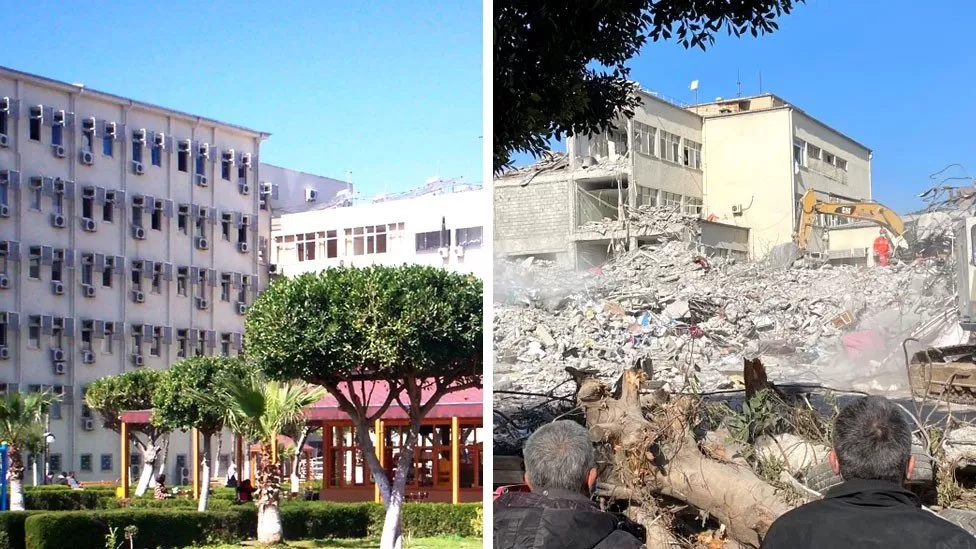 Other families still sit at the base of the site, covered in dust as the diggers sift through the material.
The families tell us they paid out of their own pockets for the machinery and fuel to find their missing.
Some say they have only seen volunteer search and rescue teams, rather than state-funded teams. Mr Kenar says he saw some officials in the first few days, but only a few in number and with no equipment.
"This building was untouched for two to three days," Mr Kenar says. "This reality is very disorganised. It could have been different had we been prepared. We should have learned lessons."
While we are at the site, the Turkish official search and rescue team, AFAD arrived, but were met with anger.
"We've been waiting here for 9 days," one woman shouted. The AFAD representatives left and had not returned by the time the BBC team left the site several hours later.
Recovery workers occasionally pause their work – once to pull out a handbag, and through the wallet to find any form of ID.
Then, there is a shout. They have found another body. He's identified by his hospital wrist band. A family runs forward with photos on their phones that the rescuers look at.
A nod. It is their father. His daughters scream "papa, papa", as his body is carried away in a black body bag.
DISCLAIMER: The Views, Comments, Opinions, Contributions and Statements made by Readers and Contributors on this platform do not necessarily represent the views or policy of Multimedia Group Limited.