The Ghana Police Service has revealed they shot and killed two suspected armed robbers on Saturday, September 25 during a shootout.
In a statement sighted by JoyNews, the police said the "deceased suspects were arrested when they attempted to rob motorists along the Koluedor-Sege-Accra main road".
During interrogation, the suspects had told the police about their weapon supplier Bukari Sallfu and proceeded to assist in retrieving the weapons and arrest other accomplices.
"The two deceased suspects led the crime-combat Police team to the purported hideout of their accomplices in a bush near Zenu. There, the Police came under fire as the suspects attempted to escape. This was a highly trained crime-combat team and the officers returned fire," the police wrote in their statement.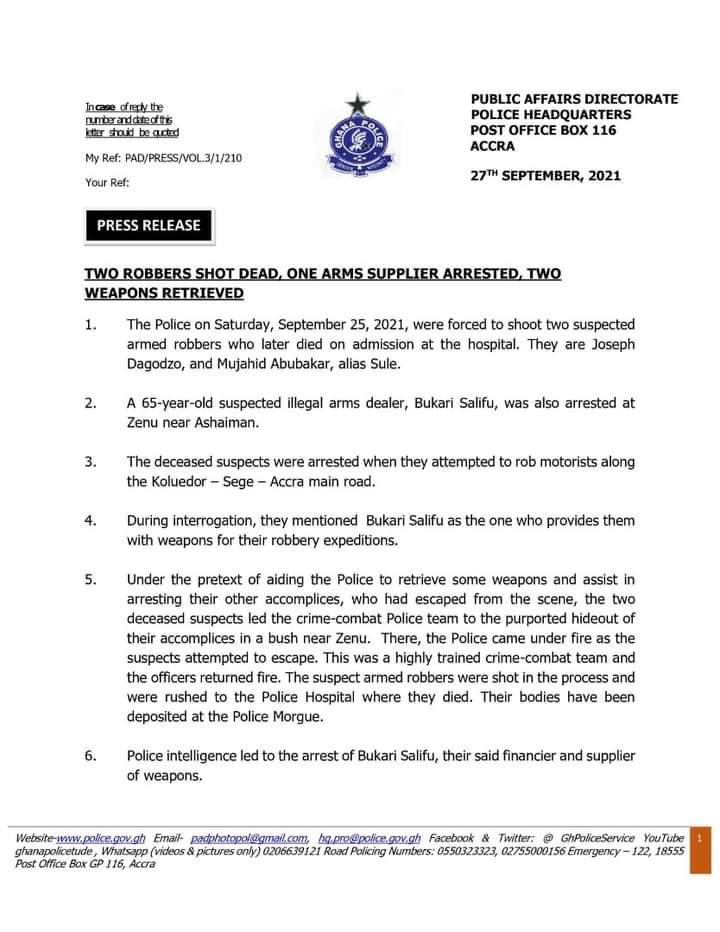 They stated that the suspected armed robbers who were shot during the shootout were rushed to the Police Hospital where they passed away.
Their bodies, Ghana Police Service added have been deposited at the Police Morgue.
Meanwhile, police intelligence led to the arrest of Bukari Salifu, a 65-year-old suspected illegal arms dealer whom the deceased named as their financier and supplier of weapons.