Globally, over two million women were diagnosed with breast cancer and 685 000 died in 2020.
A decade ago, about 2,000 women in Ghana were diagnosed with the cancer but 1,000 later lost their lives.
The dire nature of the situation has called for concerted effort in tackling breast cancer head on.
Therefore, the Akosombo branch of the Volta River Authority (VRA) Ladies Association has indicated its commitment to the fight against the cancer.
President of the association, Lady Vivian Adjarkuor Mantey was unhappy as some Ghanaians still attach spirituality and superstition to the disease.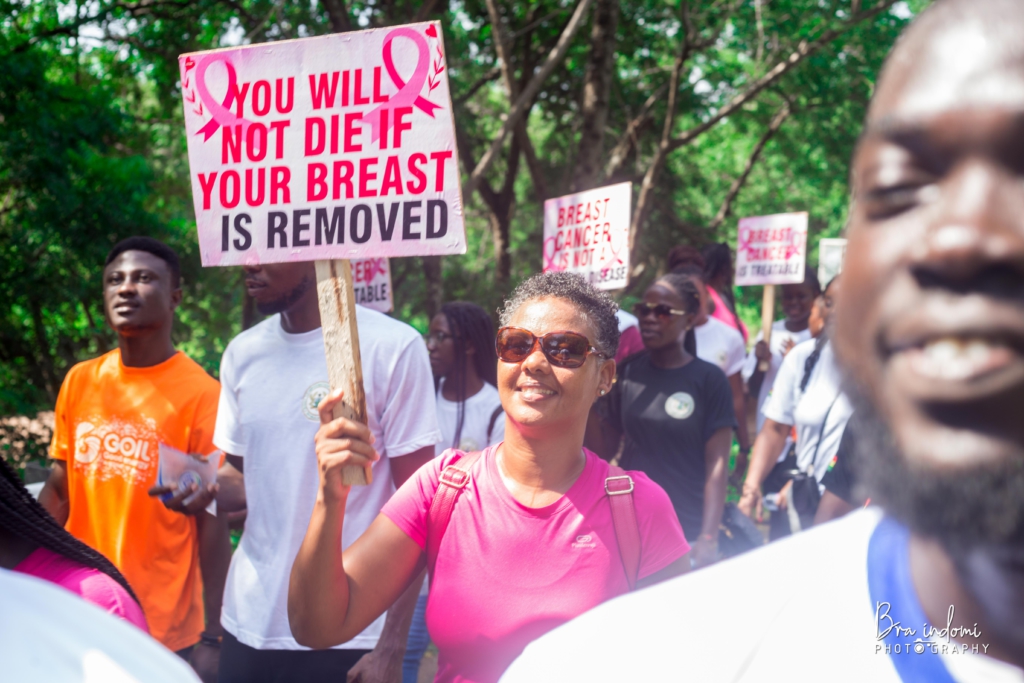 She disclosed this to Joy News at a breast cancer walk at Akosombo.
According to her, management of VRA has purchased mammogram for the hospital as this will go a long way in the breast cancer fight.
She added that the association members contribute towards a fund to help needy breast cancer patients within their locations to seek medical care aside educating them on the disease.
For Lady Vivian Mantey, the branch takes pride in roles in other areas such as helping females at Akwamuman Senior High School with sanitary pads, adopting two wards at the VRA hospital, but just to mention a few.
The Association, Right to Information Commission, Cover One Conquerors (American football Club in Ghana) and led by Ghana's Fitness Ambassador for Tourism, Beatrice Afful walked for over two hours last Saturday, October 22, 2022, as part of the awareness creation.
The walk which started at Akosombo main lorry terminal at about 7:30 am saw participants in the company of a brass band experiencing the green and hilly nature of the town and good weather without fatigue.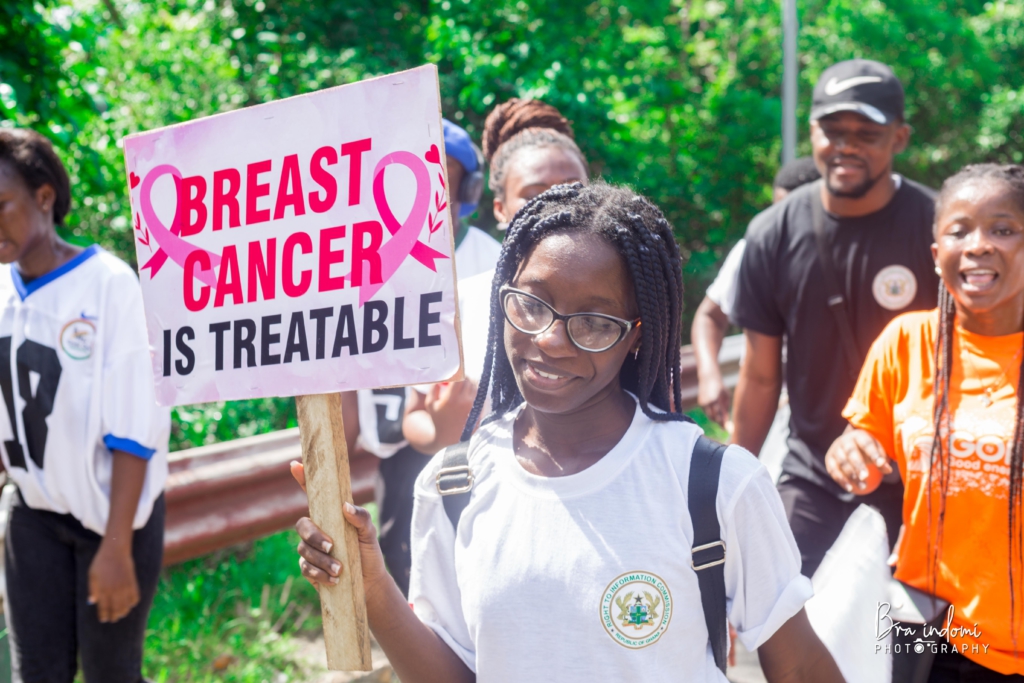 With pink or a touch of pink in their outfit, participants held placards which read 'You will not die if your breast is removed', 'Breast Cancer is treatable', ' Don't delay treatment', 'Breast Cancer is treatable, get screened', ' Breast cancer is not due to witchcraft', among others.
Physician Assistant at VRA Hospital at Akosombo and Organiser for the branch, Lady Belinda Narteh was optimistic two mammograms purchased by management; one at VRA hospital at Akosombo and other in Accra would make a huge difference in early detection of the disease to save lives.
She recounts how the association in its two decades of existence has helped women who would have otherwise died of breast cancer.
"This could be expanded if other sister bodies or organizations could focus on breast cancer as well," she urged.
Beyond October, VRA Ladies Association especially Akosombo branch undertakes other activities such as helping schools in deprived areas, building new schools, buying and sharing learning materials among other things.
"We equally help patients settle their medical bills, share love on Mother's Day with clients or patients, cooking competition and the list goes on. We can only promise of more exciting programmes in the days ahead," she continued.
She threw a challenge to other bodies to join the lifesaving mission especially in the area of breast cancer.
Lady Belinda Narteh also touched on making healthy living a lifestyle and how her branch would be reaching out to corporate bodies quarterly having walked for over two hours and enjoyed the breathtaking environment of Akosombo.
Ghana's Fitness Ambassador for Tourism, Beatrice Afful was excited to have joined her friends to have fun in creating awareness in the pink month.
"Walking is one of the best exercises one can always do due to its health benefits. Walk 30 minutes each morning as World Health Organization recommends or equally try three minutes of " ampe" before washing down if you do not have any knee issue," she advised.
Meanwhile, a 10-year-old student of Akosombo International School, Keila Nyamedor Narteh who joined her mum in the awareness creation encouraged women to give breast cancer the attention it deserves.
One after the other, she read placards with inscription 'Breast cancer is treatable', 'Breast cancer is not a spiritual disease' and others to drum home the need to intensify awareness creation and undergo examination for early detection.
The walk ended at VRA mess with aerobics, lunch, breast screening for both men and women and some corporate fun games.
Akosombo branch was grateful to its national president, Lady Stella Dey for her support.
DISCLAIMER: The Views, Comments, Opinions, Contributions and Statements made by Readers and Contributors on this platform do not necessarily represent the views or policy of Multimedia Group Limited.