A Canadian mining company, Xtra Gold Mining Limited, has reported that military personnel operating under the government's anti-galamsey campaign has destroyed 16 of its excavators and one bulldozer on its concessions in Atewa West District.
According to the mining company, despite being a legally registered large-scale leaseholder of five concessions and having received all necessary government permits to begin operation on their concessions, the military personnel went ahead to set their machines ablaze.
The company's press release stated that the military's actions are "a clear violation of the rule of law" as they did not follow the government's directive to destroy only equipment belonging to illegal miners.
They called for the military personnel in the anti-galamsey to be brought to order "for the good of Ghana and its citizens."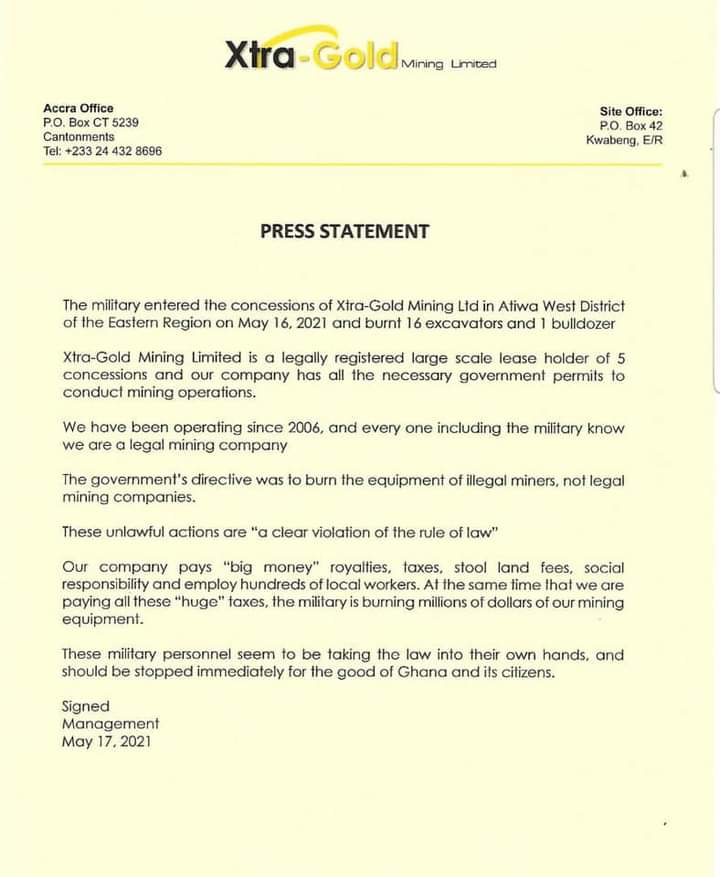 Meanwhile, the General Manager of the Company, who is also the New Patriotic Party's (NPP) Women's Organiser, Kate Gyamfua, has hinted of seeking redress in court "if need be".
She explained that the Company had done all that was necessary to prevent such an incident from happening. Thus the destruction of the equipment come as a surprise to her and the rest of the management.
"Following the declaration of 'Operation Halt', the company wrote to the Minister of Lands and Natural Resources informing him about their concessions.
The General Manager of Xtra-Gold Mining Limited said they added copies of the site map to the letter to the Minister and requested him (the Minister) to make the map and other relevant documents available to the Commander leading the operation.
"Ahead of that, the company had stopped operation for several days and was dealing with the necessary offices in charge of the operation. All the company's machines, including a bulldozer for reclamation (as required by the minerals and mining laws) had all been packed.
"Unfortunately, the response to the company's letter written to the Minister is the burning of the machines including the bulldozers for reclamation," she explained.
Xtra Gold has been operational in Ghana since 2006.