In Ghana, Wendy Shay is the name of a popular hiplife artiste. But in Chokor, it's the name of a prolific footballer. His real name is Ebenezer Cobbinah, 21 years and a recent High School leaver.
Two years ago, he quit playing football, the sport he had known and made a name for himself in since he was born.
"We no longer have a place to play football. Whenever we come to the beach to play, we have to spend more than one hour sweeping aside plastic waste from the sand before we can play. So I stopped," he said.
Large parts of Chorkor, the sprawling, a densely populated suburb of Accra along the coast, has no playing field and the open, sandy beach was the place young talents used to train.
Today, when they come, they have to use rakes and sometimes bare hands, to clear plastic water bottles, sachet rubbers- some buried deep in the sand- to get an empty space to play on.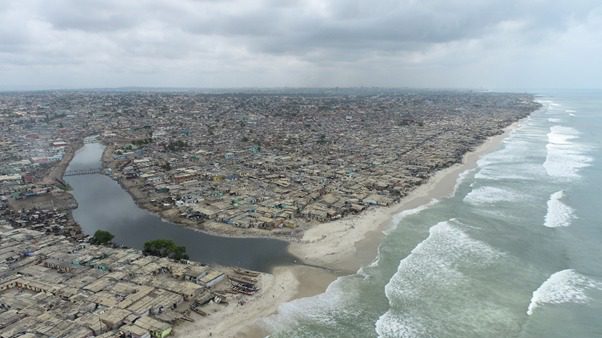 The sea waves bring back even more plastic waste in a matter of hours and so they have to do the same thing anytime they want to play.
"This is too much work and we are also not getting any support for the football that we are playing so I have to stop. It is not easy to make it out of here," said the Chorkor Wendy Shay.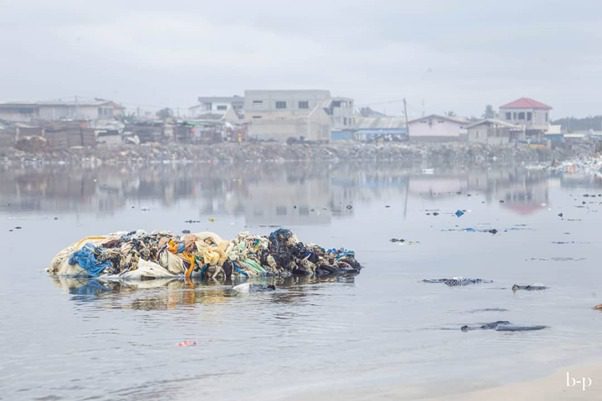 Ebenezer's problem is that the plastic dump at Chorkor is just the tip of the iceberg.
The Chemu lagoon is one of the few lagoons in Accra. It runs through major suburbs to the west of Accra like Dansoman, Odorkor, Santa-Maria and the rest. Now, like many of the other lagoons in Ghana, it is at the point of near-death.
The lagoon enters the sea at Chorkor, an already impoverished neighbourhood where residents already struggle with poor sanitation.
The choking up of the lagoon means the breeding of mosquitos, which leaves people with malaria, cholera from the contamination of food. When it rains, everything is then washed into the sea. The sea also brings everything back to the homes of people and the beach is in a mess.
"Those so-called rich communities are punishing Chorkor. They are creating a mess and we are the ones who are suffering," says Theophilus Quaye who is the Assembly Man for the area.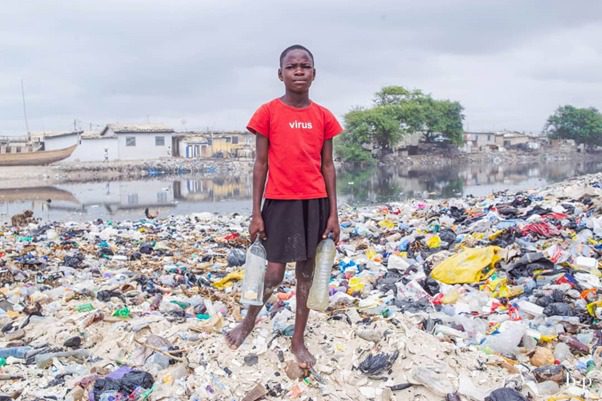 Theophilus, a resident who used to play football at the beach in his boyhood, is now in his thirties and as Assembly Man, working to stop the dumping of plastics.
"I can tell you on authority that more than 70 percent of the plastics you see on this beach are not from Chorkor. There are people in this community who haven't even drunk bottled water before and yet, look at all these waste," he said.
Chorkor's struggles with plastic waste in its lagoon is not news. Theophilus said he has raised the issue many times at the Accra Metropolitan Assembly (AMA) which administers the community, but no one has taken any decisive decisions.
He recently brought a team of volunteers who come in daily to pick the rubbers from the beach but believes that is not enough.
"We have appealed many times to the authorities but no one is minding us. When you come to Chorkor we do not even have a place where we can dump waste even if we decide to clean the beach ourselves," he lamented.
The story of the Chemu is only slice of the bigger picture for the Ghana's water bodies and natural habitat, according Dr Benjamin Botwe, a researcher at the University of Ghana who has been studying them for years.
"Lagoons are facing pollution and siltation, which is driving some into extinction. Major pollutants include plastics and sediments. Notable lagoons are the Chemu Lagoon and the Sakumo Lagoon," he revealed.
Time was when the Chemu was the beating heart of Chorkor's landscape. Fishermen used to paddle canoes on it and caught fishes like tilapia. Even young people in their late twenties speak fondly of days in their childhood when the water was clean enough so they could even swim in it.
Now, it is a pale shadow of its former self; the water itself has turned extremely dark with a terrible stench. The water can't flow unless it is driven by heavy rains and it looks choked by sediments from the many things that are deposited in it daily.
This has consequences for people's livelihoods; fishing, which once upon a time, was a mainstay of Chorkor's local economy has dwindled. On the beaches, many canoes are now parked increasing the joblessness in an area where unemployment is already rife.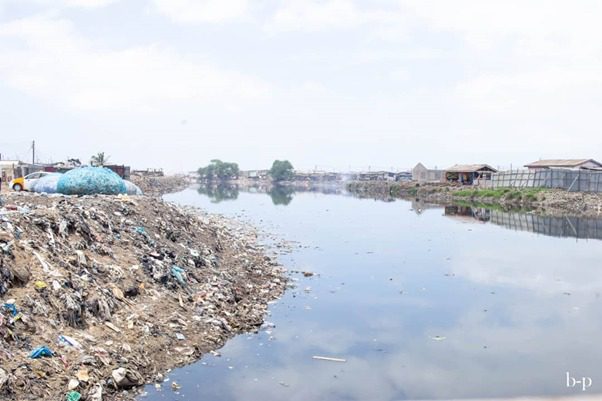 "All the fishermen have now left the job. Today they are fighting us over small jobs like masonry and the rest," said Ebenezer Cobbinah.
"The lagoon may go into extinction or there will be reduced biodiversity and low capacity of lagoons to provide flood protection and drainage," stated Dr Botwe.
The plastic dump at the Chorkor beach, aside the heavy toll it has had on the lives of the people, has also attracted many children- some as young as 10, who leave school to pick up bottles for sale.
One of them is Grace Nettey who is eleven years old. Every morning, she walks from nearby Mamprobi- another community- to come pick up bottles. She scavenges the refuse dump with bare hands and walks through the filth barefooted. She picks up a bag-full and sells them off for five Cedis sometimes.
"It is a mess. It is filthy and we want people to stop dumping in the lagoon. We don't have to be the ones picking their filth," she noted.
When I met her, she was with another boy just about her age. He is called Gideon Allottey. Gideon says he is in class two but hasn't been to school in 3 days. He spent that time picking bottles.
"The beach looks bad," he said.
According to Dr Botwe, anthropogenic activities (e.g. agriculture, discharge of effluents from domestic and industrial sources) coupled with over-population, unplanned and uncontrolled development in the watersheds are major threats faced by lagoons.
Some of the effects of these threats on the lagoon ecosystem and humans if these lagoons die.
If the lagoons die, residents and even migratory birds that visit the lagoons would avoid them. Coastal communities may become more prone to weather and oceanographic elements such as storm surges, floods and cyclones.
Lagoons are an important source of many edible fish and shellfish. Thus, they play a major role in the sustenance of coastal fisheries and support livelihoods.
Thus, the loss of lagoon could also result in food insecurity, loss of livelihoods and poverty as lagoons provide areas for recreation and the practice of traditional and artisanal fisheries
These are looming dangers that strike fear in the people of Chorkor and yet, many feel helpless.
"We have done everything we can. We want the country to listen to us," Theophilus, Chorkor's Assemblyman called for help.