There are moments in football that make you forget the bad stuff.
They make you forget the idiots who throw things at players, make you forget the players who roll around on the floor as if they had been wounded when, in fact, they have barely been touched.
Football creates moments that make you forget.
By the side of the pitch at Fortuna Arena, with West Ham's celebrations in full swing after beating Fiorentina 2-1 to win the Europa Conference League, manager David Moyes saw his dad.
He went straight over, gave him the firmest of hugs and placed round his neck the winners' medal he had been given by Uefa president Aleksander Ceferin.
David snr is 87. His son is 60. They both grinned from ear to ear. The joy on their faces was something to behold. A dad with his lad, someone who has proved himself to be successful in the most unforgiving of professions, finally, after 25 years, winning something.
"He was the first one I thought I should get it [the medal] round his neck," said Moyes. "I hope he is enjoying it."
No-one from West Ham will ever forget 7 June 2023. The club's first trophy in 43 years. Their first European trophy since 1965 and the days of Bobby Moore, Geoff Hurst and Martin Peters.
As captain Declan Rice said in the build-up to the game, beating Fiorentina in Prague would make them legends. That is the status they earned with Jarrod Bowen's last-minute goal. The moment that made people forget the bad stuff.
Nevertheless, when the euphoria has subsided and the joy is replaced by satisfaction, then will come the tricky bit.
How do you move forward from this?
'We dreamed of this'
In the first official statement released by the club after the final whistle, chairman David Sullivan referred back to that contentious decision to leave Upton Park, where Thursday's victory parade will leave from, for London Stadium.
"When we moved to the new ground, we dreamed of moments like this," he said.
"Our task now is to build on this triumph, and the double-winning feats of our Under-18 Academy team, ensuring that every time our men and women start a new season in West Ham United colours, they are competing for more success."
Fine words. Far harder to implement.
For a start, West Ham are going to lose their captain. It was typical of how Rice has given everything for the club that he should be fully involved in the post-match celebrations.
No-one could accuse him of holding back and saving himself for a big-money move in the summer. "I love this club, I love playing for this club," he said afterwards.
But West Ham know an exit is coming, even those thousands of fans who chanted 'one more year, Declan Rice' before, during and especially after the victory.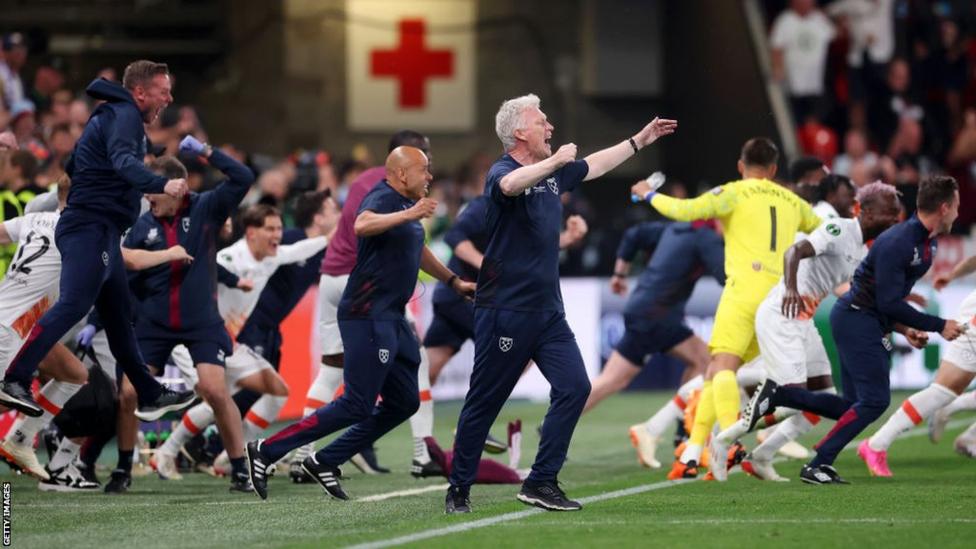 Moyes' own future has been under intense scrutiny at times this season. On three separate occasions, he appeared to be one defeat from the sack, only to get the result he needed to make it through another week.
The Scot made it clear what he wanted in a pre-match interview when he said he had no intention of going anywhere. It would be a particularly harsh call for Sullivan to tell Moyes his services are no longer required, given what he has just delivered.
It doesn't seem likely.
"When I think of the progress West Ham have made in the last three years, sixth, seventh, a European semi-final and now a European trophy, if I had said that would happen three years ago, you would have said 'he's lost his marbles'," said Moyes.
"I am really fortunate at this club. They have been incredibly supportive, when it could have been different."
The work that lies ahead
Yet the squad reshaping exercise Moyes instigated last summer after successive top-seven Premier League finishes did not work.
Gianluca Scamacca, the £30.5m Italian striker, didn't deliver on lofty expectations. Maxwel Cornet, who cost £17.5m, hardly played.
With Rice likely to leave, it means significant issues need to be addressed in key areas of the squad. That must be tackled before Moyes can start thinking about how to bring through into the first-team environment some of the youngsters who won the FA Youth Cup for the first time in 24 years.
All this has to be done at a time where what was the 'top six' has now become seven, with the addition of Newcastle. After their own top-seven finishes, West Ham's 'spot' has been taken by a similar sized club in Aston Villa, with similar ambitions and a coach with a history of winning significant trophies.
Brighton and Brentford's progress will be tested but their recruitment policies are solid and there is nothing to suggest significant regression is likely.
There is also an ownership issue at West Ham, with Czech businessman Daniel Kretinsky thought to have designs on taking a majority stake in the club. There is uncertainty following the deaths of co-chairman David Gold and his daughter Jacqueline since the turn of the year.
There will be a stadium one as well if UK Athletics admits it can no longer afford to have a base at London Stadium. The track and field governing body, which has suffered financial difficulties, has considered a settlement agreement to exit its long-term contract to use the stadium early.
Given Jarrod Bowen said "the party tonight will be crazy" in his post-match press conference, talk of the future can wait. As he quite rightly pointed out, "days like this don't come around often, you have to enjoy them".
Forty-three years is indeed a long time.
With a parade to come and then Pablo Fornals' wedding before the week is out, it may be a while before reality does dawn on this proud, and now elated, east London club.
But it will come. And dealing with it may not be straightforward.
DISCLAIMER: The Views, Comments, Opinions, Contributions and Statements made by Readers and Contributors on this platform do not necessarily represent the views or policy of Multimedia Group Limited.