While fans are still digesting the rationale behind Shatta Wale's recent antics, his on-and-off nemesis, Samini, is already contemplating his rival's fate as far as law enforcement is concerned.
One thing, however, is certain. The Shatta Movement President is alive, unhurt and well. But, apparently, he is living in fear for his life following a prophecy by a man of God that his life will be taken at gunpoint on October 18.
It is a day after the prophecy's manifestation date yet, the only thing dead about the self-styled Dancehall King is his location.
Today is 18th October ?? This man said this about Shatta Wale 🙀 pic.twitter.com/xUAw2dffj2

— ABOA BANKU😮‍💨🇬🇭🇳🇬 (TWO TERTY) (@Aboa_Banku1) October 18, 2021
For the whole of Monday night, social media users expressed concern after news broke the Shatta Wale had been shot and was receiving treatment.
This was posted by his Personal Assistant, Nana Dope, who failed to disclose the health facility where his boss had been admitted.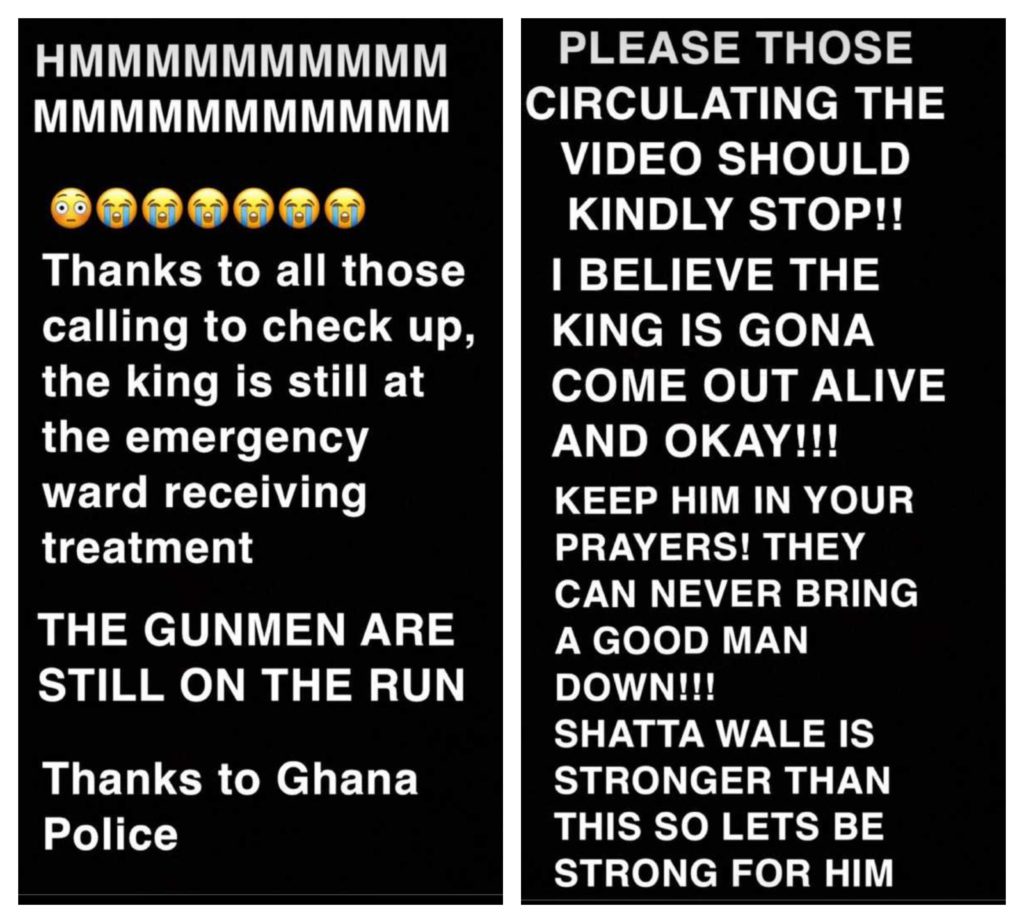 Already, the police had taken the matter seriously and issued an alert after combing Shatta Wale's home, questioning close associates to no avail.
The police continued to search for the dancehall artiste, including an appeal "to the public to provide any information concerning the whereabouts of Shatta Wale."
But it turned out to be a wild goose chase as the supposed victim was insincere about his alleged attack.
Another Facebook post on Tuesday morning says it was a deliberate attempt to get off the radar because of the prophecy.
"Yes, my life is in Danger and am on the run till this country shows me there are LAWS," Shatta Wale wrote.
According to him, the preacher's comment left him in a "mood of violence since no one in this country cares", as he blamed the police for being lackadaisical.
"This pastor said 18th October Shatta Wale will be shot, and you want to tell me you didn't see from your cybercrime department, nor did you hear or came across anything like that online?" he quizzed.
The post, which was accompanied by an apology, may do very little as far as a fellow dancehall artiste, Samini, is concerned.
According to him, the move, which many have described as a publicity stunt gone wrong, may not save Shatta Wale from the long arm of the law.
Chirman @shattawalegh go crack expensive joke but the current #igp is not laffin 😁 … now the matter chop hot and gangsters are on the run 😂😂😂 Accra is #burning 💨💨💨 .. ok I stop I stop 😂😂😂😂😂😂😂😂😂😂😂 Bandana ne gyimiiii di3 ooooo d333bida smh.

— SAMINI (@samini_dagaati) October 19, 2021
"Chairman @shattawalegh [Shatta Wale] go crack expensive joke, but the current #igp is not laffin," he tweeted on Tuesday.
The 'Linda' singer is confident that the security agencies, under the leadership of a new Inspector-General of Police, will not take the matter lightly, seeing that resources had been pushed into tracking a victim which turned out to be a hoax.
It is unclear when Shatta Wale will show up following the length it has travelled within this short time.
But if the police's expediency in the most recent case of faked attacks is anything to go by, a brush with the law may not be farfetched.
But for now, Samini continues to tease, "gangsters are on the run… Accra is burning."