A man has been arrested on suspicion of murder after a woman was killed and five injured in a knife attack in Russell Square, central London.
Police were called on Wednesday to reports of a man injuring people, including a woman in her 60s who died.
A 19-year-old man was arrested at 22:39 after a Taser was discharged by an officer. The Met said mental health was a "significant factor" in events.
London Mayor Sadiq Khan called for the public to remain "calm and vigilant".
Scotland Yard said two other women and three men received various injuries in the attack, which happened near the Imperial Hotel.
Two from the group remain in hospital while the other three people have since been discharged, the force added.
After receiving treatment in hospital the arrested man, who was detained in Bedford Place, is now in police custody in a south London police station.
The Met's assistant commissioner for specialist operations, Mark Rowley, said the force's homicide command was leading the investigation into the attack, with support from the counter-terrorism unit.
Jodie Parry, who witnessed the events unfold from her hotel window, said she saw a black man running down the street.
"I could hear the policeman screaming 'stop, don't move, don't go any further, just stay where you are', and he turned round and continued running," she said.
She added that the man was carrying a knife and had blood on his hands.
Paul Ó Geibheannaigh, who lives near to the square, said he had seen the body of the woman "on the pavement" and the area was surrounded by a "heavy armed police presence".
"I haven't seen a police presence like that in this area since 7/7," he said, referring to the terror attacks on the London transport system in July 2005.
Zuhair Awartani was trying to return to a hotel where he was staying when he saw a "dark-skinned man" in his "late 20s" being arrested.
He added: "We heard that there's been a stabbing going on. The streets were blocked and no-one was allowed through."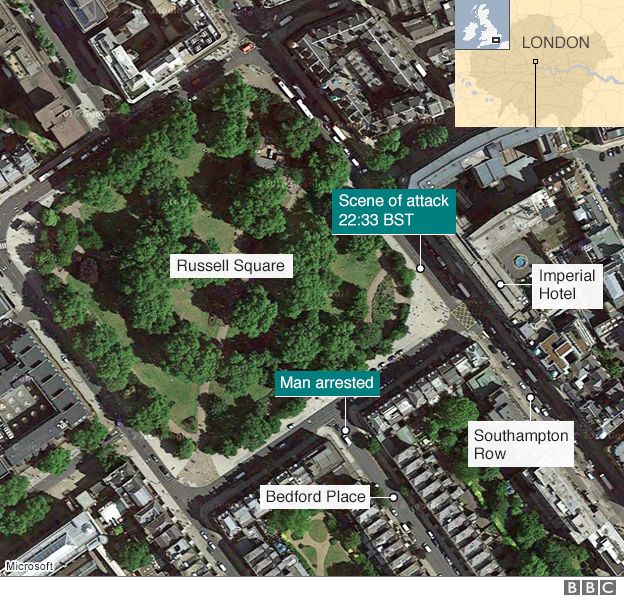 Speaking about a motive for the attack, Mr Rowley said: "Of course at this stage we should keep an open mind regarding motive and consequently terrorism as a motivation remains... one line of inquiry for us to explore."
Mr Rowley added that Londoners would see an increased police presence on the streets, including armed officers, to "provide reassurance and safety".
The Met's commissioner Sir Bernard Hogan-Howe said the force's "swift response undoubtedly helped to prevent more people from getting injured".
He added: "We will protect our capital and those who live, work and visit our city."
BBC News home affairs correspondent June Kelly said police would be looking at the man's background and his associates and whether he was known to them and health professionals.
Mr Khan has cut short his holiday and will hold a briefing at City Hall at 15:30 BST.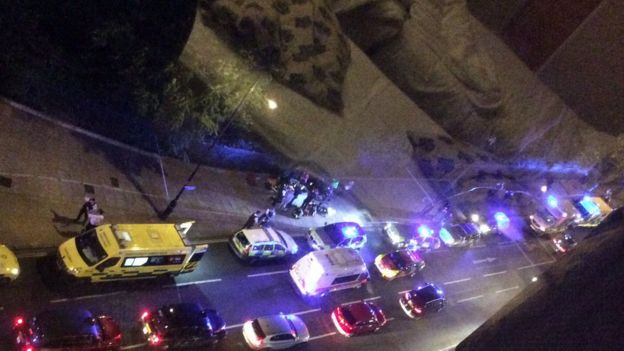 The mayor said his "heart goes out to the victims of the incident in Russell Square and their loved ones".
He said police were doing an "incredibly difficult job" and the safety of Londoners was his "number one priority".
The mayor added that police were "working extremely hard to investigate exactly what has happened and to keep the rest of us safe".
The Met said the attack was not linked with a separate stabbing in Wandsworth, south-west London, on Wednesday, in which one man was killed and two others injured.
The Canadian High Commission earlier said it was investigating reports a Canadian citizen had been injured in the attack, but has since said that no Canadians were involved.
Have your say
---
More

World

Headlines
---