Britain's decision to leave the EU has led to a "dramatic deterioration" in economic activity, not seen since the aftermath of the financial crisis.
Data from IHS Markit's Purchasing Manager's Index, or PMI, shows a fall to 47.7 in July, the lowest level since April in 2009. A reading below 50 indicates contraction.
Both manufacturing and service sectors saw a decline in output and orders.
However, exports picked up, driven by the weakening of the pound.
The report surveyed more than 650 services companies, from sectors including transport, business services, computing and restaurants.
It asked them: "Is the level of business activity at your company higher, the same or lower than one month ago?"
For manufacturers, it asked whether production had gone up or down.
The PMI is the first significant set of data measuring business reaction to the result of the UK referendum.
'Record slump'
Chris Williamson, chief economist at IHS Markit, said the downturn has been "most commonly attributed in one way or another to 'Brexit'."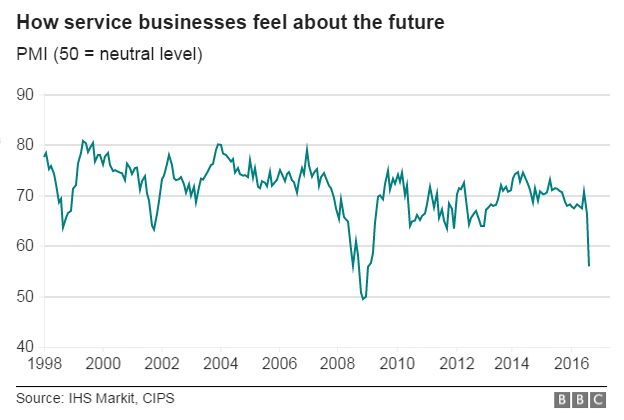 "Given the record slump in service sector business expectations, the suggestion is that there is further pain to come in the short-term at least."
Mr Williamson added that the economy could contract by 0.4% in the third quarter of this year, but that would depend on whether the current slump continued.
"The only other times we have seen this index fall to these low levels, was the global financial crisis in 2008/9, the bursting of the dot-com bubble, and the 1998 Asian financial crisis," he told the BBC.
"The difference, this time, is that it is entirely home-grown, which suggest the impact could be greater on the UK economy than before."
"This is exactly what most economists were saying would happen."
Share this story
Leave a comment