Zimbabwe's President Emmerson Mnangagwa has sworn in his first cabinet since coming into power following a military take over two weeks ago.
He however had to reshuffle the cabinet over the weekend after it became apparent that he had violated a constitutional threshold.
His initial appointments included eight non-parliamentarians, while the law provides only for five.
Chris Mutsvangwa, the war veterans leader, who organised protests calling for former President Robert Mugabe's resignation, was dropped as information minister and is now a special adviser to the president.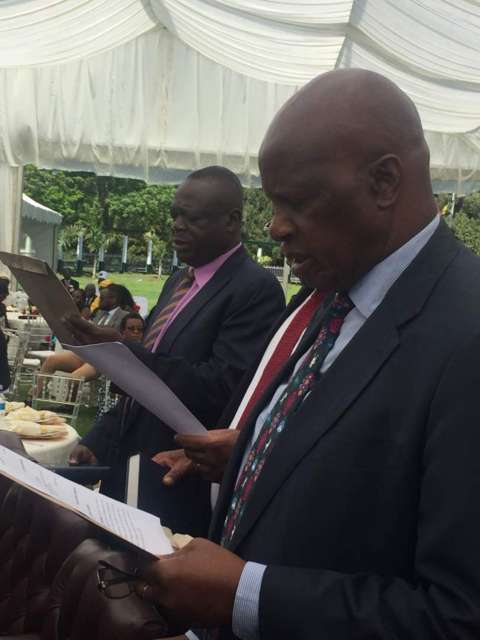 New Lands Minister, Perrance Shiri took his oath of office alongside Finance Minister, Patrick Chinamasa
There was uproar when instead of creating a cabinet that included opposition figures, Mr Mnangagwa appeared to reward the military for its role in bringing him to power.
Perrance Shiri, a military figure and the new lands minister, says there is still nothing wrong with soldiers being co-opted into government.
"When I was in the military I was under the ministry of defence which is part of government. And who says military people should not be politicians, I am a Zimbabwean and I have got a right to participate in the country's politics," he told journalists.
Another solider Maj Gen Sibusiso Moyo, who announced the military take over, is the new minister of foreign affairs and international trade.
He promised to focus on "economic diplomacy" and a "win-win" trade.
Have your say
---
More

World

Headlines
---