At least 19 people have been killed and dozens more wounded in a shooting at a college in Russian-annexed Crimea.
An 18-year-old student ran through the technical college in Kerch firing at fellow pupils before killing himself, Russian investigators say.
Officials and witnesses have also spoken of at least one blast caused by an unidentified explosive device.
Russia seized Crimea from Ukraine in 2014 in a move condemned by many Western powers.
The annexation marked the start of a simmering conflict involving Russian-backed rebels in eastern Ukraine that goes on to this day.
What happened at the college?
The alleged perpetrator, named Vladislav Roslyakov, is reported to have run from room to room as he fired, starting in the canteen. He then shot himself dead, Russia's investigative committee said.
Officials said initial examinations suggested all the victims died of gunshot wounds, but some reports speak of shrapnel injuries.
Soon after reports of a blast, investigators released a statement saying an explosive device filled with "metal objects" had detonated in the dining area.
Several witnesses maintain they heard one or more explosions.
Investigators later said they found a second device among the personal possessions of the gunman and that it had been disarmed.
BBC Russian has been speaking to witnesses, including Igor Zakharevsky, who was in the canteen when the gunman struck.
"I was at the epicentre of the first explosion, at the entrance, near the buffet," he said.
"I was in complete shock and one of my classmates started pulling me away. Then I heard several shots at intervals of two or three seconds. After a while there was another explosion."
National guard soldiers were deployed and schools and pre-schools in the city were evacuated.
A businessman near the college described hearing an explosion and seeing a large window shatter.
The incident was earlier described as a "terrorist act", but Russia's investigative committee has now reclassified it as "mass murder".
President Vladimir Putin said the attack was a "tragic event" and expressed condolences to the victims' relatives.
What do we know about the alleged gunman?
Details are still emerging and his precise motives remain unclear.
But there are suggestions the fourth-year student had developed a hostile attitude to the college.
Russia's RBC TV interviewed a friend who said Roslyakov "hated the technical school very much" and had vowed "revenge" on his teachers.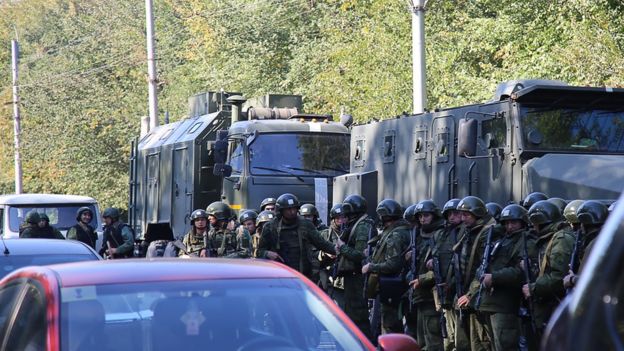 National guard soldiers were deployed
He had been in possession of a permit for hunting weapons since October, according to Crimea's ombudsman for the rights of the child, Irina Klyueva.
Classmates also say that he was very self-contained, hardly communicated with anyone, and had long ago stopped using social networks.
Who were the victims?
A local official said most of the victims were students of the college, which is a vocational school for 850 teenagers.
A major emergency response operation was launched as the victims were taken to hospitals.
At least 40 people were injured.
Four military planes were ready to evacuate the wounded and military hospital facilities were ready to accept victims if necessary, Russian Defence Minister Sergei Shoigu said.
What is the political situation in Crimea?
The peninsula has been a major area of dispute between Russia and Ukraine. Ukraine, and many other countries, have never recognised its annexation four years ago.
The Crimea issue and the presence of Russian-backed rebels in eastern Ukraine continue to strain relations.
Kerch is situated at the point where Russia built a bridge between the Crimea and Russia.
In a reminder of how poor relations are between Russia and Ukraine, the speaker of the Crimean parliament, Vladimir Konstantinov, suggested Kiev may have been behind the attack.
"The entire evil inflicted on the land of Crimea is coming from the official Ukrainian authorities", he said.
---