One hundred and fifty (150) persons have graduated from Sinapi Aba entrepreneurship program – the Youth Apprenticeship Program (YAP).
The beneficiaries went through a three-year training in various vocational and technical training by the financial institution for free.
Majority of them were selected from the Amasaman community while the others came from Ashaiman and Tema – all in the Greater Accra Region.
With support from the Sinapi Aba Savings and Loans, they chose the trade of their choice to be trained in – hairdressing, dress-making, auto-electrical, auto-mechanic, tile laying, catering, aluminium fabrication, and welding.
Programme Coordinator for YAP, Margaret Owusu Asare, said the move by the financial institution is to contribute to the reduction of unemployment in Ghana.
"The bank recognizes that many of the youth who couldn't continue their education loiter about in their communities. So we thought it wise to train them and equip them with the skills to start something on their own."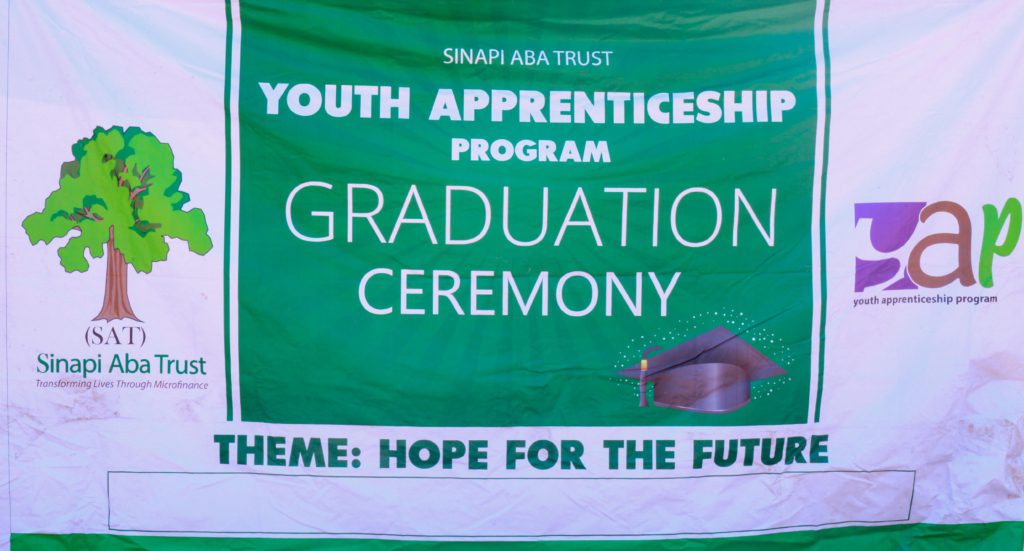 The YAP selection
Coordinators revealed that announcements were made in churches and through information centres in the selected communities.
Interested persons are then asked to write their names, get screened and be selected when they meet the requirement before starting the three-year training program.
Madam Owusu Asare said the trainees would have to pass the NVTI exams after the three years before they graduate.
For the 150 graduates of the Amasaman apprenticeship graduation, Sinapi Aba Savings and Loans spent not less than 5000 Ghana Cedis on each trainee.
The initiative is part of Sinapi Aba Savings and Loans economic empowerment program to support members in its operational area.
Sinapi Aba reaches out to transform the lives of vulnerable and disadvantaged youth in the society through the Youth Apprenticeship Programme (YAP).
It provides the youth with training and opportunities to acquire skills to generate income to become independent and responsible citizens in society.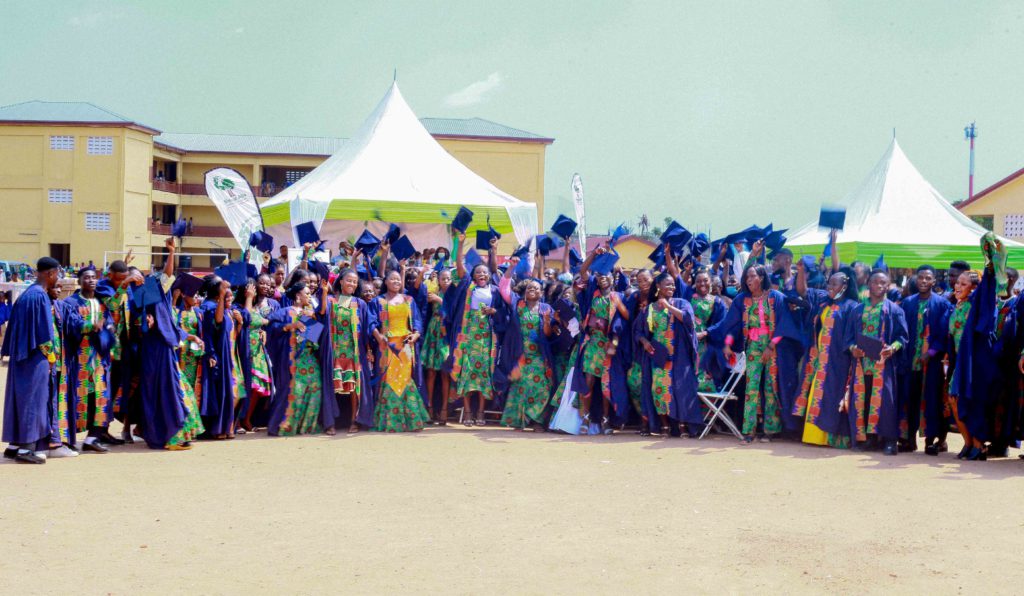 Since its inception in 2003, more than 1,000 youth across the country have received training in different vocational and technical skills.
The Amasaman training and graduation session had technical support from the Youth Employment Agency and the district assembly.
The graduates were also supported with start-up capital and equipment.
Chief Programs Office, Joyce Owusu Dabo, advised the graduates to put premium on their services so as to stand-out.
"…Why would a client choose your work over another. There is competition out there, so the difference you bring or the value-addition you add to your business is important.
"Let the finishing of your work be different. So that our clients will have value for their money and would want to come back," she urged.
Some of the outstanding apprentices were awarded during the graduation ceremony.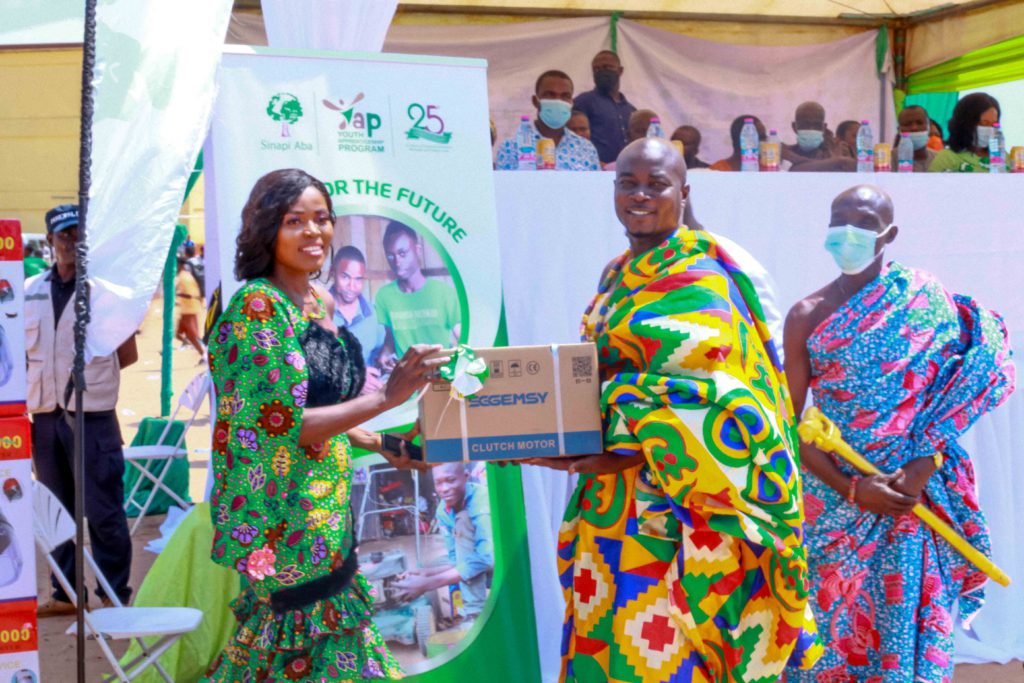 The beneficiaries
Speaking to JoyNews, a beneficiary, Seth Ofori who trained in dress-making said he now has hope in the future.
"It is very important to me because now I can proudly say I am able to sew. I want to thank Sinapi Aba because I have hope for the future now. I was a common painter who paints for 50 cedis but now I can proudly say I will be able to set up a business and work for myself."
Another beneficiary, Racheal Edinam also expressed gratitude.
"I was unemployed and I didn't have a source of income, I was depending on my parents for my daily livelihood. I am looking forward to serving my master a bit and then I start my own. I want to say big thank you to Sinapi Aba and other sponsors for this opportunity to excel."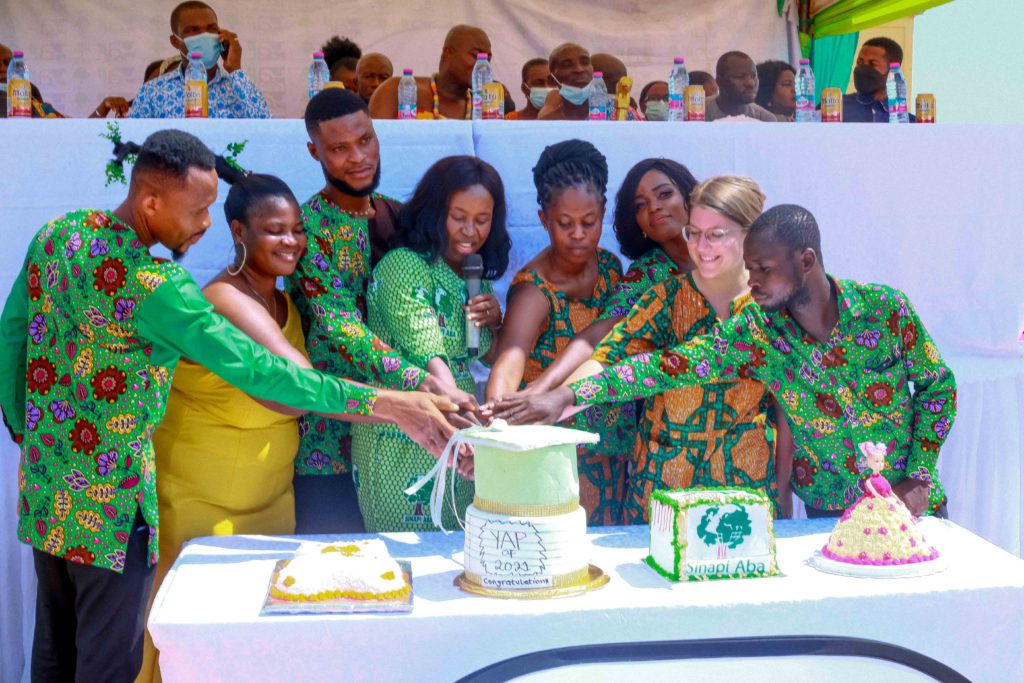 Madam Owusu Asare urged the trained apprentices who are now graduates to work for themselves and support their community, families and parents.
"Sinapi Aba Savings and Loans is still going on with the training, so anytime you hear the training and you are interested come along, it is free."
Meanwhile, the program coordinators are appealing to parents to support their children/wards when they take interest in such entrepreneurship programs.
"Parents should help us when we are training their children".
DISCLAIMER: The Views, Comments, Opinions, Contributions and Statements made by Readers and Contributors on this platform do not necessarily represent the views or policy of Multimedia Group Limited.