Two persons have reportedly been injured in a multiple-vehicle accident at Okponglo on the Legon-Madina road.
The incident is said to have occurred on Tuesday night.
This was after a tipper truck from Madina hit a Kia Rio saloon car that ran into a Kia Picanto and an Opel Hearse van that were travelling in the same direction.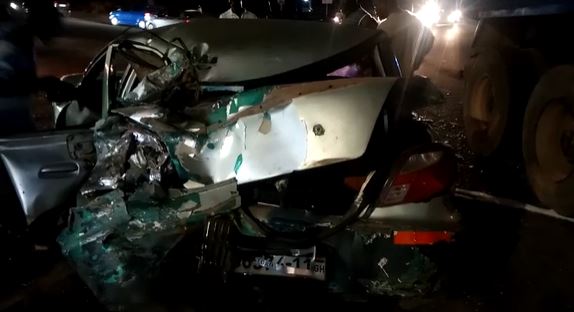 Eyewitnesses blamed the incident on the malfunctioning traffic lights at Okponglo near the Legon Sports Stadium.
Drivers of the Kia Rio and Picanto were immediately rushed to the Legon Hospital with the truck driver missing in action.
Personnel from the Legon Police station rushed to the scene to ensure the free flow of traffic.
This incident is the latest string of road crashes to be recorded in Ghana.
According to the Motor Transport and Traffic Directorate (MTTD), road accidents recorded in January 2022 alone were 1,271, with 232 deaths.
Also, 1,237 victims of these accidents sustained various degrees of injuries.
Providing details, MTTD indicated that the Greater Accra Region recorded the highest number of road crashes, with 463 crashes. Ashanti Region closely followed with 298 accidents.
The Eastern Region recorded 115 crashes.
The remaining regions recorded crashes below 90, with six as the least number of crashes recorded in Oti and the North East Regions.
According to the Directorate, out of the number of crashes recorded in January this year, 707 were commercial vehicles, whilst private vehicles recorded 972 incidents.