"We know that we cannot repeat such a bad result; we know that we need somehow to do better," were Mattia Binotto's words during Ferrari's 2021 season launch.
The season prior, Ferrari had posted their worst season in 40 years and there was a public inquest – not from Scuderia fans alone – about the depth of their sinking that season.
Charles Leclerc, who had lit up F2 two seasons earlier and made big on his potential in his debut season with F1, was roped in by the Prancing Horses as part of their revamp ahead of the 2021 season. Ferrari's 2020 failure was partly blamed on the 'uncompetitive' nature of their power unit.
Alongside others, the Ferrari power unit received a massive upgrade for 2021 and so huge was Ferrari's optimism for the season that Binotto noted that the new engine was what was going to propel Ferrari back to an F1 championship win.
But within the camp, there were split opinions, as highlighted by Charles Leclerc.
"The performance overall has just been better, and we have also been more consistent compared to last year. It shows we are working in the right direction. The road is still very long until we reach our objectives, which is to fight again for the title, but it has been a good step forward from last year and now we need to continue working in this direction," as quoted by GP fans.

Those were the Monegasque's words when quizzed about the team's season chances. In the long run, the racer was vindicated as Ferrari did not win a single race in 2021, but Binotto and Ferrari kept to their words and left the ghosts of 2020 behind.
Ferrari finished third on the constructor standings with 323 points, 181 points short of their tally in 2019 (504), but 192 more than 2020s season.
And in 2022, Ferrari have gone a step further and already seem to have replaced Mercedes in last season's duopoly, not only in terms of sheer pace but also in gaining an edge. Red Bull and Ferrari have so far proven to be the only two teams with a solution to the porpoising trouble which has plagued F1 teams this season.
Binotto has hinted at the desire of Ferrari to return to the top of the Formula 1 pile and here's why Leclerc, will prove critical to Ferrari's hopes.
Cold-killer mentality
Put Max Verstappen and Lewis Hamilton aside, and probably there is no other racer hungrier and more aggressive (even Hamilton is not aggressive) than Leclerc amongst current racers on the grid.
12 races into his Ferrari career, Leclerc, making his way from the back of the grid, motioned to the pit wall that he wanted to overtake 'slower' teammate, Sebastien Vettel, during the 2019 Bahrain GP.
Leclerc finished third in Bahrain that year, six seconds short of winner Hamilton. That was an indication of his potential but probably what struck observers more was he piping Hamilton and Verstappen to pole position in qualifying.
"I'm also an aggressive driver in the way I fight with others. I enjoy hard racing," Leclerc said to media outlet, 'The Race', after his 2022 Bahrain GP duel with Verstappen.
He harbors raw aggression quite comparable to that of Verstappen, and if there is any doubt, his daring and costly attempted overtake of Nico Hulkenburg in a tight corner during 2019s Monaco GP, should serve as testament.
Similar displays of raw aggression during the 2021 campaign by Verstappen – attempting overtakes which did not seem on, together with a controversial decision by the then-race director, Michael Masi, saw the Dutch racer beat Hamilton to the world title.
And in the manner 2022 seems to be shaping up – a head-to-head battle between Verstappen and Leclerc – Leclerc's hunger and aggressiveness could dish out Verstappen, a taste of his own medicine.
Leclerc, the 'more experienced' of two Ferrari drivers
Paired up with Carlos Sainz for a year now, the two combined to dig Ferrari from their 2020 mess and have been quality for the Scuderia race team.
"With five seasons already behind him, Carlos has proved to be very talented and has shown that he has the technical ability and the right attributes to make him an ideal fit with our family.
"We've embarked on a new cycle with the aim of getting back to the top in Formula 1. We believe that a driver pairing with the talent and personality of Charles and Carlos, the youngest in the past fifty years of the Scuderia, will be the best possible combination to help us reach our goals." Mattia Binotto said of the signing-on of Sainz.
The Spaniard placing fifth behind the Red Bull and Mercedes quartet, in his debut season with Ferrari, while Leclerc finishing seventh, justified the decision of Ferrari.
The iconic Italian team probably have the most balanced and dynamic driver partnership on the grid, with both Leclerc and Sainz capable of securing a podium finish or better still, a GP win, and as a result, Ferrari's desire to get back on top of the Formula 1 pyramid is enhanced. This was evident in 2021 when the Scuderia finished third in the constructors' title.
But to get right on top of the pile, Ferrari will need to win more GPs, instead of merely competing for a podium finish. And amongst their drivers, and without disrespect to Sainz, who had a very good junior season and secured promotion to Formula 1 after only a single season in F3, Leclerc seems the more likely to grab more GP wins for Ferrari.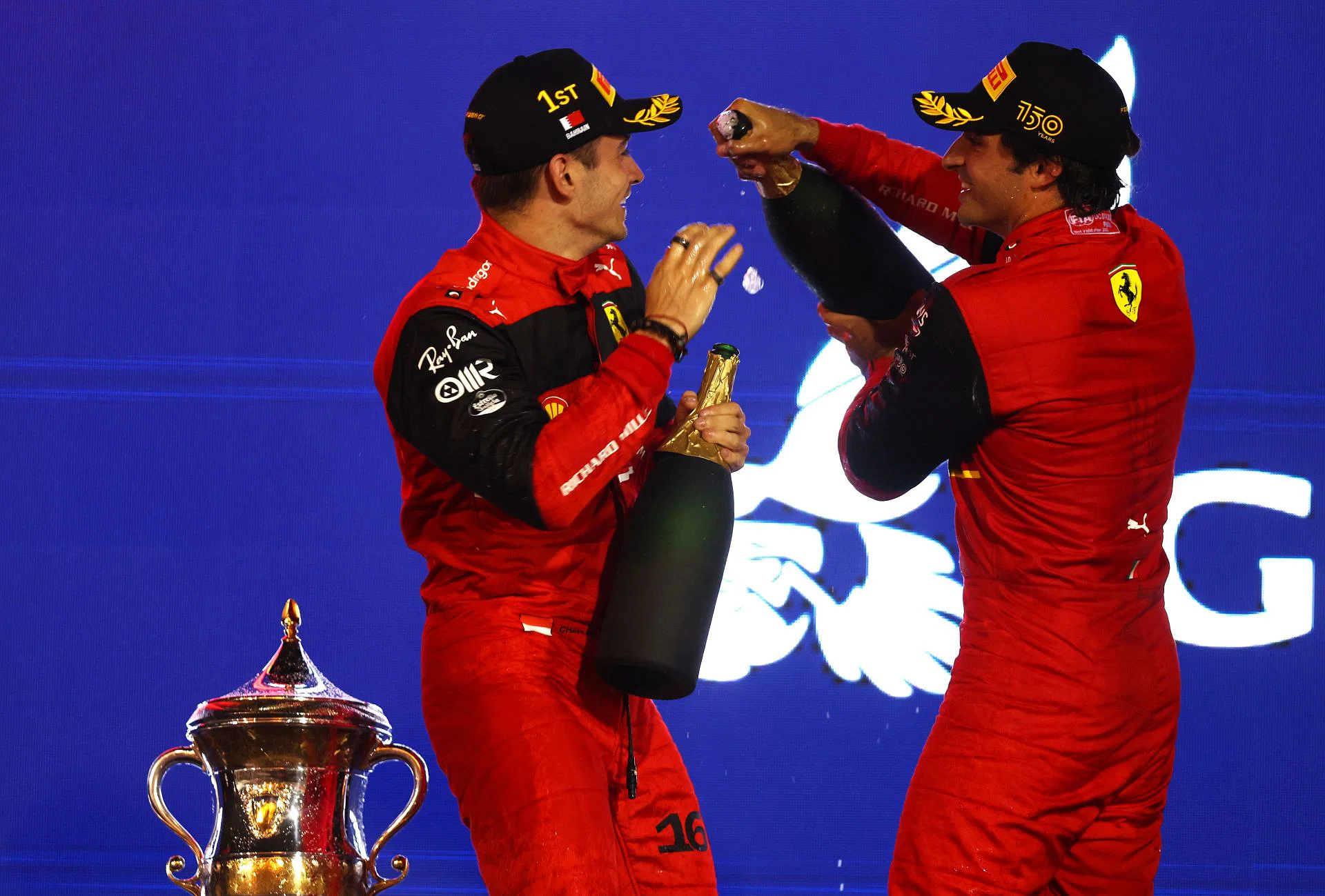 Sainz, a Red Bull Academy graduate, joined Formula 1 three seasons ahead of Leclerc and has chalked up more races in the process, but 'experience' in this subset does not refer only to the period of time in racing, as it also examines the number of race wins.
Sainz has competed in 60 more races than Leclerc, but it is the Monegasque who has won more races (4-0), with his first coming in 2019 at the Belgium GP. Also, the Monegasque has secured more pole positions (4) than Sainz and has had more podium finishes (16) than his Spanish teammate (8).
The script fits Leclerc
Ferrari have been without a drivers' title since 2007 and also failed at annexing a constructors' title after 2008. From that year, Mercedes upended their Italian competitors, whose hunger to get back to where the iconic name belongs is no secret. And it will be a very incredible story should a Ferrari academy graduate in Leclerc, return a world title to the franchise.
From dreaming of racing for the famous red cars to winning their first drivers' title after 13 years, will be a very much selling story.
"As a child, I watched the Grand Prix from a friend's balcony and I would get so excited when the red cars went past. That's where my love for Ferrari was born," Leclerc was recorded saying.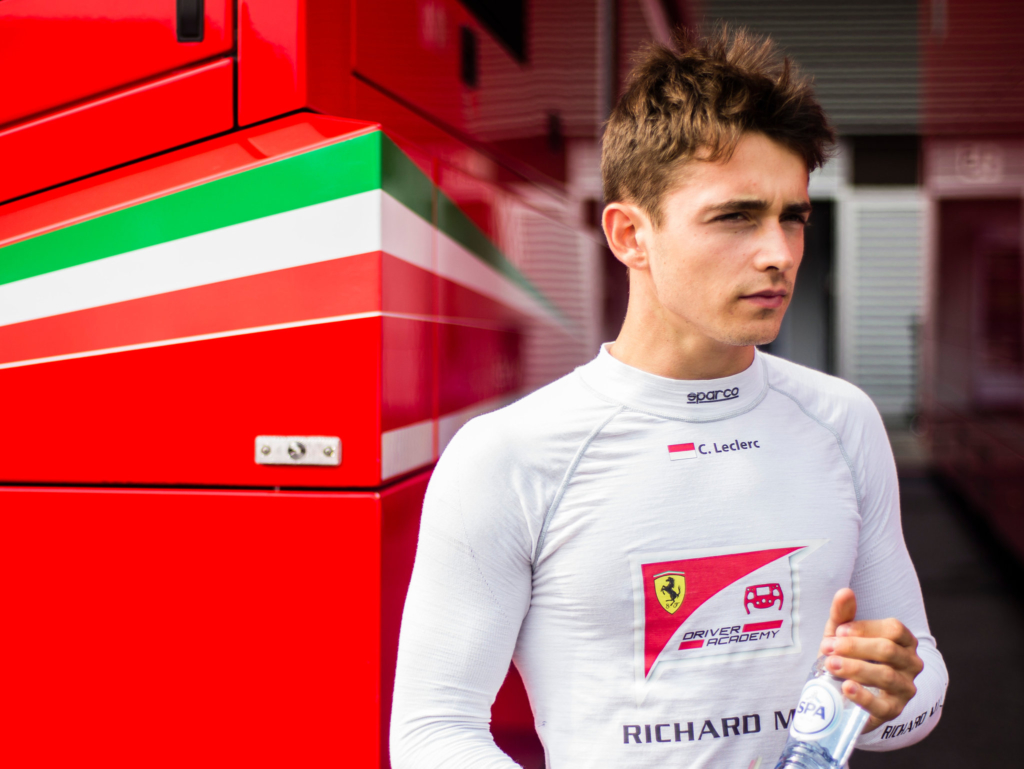 Plus Leclerc winning a championship is a tale many in F1 have been waiting for since the graduate moved from Sauber.
"He's a young man who will surprise everyone because he's already capable of winning in Formula 1," Binotto said of Leclerc.
What could stop Leclerc?
Irrespective of his qualities and 'a script' which might just work in his favour, there are some undersides that might just cut short the 24-year-old's quest, as well as Ferrari's.
As a young driver, there were certain mistakes Leclerc was definitely going to make. The 2020 Turkey GP, where Leclerc described final moments of the race as a 'shit' show, quickly jumps to mind.
Also in 2019, Leclerc blamed himself for a costly mistake that prevented him from challenging for P1 at the German GP after brilliant strategy from Ferrari. "I put everything in the bin" were the words of a much-disappointed Leclerc.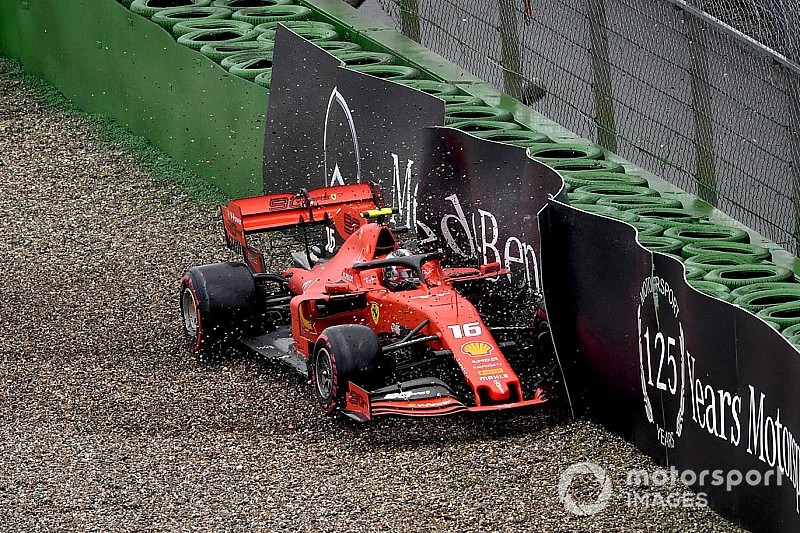 Leclerc cannot be blamed too much though, even the best of racers like Hamilton make mistakes. Hamilton skidding off while in P2 after forgetting to disable his 'magic' button at the 2021 Azerbaijan GP, is a prime example. The seven-time world champion could have overtaken Verstappen, who had a DNF, on the drivers' standings but instead, Hamilton ended up finishing outside the points zone.
However, dueling an individual with the quality and aggression of Verstappen means, the Monegasque cannot afford to make certain mistakes like he did at the Imola GP, and Hamilton can bear first testament as he lost out on an eighth world title by fine margins.
In Imola, Leclerc had to settle for P6 after sacrificing P3 for what he described as his own 'greediness'. Meanwhile, F1 commentator, Ben Edwards, described it to media outlet, 'Crash.net', as 'daft'.
Conclusion
Ferrari's F1-75 has so far proven to be a big step up to the SF21 and together with a new power unit Binotto has talked up so much, Ferrari seem to have a pace advantage over most of the other teams on the grid.
Ferrari started the season very strongly with a 1-2 in Bahrain, but Sainz has been the biggest casualty of misfortune for the Italian outfit with two DNFs in the last three races, despite the Imola DNF not exactly being his fault.
However, Ferrari will not be so comfortable with those races as they push to claim a constructors' title and are only 11 points ahead of Red Bull, with 19 more races to go. Last year, Sergio Perez was largely inconsistent for Red Bull and Ferrari may want to capitalize should it happen again this season.
But the Mexican has shown slight glimpses of improvement with three podium finishes in the season's first four races. As a result, Leclerc and Sainz will need to be more than perfect for the Scuderia to recapture a constructors' title.
Meanwhile, Leclerc, who is currently 27 points ahead in the drivers' standings, knows he has his work cut out for him if he is to deliver Ferrari's first drivers' title since Kimi Raikonnen in 2007.
DISCLAIMER: The Views, Comments, Opinions, Contributions and Statements made by Readers and Contributors on this platform do not necessarily represent the views or policy of Multimedia Group Limited.