Asafa Powell has been in Ghana only twice in the space of eight weeks, but the former Jamaican sprinter has already been able to decode Ghana's track and field plague.
During Powell's first visit to Ghana, he did not attempt to hide his dismay with the absence of running tracks in the country, indicating he was 'very, very disappointed'.
Some days later, he ended his visit to the country and departed, only after promising to return for a longer one in December 2023.
But after only a few days, the Jamaican was back in the country for Sports Equity Lab's four-day Max Velocity Speed Summit – targeted at improving the performance of young athletes.
So of course, the event was initially scheduled to be hosted on an athletics field, but the basketball court of the University of Ghana ended up playing host.
"That speaks a lot for itself," Powell said to me. "We are on a basketball court like you said and it's quite disappointing to know there are no facilities. In Jamaica – my track club – we train on the grass. We don't have the best facilities, but there are facilities in Jamaica that we can use if we choose but we just choose to use what we have at the club.
"We have a lot of facilities in Jamaica and so you can see we are eager to produce the athletes. So it's quite disappointing and a lot can be done [in Ghana]."
So in a space of less than two months – Asafa Powell thrice expressed disappointment in the 'Gateway to Africa' – and in a country where a proverb of 'first impressions' sells so well, that's quite some first impression.
Honestly though, the former world record holder has a better memory of his 'first' contact with the country. Casting back his sights to his blistering running days, one name stands out for the man who ran more sub 10s in 100m than anyone else.
And no, it is not longtime rival – Tyson Gay [it's a pretty good guess though], but instead former Ghana sprinter Aziz Zakari, who Powell described as one of those he did not want to face at any track meet.
"I remember competing against Aziz Zakari – he was one of those athletes that whenever I went to the track meets and I heard he was there, I was like, 'man! this man is coming to pressure me'. He was one of those great sprinters."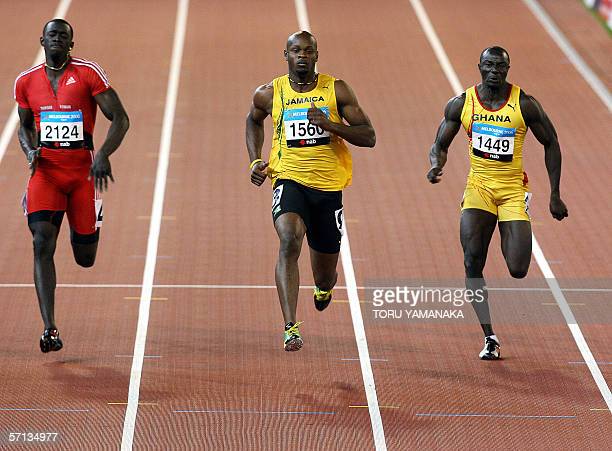 Well, that's pretty solid – and probably, Powell's sweet on-track memories of Ghana will not end with Zakari, as Ghana's fastest man, Benjamin Azamati, seems to have caught the eye of the Jamaican.
"He's very talented," was Powell's description of the 25-year-old, before also predicting he could win a medal at one of the global events. But before doing that, he made diagnoses of Ghana's ailing track and field environment.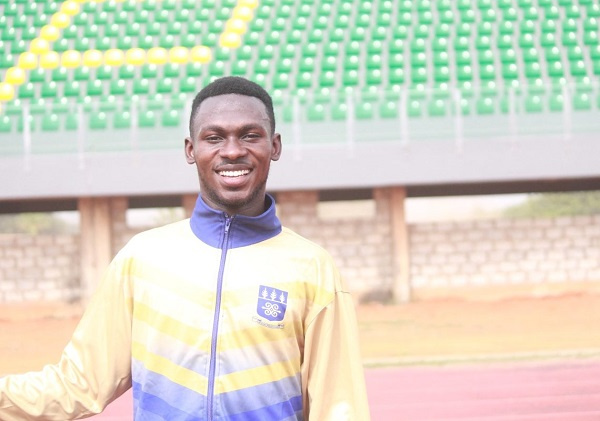 "I'm sure he[Azamati] was running when he was in Ghana, but he wasn't getting to that level and then he left for the USA, and all of a sudden, he's running fast. So you can imagine [what will happen] if you had the same coaching and attitude here in Ghana, you will be making lots of stars."
Stars?
The country has some modest track and field history with Leo Myles Mills' 9.97s leading Ghana's times in 100m before Azamati came in and broke it twice in a single year – to set it at 9.90 seconds.
The world's fastest time is Usain Bolt's 9.58 seconds.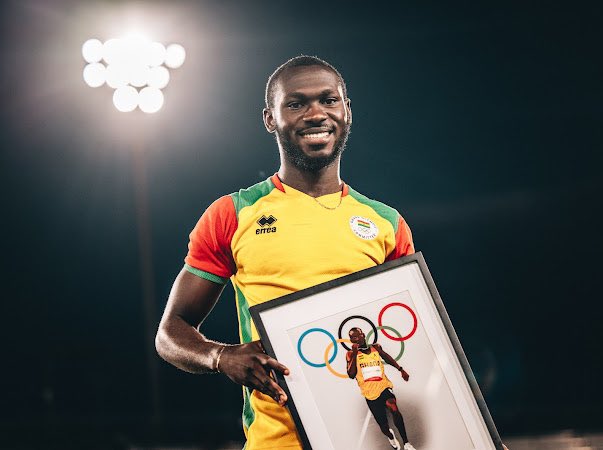 Meanwhile, Andrew Owusu holds Ghana's best distance in triple jump, with a leap of 17.23m – 1.06m behind the world lead. Nadia Eke recorded 14.33 metres in the triple jump event at the 2019 Racers/Adidas Grand Prix in Jamaica. The world record for the event is Yulimar Rojas' 15.74m.
In long jump, Deborah Acquah has consistently set the country's farthest distances – doing so four times between April 2021 and August 2022. Her current national record of 6.94 metres set at the 2022 Commonwealth Games – where she overcame mental battles – is 0.54 metres shorter than Galina Chistyakova's 7.52m set in 1988.
So Ghana's athletes have not fared poorly on the global stage, although there is not a 'Ghana must go' bag of medals to show for it.
At the World Athletics Championships, Gaisah's silver and Margaret Simpson's bronze – from 2005 – are all what the country can boast of. At the Olympics, the country has not managed to grab any medals in track and field, but it's a better story at the Commonwealth Games, where there are 25 – 5 gold, 8 silver and 12 bronze.
But picking up from Powell; are there really any homebred stars?
At the 2022 Commonwealth Games where Ghana picked up two medals in track and field (women's long jump and men's 200m), the two athletes though Ghana-born, sharpened their craft overseas. And that has been the running theme from the beginning.
In Birmingham, Ghana made the final of the men's 4x100m only to be disqualified. In that team though, there could be a drift to the 'running theme': Barnabas Agerh, a University of Development Studies athlete and Abdul Rasheed Saminu, from the University of Ghana.
Saminu, a 100 metres specialist also competed in the 200m event and narrowly missed out on a semifinal berth after finishing third in the heats with a personal best of 21.32 seconds.
So probably, he is a singular case of 'stars' being developed locally. However, not so long after the Commonwealth Games, Abdul-Rasheed followed in the steps of his predecessors and left for the USA – and in the words of Powell, he's 'running faster'.
After spending some four months with Florida Memorial, Abdul-Rasheed for the first time ran under 10 seconds – under all conditions – in April 2023, when he clocked 9.97 seconds at the Sun Track and Field Conference.
That time would have been Budapest 2023 certified had it not been for a wind reading of 2.6. But he's not far off the qualification time of 10.0s with his new personal best of 10.04s – in Ghana, it was 10.31s.
He is not alone; James Dadzie – another former University of Ghana athlete, has also made improvements in no time after moving to the USA. The 21-year-old currently holds the world leading time in the 200m event with 19.79seconds; his 2022 season best in Ghana was 21.07s.
He could've also qualified for the 100m event if not for an illegal wind reading but, he's secured a 200m berth in Budapest. Throw Isaac Botsio into the mix – another former University of Ghana athlete, who is now an All-American, just months after landing in the USA.
The very recent case studies are endless – Grace Obour can also be featured.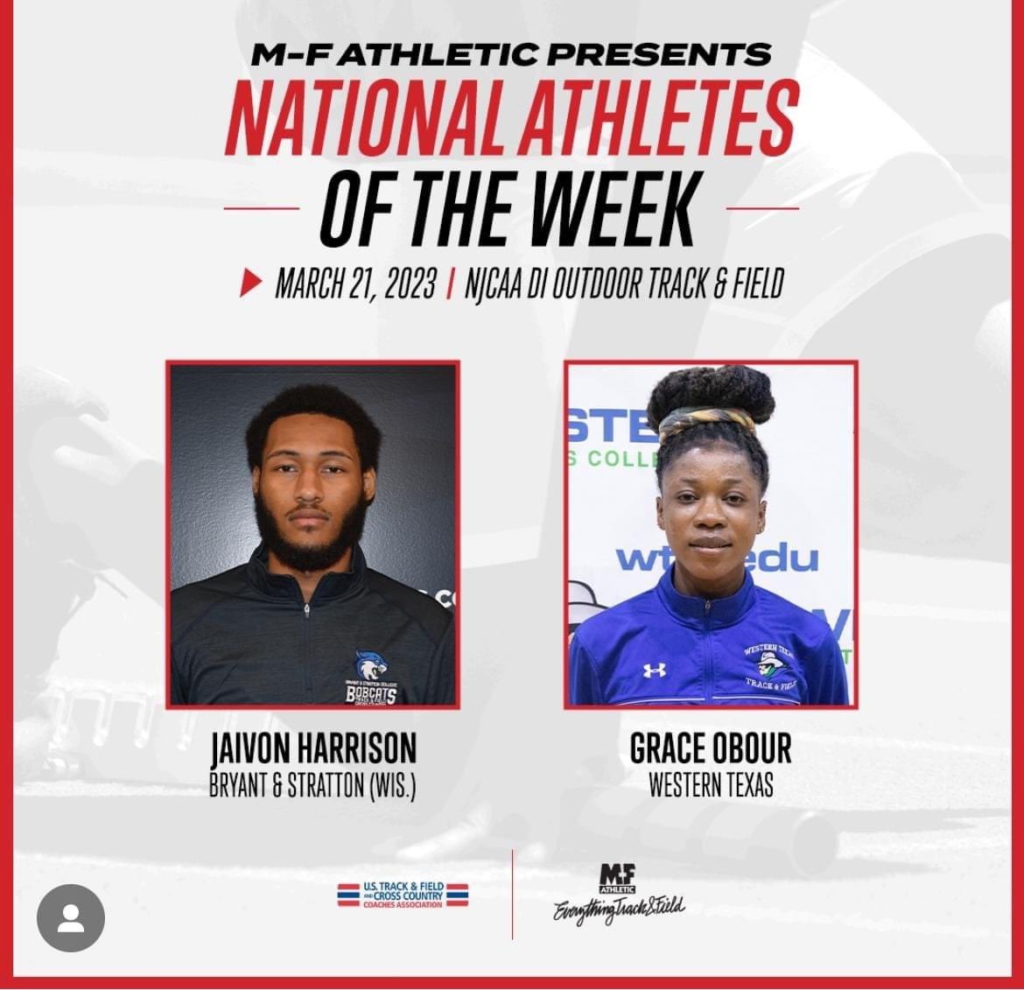 Bear in mind, Powell's statement of Ghana producing her own stars was not made in a vacuum. The world's fourth-fastest man was bred in his home of Jamaica – after refusing to enter the American collegiate system, so it is possible, but only under certain conditions.
"What I hope to achieve here is to educate coaches and athletes, so they can take this information, share it with other athletes, share it with other coaches, so it can act as a multiplier and people get excited and we can create a coaches' association that has a real educational and performance bend to it," Loren Seagrave said of the Max Speed clinic.
"This will be the legacy from this speed clinic and hopefully we can come back another time and continue to amplify the coaching education process so it becomes very systematic like we did in Jamaica in 1986, which is one of the reasons Jamaica is so dominant.
"They have the best educated coaches because they took care of their own coaches' association and created – with help – a coaching education system and really got into every school in Jamaica – they are all teaching the same thing which is cutting edge, athlete-centred and science based."
Together with a few other coaches, Seagrave in 1991 put together the first Congress of the North America, Central America and Caribbean Track and Field Coaches Association (NACACTFCA), changing the face of the sport in Jamaica.
Consequently, Powell's continuously improving times on the international stage meant, up-and-coming names like Usain Bolt and Yohan Blake also refused to enter the American Collegiate system – consequently putting their faith in Jamaica's.
Bolt currently has the world's fastest 100m time, while Blake – the second fastest man ever in both 100 and 200m – contributed to creating a Jamaican sprint dynasty.
Meanwhile in Ghana, the story is different; the constantly improving times of Ghana's overseas student-athletes provides those in Ghana with the tonic America's system is the way to go.
"I have to leave this country," was the simple reply one student athlete based in Ghana told me, after I asked about his Budapest 2023 qualification hopes.
Athlete support in the country is very minimal. Put it into context that Powell couldn't find any running tracks in Accra; a 16-regioned country has four running tracks – and they are not even certified.
"I believe in myself that I can do it – so when I get the opportunity and facilities, I'll just make good use of it. It's only one moment to change your identity, so if I have gotten here, there's no time for me to joke," Dadzie said to George Addo Jnr. after breaking Ghana's 200m record.
Beyond the close to zero availability of running tracks, there's an even bigger problem. Support is competition-centered – with the government mostly pulling out 'late' funds for events – after long neglecting the buildup to those events.
Competitions are viewed as a singular element, and not the end of a long athlete-preparation process.
The competition-centred support is 'furthered' with a politically-influenced review of 'supporting athletes' when medals are not picked up. And when medals are won, there's a handing out of – often late – paychecks.
But that's where it ends.
At the 2022 Commonwealth Games, Acquah – who landed in the UK only hours before her event – stole headlines with the record-breaking 6.94m leap, and what was her reward?
$3,000 – and that has been the end of the story.
Compare it to Julien Alfred, who took silver in Birmingham, and has now been rewarded with a diplomatic passport and will also be given financial assistance when she graduates from the University of Texas later this year.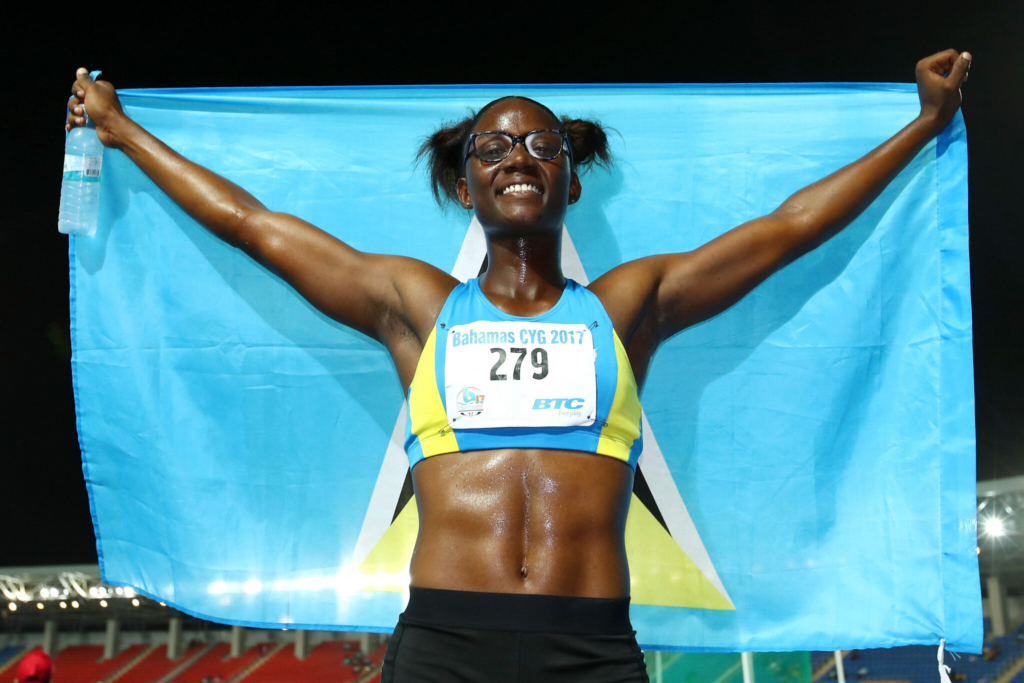 She's only 21 and not even a professional yet. Which locally-based Ghanaian athlete, or even overseas athlete (both student and professional) can say this about their government?
No doubt; Ghana is not the USA, but Saint Lucia, where Alfred hails from, also isn't.
So genuinely, how does Ghana not being the USA prevent the creation of a local environment, which stimulates world-competing times?
"I've been in America for almost a year and a half now [and] the tracks in Ghana, I have never seen the likes here. Even the junior high school tracks are far, far better than our tracks in Ghana.
"You fix a track in Ghana, and within one or two years, lane 1 becomes black then it's going off. The track in my school – West Texas A&M University – they said it's 16 years old, lane one is the most used, but it's still intact.
"There's nothing on it. I feel our tracks are inferior, they are not the best. Greater Accra athletes – they don't have any track," Elorm Amenakpor, a former University of Ghana track and field coach told Joy Sports.
He's now with West Texas A&M University.
So you see, the coaches are leaving too.
DISCLAIMER: The Views, Comments, Opinions, Contributions and Statements made by Readers and Contributors on this platform do not necessarily represent the views or policy of Multimedia Group Limited.