Ghana's long jump queen, Deborah Acquah, has opened up on the mental challenges she endured at the 2022 Commonwealth Games, before emerging as one of Ghana's five medalists in Birmingham.
Aged 24, Deborah saddled Ghana's final moments in the Games with history, as she became the country's first female to win a medal in the event, and also set a new personal best of 6.94m with her first attempt in the final.
However, her Commonwealth tale could have been even merrier, as she was on her way to a gold medal till Australia's Brooke Buschkuehl recorded 6.95m, and Nigeria's Ese Brume, who had 6.99m, left the Ghanaian settling for bronze. Nonetheless, it was a rewarding end for the long jumper who received her UK visa only 48 hours to her event.
Her visa delays and late arrival in Birmingham were events broken by JoySports and largely carried by local media as athletics and boxing, were Ghana's two surest avenues to a medal at the Games.
However, what was unknown by and to many was, Acquah was on the back of an injury which is proven to take up to 6-12 months for recovery and overcoming it was her first real jump of the Commonwealth final.

"I had an injury on my Achilles, so going there to jump I had this mentality, my coach always told me - it's something we always discussed that - whatever you compete in, you know you feel pain or whatever, but put all the pain away and think about the moment. So at that moment, I forgot about the pain even though it was really hurting. I had thoughts of what we have been working on - and I just had to execute. So that's the most important thing - just go out there and execute.
"I know there were lots of good athletes out there but my coach always tells me that - on the very day of the competition, it's not about who is the best, it's about who is ready. So at that very moment, I was like 'okay Deborah, this is the day - let's go'," the Commonwealth bronze medalist said to JoySports after touching down in Ghana.
Losing a mental battle at the World Athletics Championships
'Let's go' was Deborah's cue to a 6.94m personal best but a few weeks prior, she fell short of the final qualification mark of 6.75m at the World Athletics Championships, recording 6.74m with her final attempt after two faulty ones.
However, Deborah was the world's number 5 in the long jump event, boasting a mark of 6.89m - recorded in April - to set a new national record. So qualifying to the final by meeting the 6.74m mark was supposed to be light work. But unknown to many, that qualification mark was not the only length she had to cover in Oregon.
"I worked really hard. I really worked hard," Deborah began her narration of events with a huge depressing sigh. "Right after the NCAA season was done, I had to go over to Jamaica to compete, just to keep myself active.
"I think I was scared - I was so scared that I was going to compete amongst the best in the world, and that competition being my first big competition - I was so scared. I remember I didn't sleep throughout the whole night, I don't remember closing my eyes even for an hour, a day before the competition. I was thinking about the competition the whole night, and I remember telling myself that 'I think I can do this'. My coach says - 'whenever you think about the competition too much and you think you can't do nothing, just do some exercises or whatever'.
"I tried to do it - it wasn't working. I had to start coming up with my own dream in my head to put me to sleep but it wasn't still working. I called a few friends just to keep myself awake and not think about the competition, but I was still thinking - I was scared. I got to the competition and I had not eaten. I had to force myself to eat - my coach got closer and asked 'Deborah are you okay?' I'm like 'yeah' and he was like 'no you are not'. I asked 'what do you mean?'"
"He said: 'I know what you're doing' and then I am like 'what am I doing?' Then he says 'you're forcing to eat something, and I'm like 'yeah'. So I had to eat bananas - I had two bananas and could not even swallow," Deborah concluded.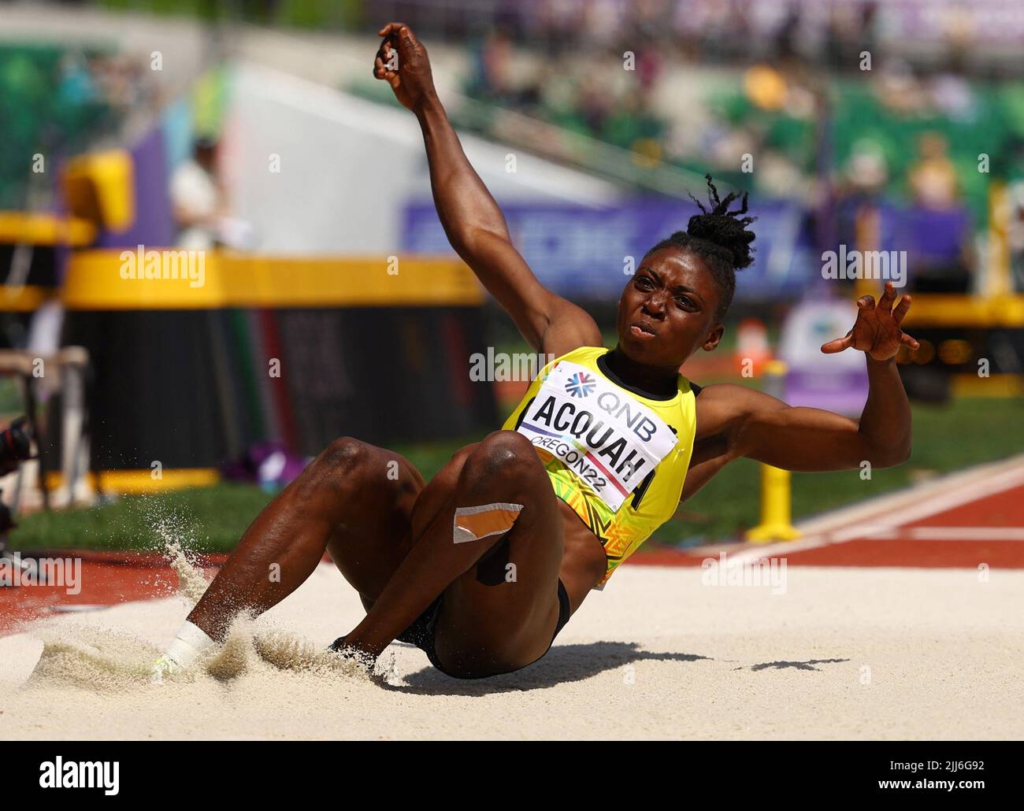 Deborah had caved in and was struggling with the reality of dealing with the 'world's best' although she was ranked number 5 in the world. So whilst many Ghanaians were hoping she could at least make the final of the Worlds, the 24-year-old had already mentally tapped out of the qualifying round before actually taking the field.
"I think so" was her simple response when quizzed by JoySports' Fentuo Tahiru Fentuo if a psychologist would have helped her at the World Athletics Championships.
Neither Deborah nor the rest of Ghana's team received the services of one in Oregon, and they were not going to receive any of it in Birmingham as well. But it was a situation Deborah refused to allow get to her again - and she received a well-welcomed internal support to overcome it.
"Deborah - that's my girl," Joseph Paul Amoah began his narration with bags of laughter. "She's been through a lot even before the World Championships, and coming over here [Birmingham] - getting here on the day she was jumping and coming out first going into the finals. That was massive.
"I have been talking to her pre-jumping, we were going for lunch together in the dinning hall, I was talking to her all the time - telling her she got it. She was kinda nervous, but I'm sure it was pre-competition jitter. It happens sometimes [so] you just have to take care of it. 'You are one of the favourites, so why should you let this kind of stuff bother you?'
"I just had to motivate and encourage her, boost her morale. I hoped it worked, and it did," Amoah told JoySports' George Addo Jnr.
A case for the future
Yes, Amoah's efforts paid dividends, and as Deborah revealed to JoySports, she is on the verge of closing out some sponsorship deals which could really kick-start a professional career. Meaning, the long-jumper is now reconsidering her earlier decision to quit track and field. So imagine what could have happened if Amoah's encouragement failed to work - Ghana will have been losing a top-five ranked athlete to a 'simple' case of a non-existent psychologist.
Nonetheless, the need of a psychologist in Ghana's athletics teams at subsequent international events has not been highlighted only by the long-jump athlete.
Barnabas Agerh - a student athlete at the University for Development Studies - was a debutant at the Commonwealth Games, running Ghana's third leg as the men's 4x100m team secured an automatic final spot which was later relinquished following their disqualification.
But that was only a small part of the mental barrier Agerh had to scale in Birmingham. He revealed to JoySports that the presence of a team psychologist at the Commonwealth Games will have made adjusting easier.
"There was a little pressure you know, because that platform is a very big platform. You need to make sure the pressure doesn't get to you, do well to keep your cool and keep your head in the game. We need a psychologist in the team to talk to us and take us through, but I have never had one. But it'll be good if we have one in the team," he told JoySports.
DISCLAIMER: The Views, Comments, Opinions, Contributions and Statements made by Readers and Contributors on this platform do not necessarily represent the views or policy of Multimedia Group Limited.