Nigeria's former president, Olusegun Obasanjo, has urged the current head of state to deal decisively with the tensions which have been triggered by reports of electoral malpractices in the country's ongoing election.
In a statement issued on February 27, Obasanjo advised president Buhari Muhammadu to take urgent steps to calm the brewing tensions to prevent any escalations.
According to him, the government must not sit aloof and allow the growing unrest to fester.
In a two-paged cautionary statement, Obasanjo said if the rancour persists, it may distort the country's peace and further distort Buhari's last days in office as president.
"Your Excellency, President Buhari Muhammadu, tension is building up and please let all elections that do not pass the credibility and transparency test be cancelled and be brought back with areas where elections were disrupted for next Saturday, March 4, 2023, and BVAS and Server officials be changed", Obasanjo charged.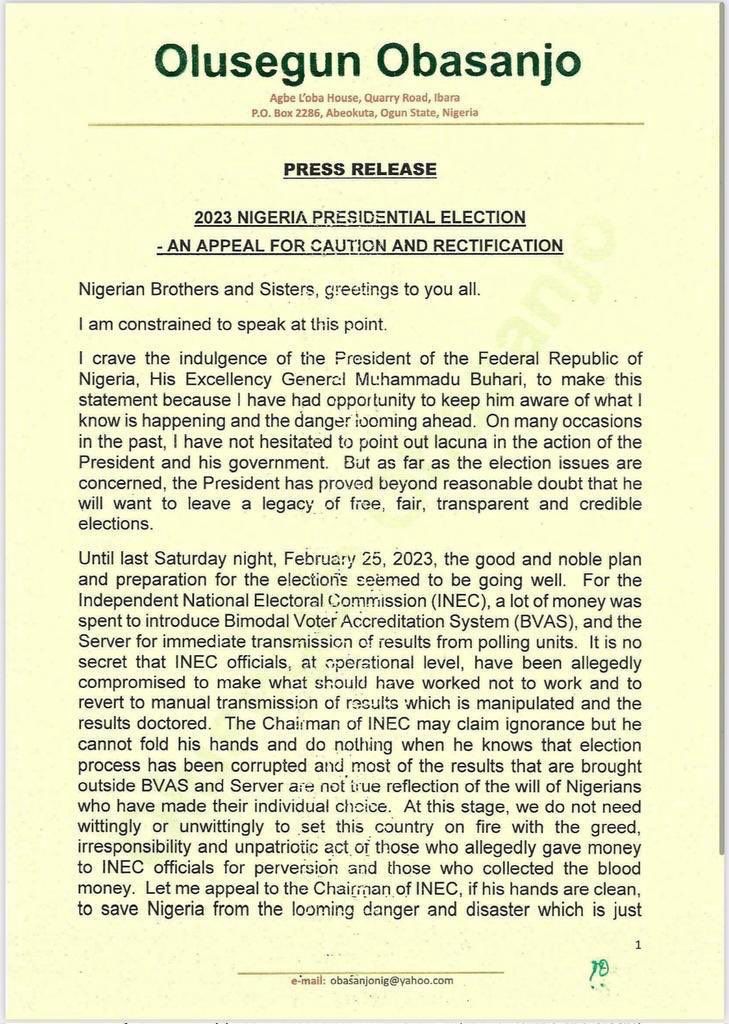 He went on to advise that, "To know which stations or polling units were manipulated, let a Committee of INEC staff and representatives of the four major political parties with the Chairman of Nigerian Bar Association look into what must be done to have hitch-free elections next Saturday".
Mr. Obasanjo added that, "Mr. President, may your plan and hope for leaving a legacy of free, fair, transparent and credible election be realised.
Mr. President, please don't let anybody say to you that it does not matter or it is the problem of INEC. On no account should you be seen as part of the collusion or compromise".
He further stated that, "When the die is cast, it will be your problem and that of the nation. The Chairman of INEC may sneak out of the country or go back to his ivory tower".
"Your Excellency, thank you for hearing me out", he added.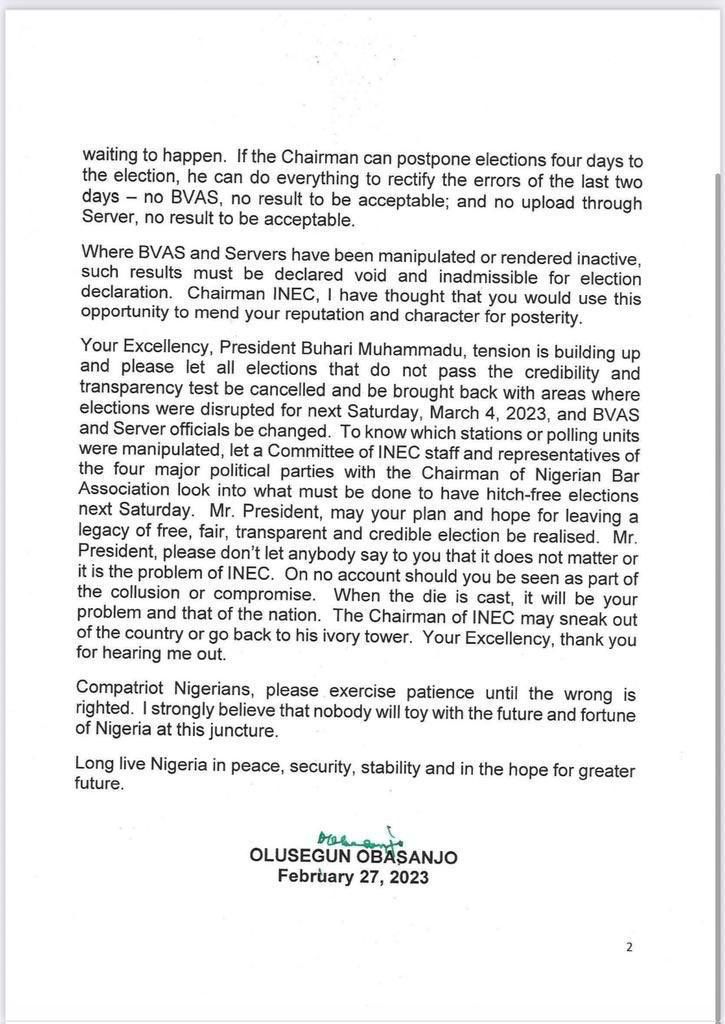 The caution from the former head of state comes on the back of widespread reports of voting irregularities which have stirred tensions amongst some agitated populace.
Voting in Africa's most populated country began on February 25, with thousands of voters showing their enthusiasm to cast their ballots.
While some of them were keen on retaining the ruling APC regime, others were clamouring for their exit on the back of their perceived misgovernance and corruption amongst others.
The voters have therefore been keenly observing the polls since Saturday. But what was earlier described as peaceful process is now generating some tensions.
The Independent Electoral Commission has subsequently been accused of working to dubiously rig the polls for the incumbent in the collation of the results.
These claims have been virally expressed on social media by nearly all the supporters of the three top runners in the polls.
Meanwhile, Ghana's High Commissioner to Nigeria, Rashid Bawa, has assured that his outfit will ensure the safety of Ghanaians in the West Africa nation.
But speaking on JoyNews on Sunday, Mr Bawa said Ghanaians in that country will be shielded from harm.
"We want to assure Ghanaians who have got their relatives here that all things are being done to ensure the safety of Ghanaians during this period", he said.
DISCLAIMER: The Views, Comments, Opinions, Contributions and Statements made by Readers and Contributors on this platform do not necessarily represent the views or policy of Multimedia Group Limited.