In an effort to contribute toward developing education and bridging the gap between industry and education, the African Business Centre for Developing Education (ABCDE) has celebrated International Youth Day with some SHS students from various schools in Accra.
The programme which was held on Friday, August 12 was dubbed 'Intergenerational Solidarity'. The educative event saw signatories from industry bodies which include, Mikkado Holdings Limited, Save a Street Child Foundation and many others.
According to the Founder and Chairman of ABCDE, Dr. Ekwow Spio–Gabrah, the founding vision of ABCDE is to improve educational standards in Ghana and Africa as a whole.
He added that values are very critical to everything, be it family values, fundamental values, human values, community values, national values and of course the values that are being bestowed unto everyone by God which is the fundamental of all morality.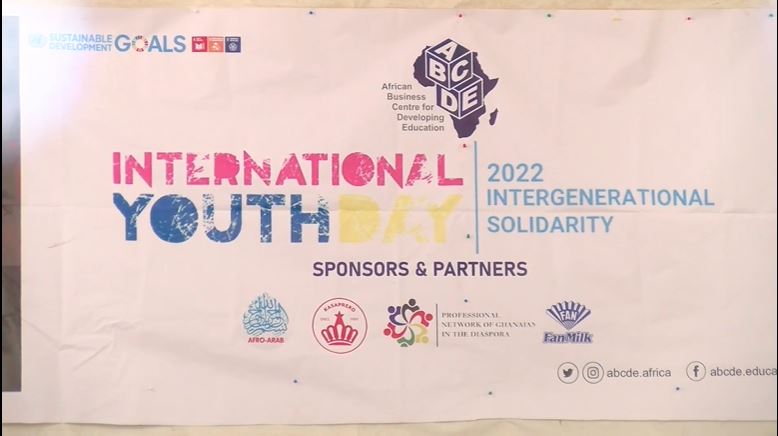 He also urged students to hold up to their values, stand up for what is right and always be honest citizens.
Speaking on the theme, the Chief Executive Officer of Mikkado Holdings Limited, Dr. Michael Agyekum Addo explained the importance of intergenerational solidarity. He advised children to avoid negative prophecies about their parents and also heed their parent's opinions.
''When parents are asking you to stay at home, they wish you well. They are trying to invest so much in you by way of paying school fees, making sure that you get your food and everything. They need to communicate with you and as they speak to you, you think that they are worrying you that's not the best.''
Mr. Agyekum further stated that it is about time the government infuses many more young people in governance so that they can help in giving modern ideas.
"Agreeing that the older ones have the wisdom but with respect to the technology that has so many ideas and beyond the older wisdom, the younger ones will do much better if they are engaged in governance since they are more conversant with modernization."
Meanwhile, the Founder of Save a Street Child Foundation, Janet Abena Quainoo, one of the signatories at the event hailed the programme as a good one. She also advised students on how useful social media can be if used wisely.
She further stated that the youth has a lot to offer hence the discrimination on age should stop. Not only should it stop but people should also be engaged in all matters regardless of their age.