A private jet linked to sanctioned Chelsea Football Club owner Roman Abramovich has landed in Moscow.
The jet arrived in Moscow on Tuesday morning after taking off from Israel and stopping in Istanbul, flight tracking website FlightRadar24 said.
Mr Abramovich was seen in a VIP lounge at the airport in Israel, though it is not known if he boarded the flight.
The Russian was among seven oligarchs sanctioned by the UK government last week in response to the Ukraine war.
Mr Abramovich, 55, is alleged to have strong ties to Russian President Vladimir Putin, which he has denied.
Reuters news agency said it had obtained a photograph showing Mr Abramovich in a VIP lounge in Ben Gurion Airport in Lod near Tel Aviv on Monday.
It is not known whether he boarded the jet at any stage on its journey from Israel to Istanbul and subsequently from Istanbul to Moscow.
Mr Abramovich has Israeli and Portuguese citizenship.
A rabbi who helped him gain citizenship in Portugal was detained on Thursday as part of an investigation into how that citizenship was granted.
Meanwhile, sources have told the BBC that the European Union is set to include Mr Abramovich on its expanded list of oligarchs who are subject to EU asset freezes.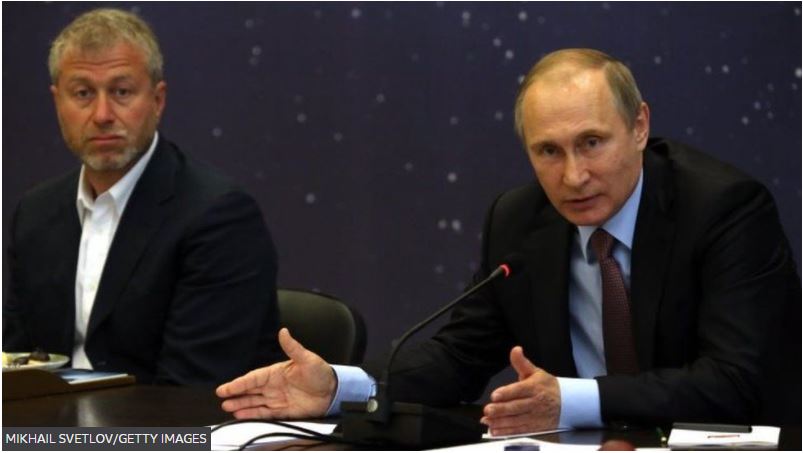 Under UK sanctions, Mr Abramovich and the other six oligarchs – including billionaires Igor Sechin and Oleg Deripaska – have been banned from entering or remaining in the UK.
Some of his assets were frozen, including Chelsea FC, though the club has been allowed to continue operating under a special licence granted by the UK government.
Mr Abramovich announced he was selling the club earlier this month, before the sanctions against him were introduced.
He is also believed to own a number of properties in the UK, including a 15-bedroom mansion at Kensington Palace Gardens in west London, reportedly valued at more than £150m.
His purchase of Chelsea FC in 2003 transformed the club's fortunes, turning them into a side that won every major trophy in club football. It also raised the bar for the level of investment required to compete at the top of the Premier League.
Mr Abramovich made his money in the 1990s during Boris Yeltsin's presidency of Russia.
This week a BBC Panorama investigation said it had uncovered new evidence about the "corrupt" deals that made his fortune.
The Chelsea owner made billions after buying an oil company from the Russian government in what BBC Panorama said was a rigged auction in 1995.
Mr Abramovich paid around $250m (£190m) for Sibneft, before later selling it back to the Russian government for $13bn in 2005.
His lawyers say there is no basis for alleging he has amassed very substantial wealth through criminality.