The brother of a woman killed in the fatal crush at the O2 Brixton Academy says her family want answers over her death.
Organisers may not have employed enough security guards on the night of the incident in December, a document seen by the BBC suggests.
The document from the Academy Music Group (AMG), which runs the venue, categorises Afrobeats gigs – like the one staged by Asake – as "high risk".
It says "up to 200+" guards should work.
AMG said on Tuesday that 157 security staff had been on duty at the gig, after a whistleblower told the BBC there were only 110 staff.
Two people caught up in the crush later died in hospital.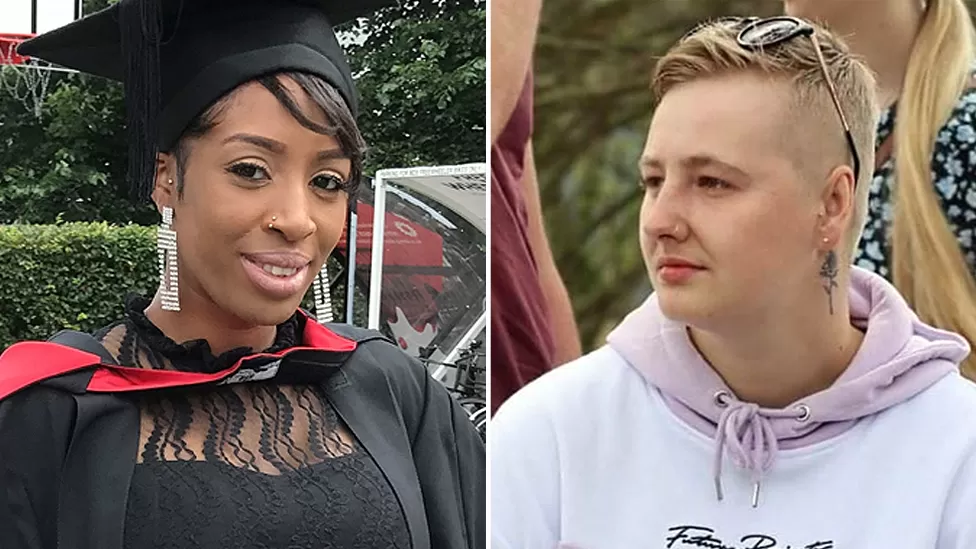 The document, dating from 2021, appears to be AMG's risk assessment for music events at the Academy. It details five risk levels associated with entry to the building.
Afrobeats and Dancehall gigs are classed as level five, the highest risk.
The document also mentions the need for "40-80 high-caliber [sic] security" at level five events – although it doesn't make clear if this would be in addition to the "up to 200+" guards.
Fraudulent tickets – plus "late arriving" and "noncompliant" audiences – are listed as potential issues at level five events which, it says, should be "hard tickets only".
AMG has been contacted for comment about the alleged shortage of security staff at the Academy on 15 December, but the firm has not responded.
The brother of Rebecca Ikumelo, who was killed in the crush, told the BBC's Greg McKenzie the family are still in shock over her death.
Wale Ikumelo said: "This kind of thing shouldn't be happening when you're going to enjoy yourselves.
"People should make things like this don't happen again and make sure everything's on point and correct."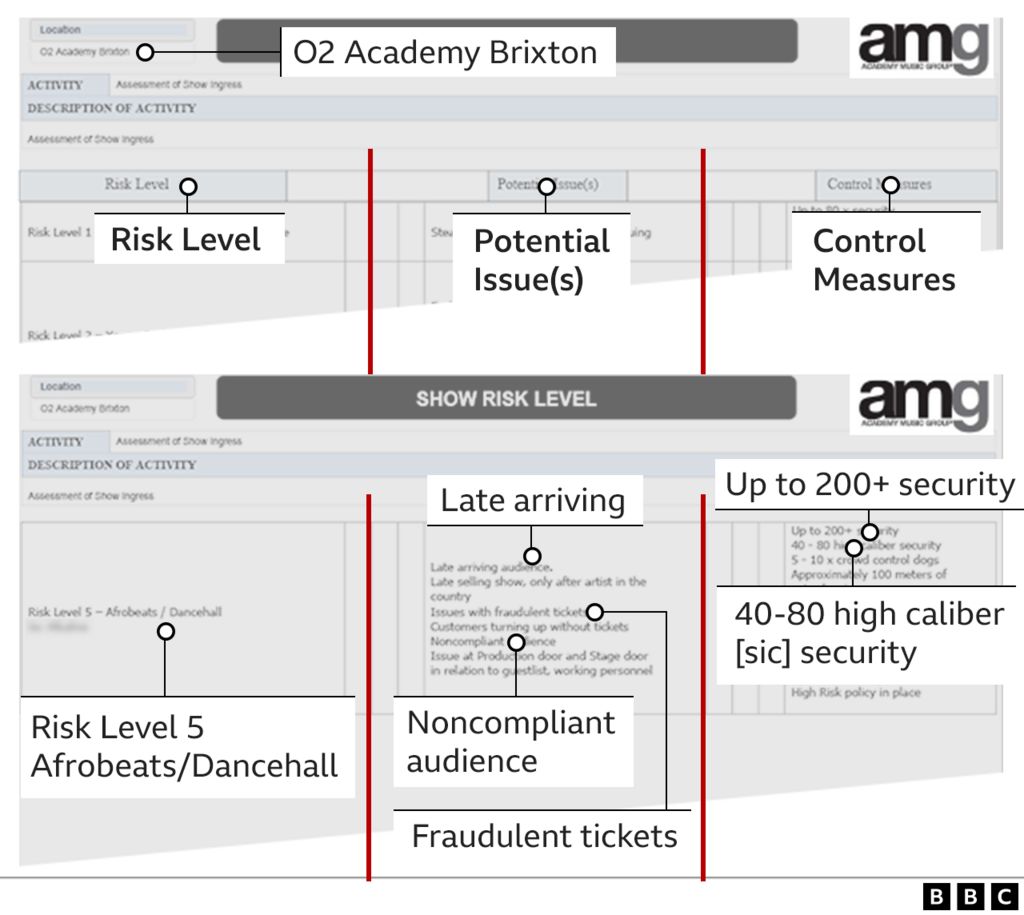 The whistleblower had already told the BBC's File on 4 programme there had not been enough security for the Asake show. Security guard Rohan, not his real name, also said that some security guards at the venue regularly took bribes to let in people without tickets.
He said members of his team would each allow "a couple of hundred" extra people into venues in exchange for money.
"There were people taking money… Some staff made £1,000 cash.
"Our company knew what was going on and they knew the people who were doing it… and they did nothing about it."
The firm which employs Rohan and his colleagues, AP Security, has declined to comment on the claims.
Rohan described the crush on 15 December as "like being in a car crash that's been really awful – being crashed on and stamped on."
Mother of two, Rebecca Ikumelo, 33 – and security guard Gaby Hutchinson, 23 – were both caught up in the crush and later died in hospital. Rohan said he witnessed what happened to both of them.
Gaby Hutchinson worked for second security company, County Security, as a specialist dog handler. There is no suggestion they were involved in taking bribes or letting people in without tickets.
But at the Asake gig, says Rohan, some guards employed by AP Security did let music fans in without tickets.
"When you let a few people in, they would text their friends, and they'll text their friends. And the bouncers started being greedy, and it got out of hand. And people wanted to come in anyway, without a ticket."
"You can train someone to the max, but when that happens in front of you, you actually stop… you freeze."
Explaining more generally how bribes were paid at the Academy, Rohan said someone wanting to get into a gig would speak to security staff by the barriers controlling the queue of people waiting to get in.
"They [some AP Security staff] will tell you a few things, [then you] go round the corner… give them a lot of cash and they will walk you straight in the front door."
Rohan said he had also seen bribes being taken at a number of venues, stadiums and festivals at which he had worked. The amount of money handed over depended on who was playing.
Rohan says at Brixton, his employer AP Security knew what was happening – because he had been in meetings where people had complained about two particular individuals.
The subject of bribes had also been brought up in briefings and in conversations between managers and bouncers – but no-one had been reprimanded.
The BBC has also spoken to someone who got into a gig with a fake ticket at the Brixton Academy the week before the crush.
His account appears to confirm Rohan's description of there being a coordinated process of paying bribes and gaining access to shows.
Andre said he, his wife and two friends, travelled to Brixton to try to buy legitimate tickets outside the venue to watch the DJ Fred Again – and that he regrets what subsequently happened.
He said he asked a doorman where he would be able to buy a ticket and was told to go across the street to a cash machine, where he would send someone to sell them a ticket.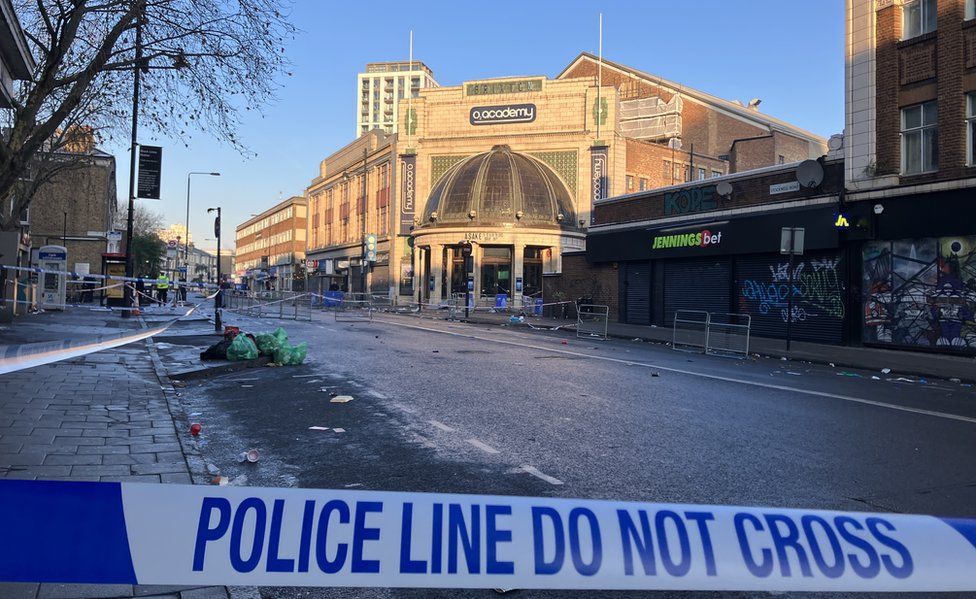 After some haggling, and despite not trusting the tout, Andre handed over cash and was sent tickets on WhatsApp.
Andre said his group were then told to go to a specific security guard outside the venue.
"As soon as we got there, our tickets got scanned really, really, fast I would say fake scanned and the person just let us in. The person had the device that scans tickets and just used the flashlight on it, not the laser scan."
"It felt really organised and it felt that we weren't the only people that got in that way."
Andre said it was clear others were doing the same as them – and that the venue was absolutely packed.
"There was absolutely no space whatsoever to move around."
Andre told the BBC he would have never paid any money had he known the tickets were duplicates.
On Monday, Lambeth Council agreed to suspend the O2 Brixton Academy's licence for three more months until 16 April.
Academy Music Group had already agreed it would stay closed.
In a recent statement, the company said: "O2 Academy Brixton recognises the gravity of the events which occurred on the night of 15 December 2022 and expresses its sincere condolences to the families of those who died during the tragic incident and its genuine concerns for anyone affected by it."
AMG also said it was committed to understanding what happened and was "providing full cooperation to the police".
The day after the crush in December, AP Security's director of operational management, James Hooker, said: "We are working with our lawyers, the operators of the premises and the authorities to provide all information that is needed.
"We will continue to work with all parties and are unable to provide any information at this time while those inquiries are completed."
DISCLAIMER: The Views, Comments, Opinions, Contributions and Statements made by Readers and Contributors on this platform do not necessarily represent the views or policy of Multimedia Group Limited.