Alliance for Social Equity & Public Accountability (ASEPA) has called on the Inspector-General of Police (IGP), James Oppong-Boanuh, to increase police visibility in the country to improve the general security of the citizenry.
In an official statement following the robbery attack on the Executive of ASEPA, Mensah Thompson, the Civil Society Organisation underscored the gaps in the nation's security sector and the danger it poses to its inhabitants.
The Organisation's Administrative Secretary, Martha Osei, stated, "The state of insecurity in the country is now a real phenomenon and government must desist from the propaganda and get to work to make Ghanaians feel safer."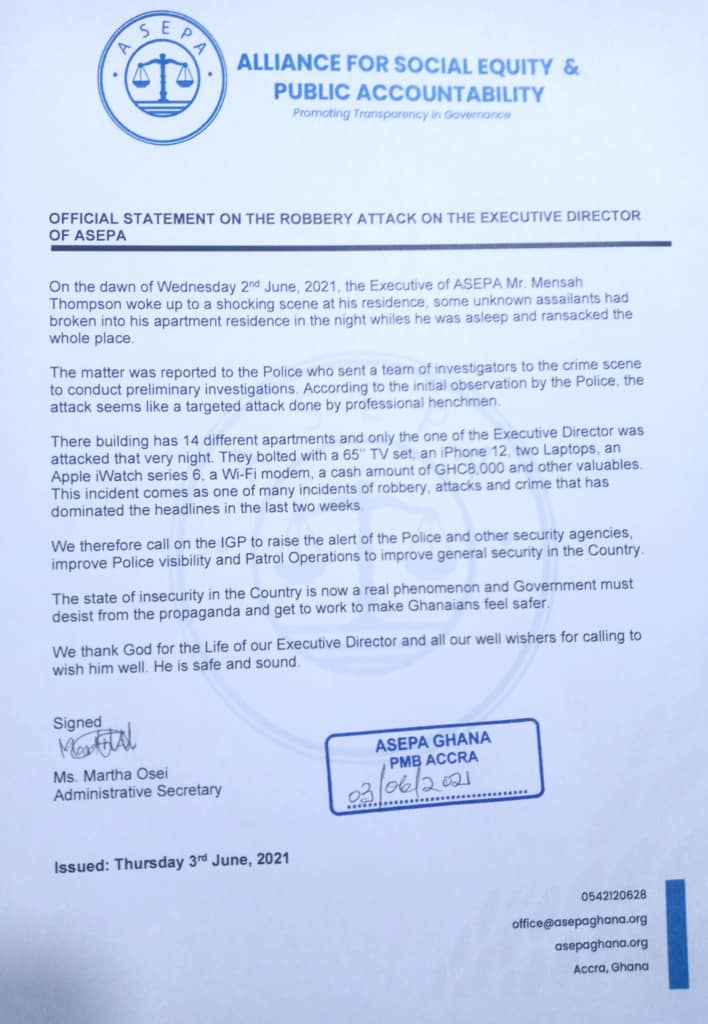 Giving details about the robbery which occurred in the wee hours of Wednesday, Miss Osei stated that the unknown assailants broke into Mr Thompson's room and ransacked the whole place.
She indicated that the attackers bolted with a 65 inches television set, an iPhone 12, two laptops, iWatch Series 6, a wi-fi modem and a cash amount of ¢8000 and other valuables.
Miss Osei also indicated that the Executive Officer is "safe and sound" and thanked well-wishers for calling to wish him well.