Girls Empowerment and Advocacy Platform (GEAP) has identified teenage pregnancy as a major problem facing the education of the girl child in the Asutifi South District of the Ahafo Region.
Other factors that led to the occurrence of pregnancy in girls aged 10-19 years in the district include; child labour, poverty, and peer influence.
At a GEAP Project Citizen Showcase at Hwidiem, organized by the Coalition for Maternal Health and Citizen Empowerment (CMCE) and Actionaid Ghana, 1,077 teenagers delivered babies at the various health facilities in the district from 2018 to 2020, according to the Ghana Health Service figures.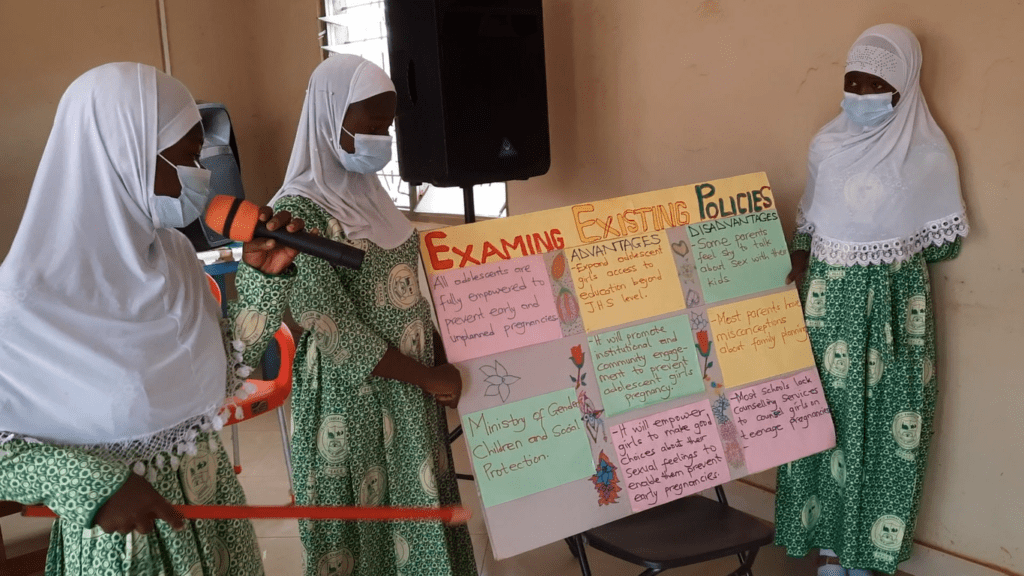 Also, the District had 88 abortions involving teenagers within the same period.
This, stakeholders, and students say, requires pragmatic interventions to safeguard the future of the girl-child.
Executive Director of CMCE, Mahama Salaam noted that the development of Ghana is tied to education, and females have key roles to play in its achievements.
He, however, said many of the bottlenecks must be removed to help the girl child in the district to attain higher education, hence the design of the program to bring together key stakeholders to discuss paths against teenage pregnancies.
Participants at the showcase included students from Hwidiem Presbyterian, Roman Catholic, Methodist, and Islamic Basic schools, and representations from DOVVSU, Ghana Health Service, Ghana Education Service, Hwidiem Traditional Council, and the Asutifi South District Assembly.
The students delivered presentations on teenage pregnancies including; causes and effects, policies, and measures to help deal with the canker.
Miss Favour, a student and a member of GEAP, role-played a pregnant teenager. She attributed the situation to lack of parental control, pre-marital sex, broken homes, pty, and peer pressure, among others.
She, together with the group members, wants policies that would lead to the empowerment of adolescents to make good choices about their sexual feelings, counseling services in schools, and institutional and community engagement, among others, to help prevent teenage pregnancies.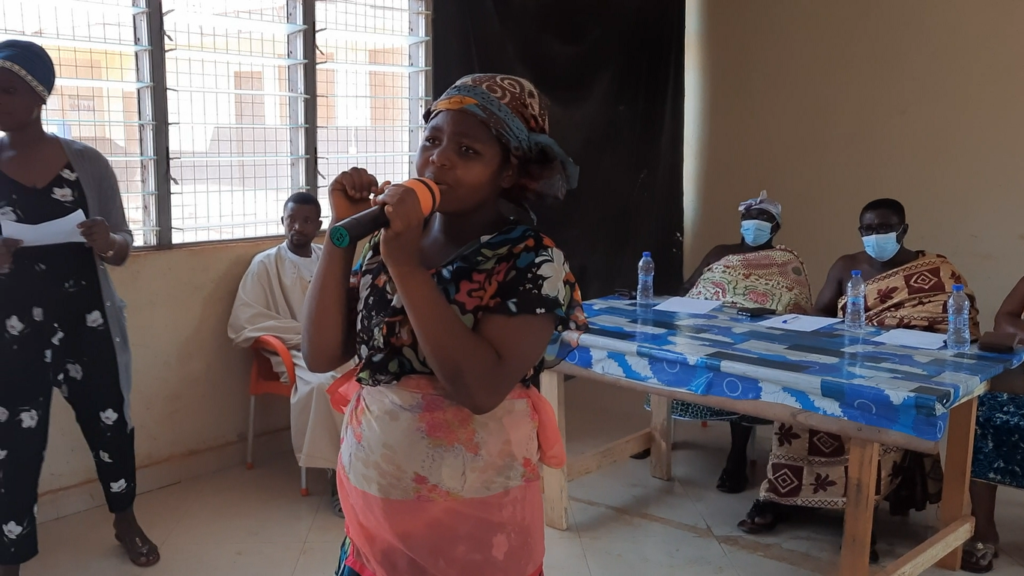 And to help check the high rate of abortions and school dropouts due to pregnancies, the students who responded to "Education first, Marriage later", said the back-to-school campaign introduced must be intensified.
They also want legal education for other stakeholders on defilement and rape, parental care, and responsibilities for their parents, and appealed to the government to open DOVVSU offices in the Asutifi District to help deal with offenders.
Another student, Clara Amankwaa, said as part of their action plan in 2022, they want institutions to assist them to engage authorities on resolutions and bylaws to mitigate the causes and effects of teenage pregnancies, embark on a media drive to discuss parental responsibilities, and sex education in schools.
"We are, therefore, appealing to entities to financially come to their aid to enable us to achieve our target".
Deputy Coordinating Director for the Asutifi South Assembly, Samuel Dumenya said they will continue to implement policies to promote girls' education.
"The Assembly is reviewing the Children Education Promotion by-laws that would deal with the situation, including parents of teenage pregnant girls being slapped with penalties. We are warning parents because the court could fine them up to 250 penalty units with a unit being ¢12", he said.
Adontenhene of Hwidiem Traditional Council, Baffour Kyei Anafi assured the stakeholders that the Council would initiate and support every policy that will lead to the development of the girl child through education.
DISCLAIMER: The Views, Comments, Opinions, Contributions and Statements made by Readers and Contributors on this platform do not necessarily represent the views or policy of Multimedia Group Limited.