A group of 11 concerned Civil Society Organisations (CSOs) has called for the conflict in Bawku to be brought to an end.
In a press release issued by the group on Wednesday, March 15, members implored the parties involved in the Bawku conflict—Kusasis and Mamprusis — to bury the hatchet and resort to dialogue to ensure peace.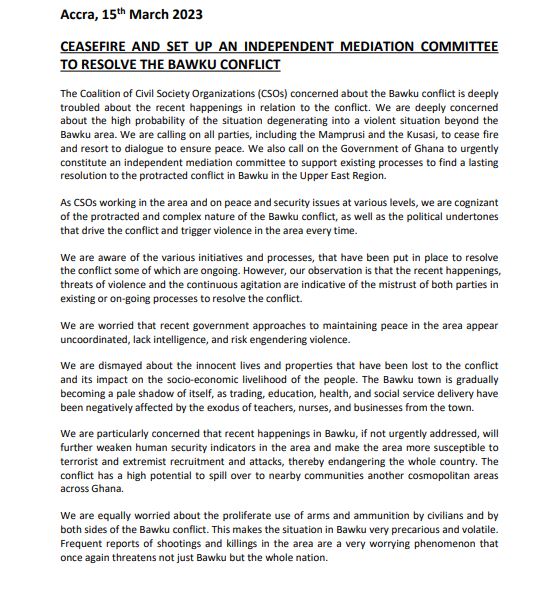 Additionally, they urged government to urgently constitute an unbiased mediation panel to assist ongoing efforts to end the protracted violence in Bawku.
"We are deeply concerned about the high probability of the situation degenerating into a violent situation beyond the Bawku area. We are calling on all parties, including the Mamprusis and the Kusasis, to cease fire and resort to dialogue to ensure peace.
"We also call on the Government of Ghana to urgently constitute an independent mediation committee to support existing processes to find a lasting resolution to the protracted conflict in Bawku in the Upper East Region", the statement read.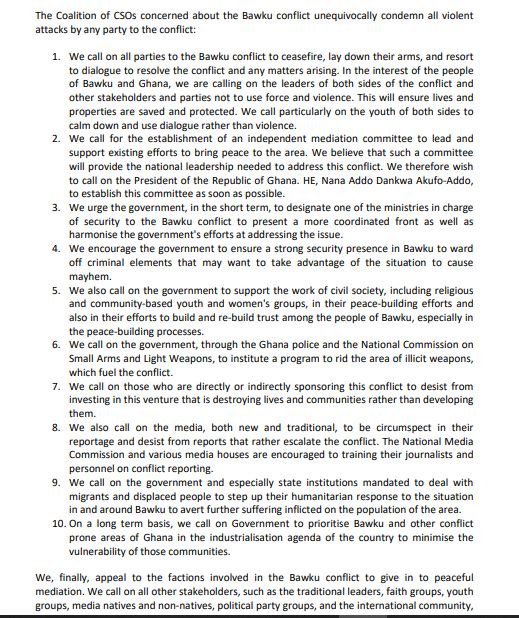 The CSOs also expressed their worry over the increase in the underlying political interferences that were at play in reigniting the conflict and condemned all violent attacks by any party to the conflict.
"As CSOs working in the area and on peace and security issues at various levels, we are cognizant of the protracted and complex nature of the Bawku conflict, as well as the political undertones that drive the conflict and trigger violence in the area every time.
"We are aware of the various initiatives and processes that have been put in place to resolve the conflict, some of which are ongoing. However, our observation is that the recent happenings, threats of violence and the continuous agitation are indicative of the mistrust of both parties in existing or on-going processes to resolve the conflict", the CSOs said.
The CSOs in their press release also expressed worry regarding persons who lost their lives through the clashes and condemned government's approach to resolving the impasse.
"We are worried that recent government approaches to maintaining peace in the area appear uncoordinated, lack intelligence, and risk engendering violence".
The statement continued saying "The Coalition of CSOs concerned about the Bawku conflict unequivocally condemn all violent attacks by any party to the conflict".
Thus, the organisations proffered some suggestions the government should implement to ensure a permanent resolution of the conflict.
The suggestions included a call on government to assign a ministry in charge of security to address the Bawku impasse, as well as an imploration to the media to exercise caution when reporting on matters relating to Bawku.
DISCLAIMER: The Views, Comments, Opinions, Contributions and Statements made by Readers and Contributors on this platform do not necessarily represent the views or policy of Multimedia Group Limited.