Graduates of the University College of Management Studies (UCOMS) have been urged to utilise the knowledge acquired to create jobs.
President of the Wisconsin International University College, Professor Obeng Mireku said it is time graduates create more jobs to reduce the unemployment rates in the country.
"Complement government's efforts in the realm of employment by striving to become your own employers and you will appreciate the dignity of labour," he added.
Prof Mireku made the comment as the Guest Speaker at the 12th congregation ceremony of UCOMS held at its Jerusalem campus in Kasoa over the weekend.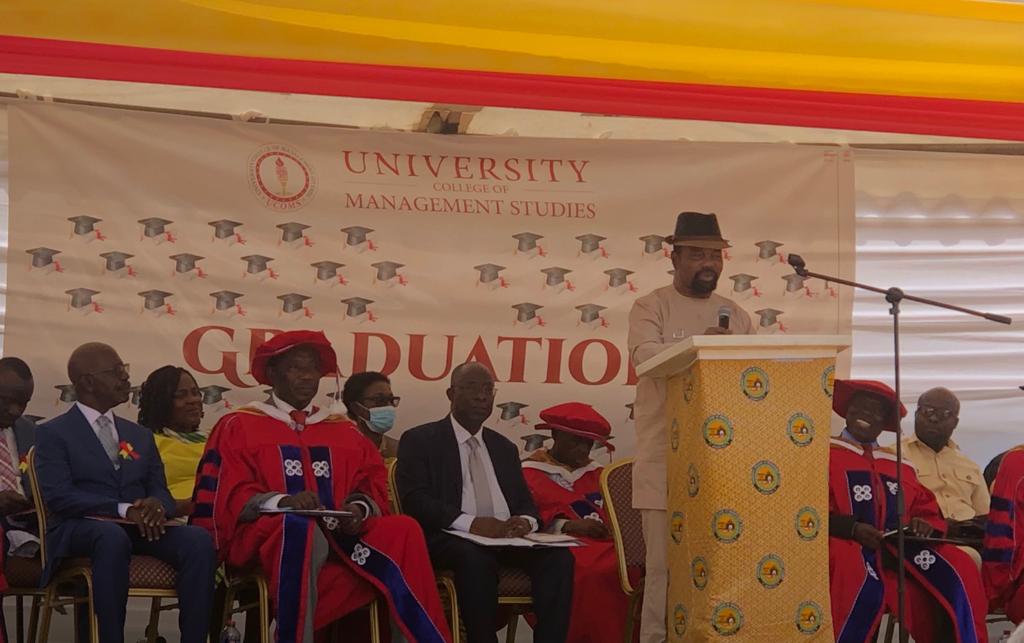 It was on the theme: 'Re-imaging tertiary education in the era of global recession: The role of UCOMS'.
Prof Mireku indicated that, in this era of global recession, "the sky is no longer the limit; do not rest on your oars"
"We are in a tremendous time for opportunity and innovation and I believe fervently that the education and skills you have acquired at UCOMS have equipped you to meet the challenges of this era of global recession where there is no doubt a significant rise in the unemployment rate" he added.
He also encouraged them to exhibit high levels of dedication, accountability, integrity and honesty in all their professional careers to better themselves.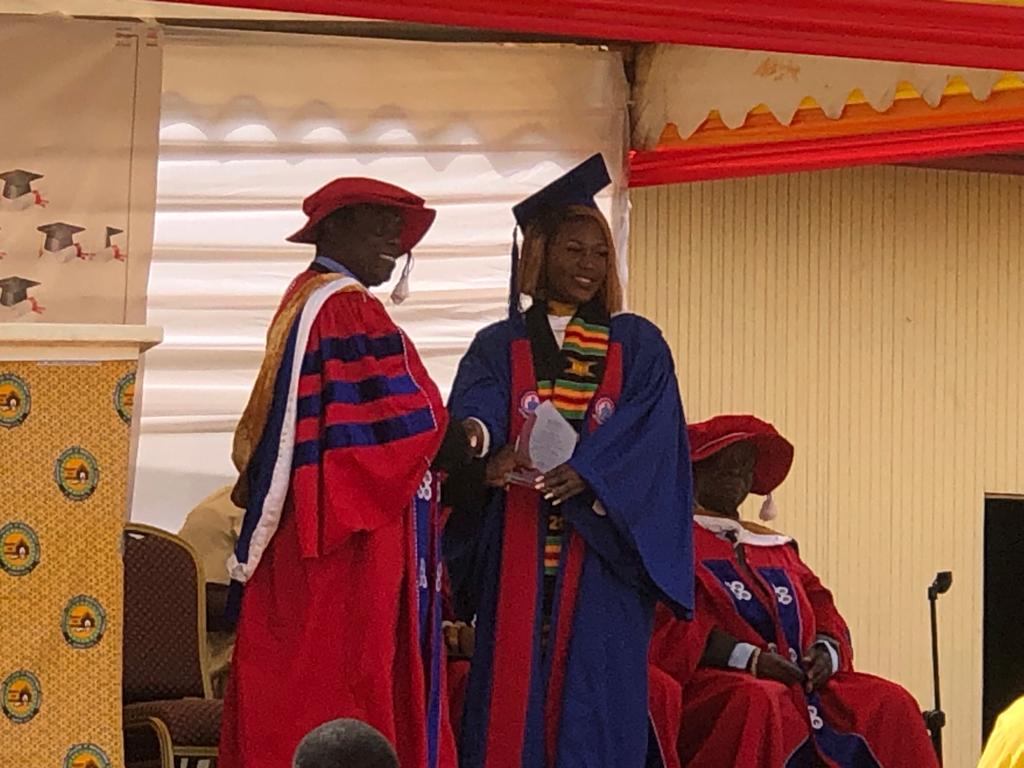 Prof Mireku noted that, life is not as rosy as it appears but with determination and hard work, they can make it.
"As they go out there to face to unknown, may I assure them that with hard work and faith in God, nothing can dismantle their success in life" he opined.
Also, Chairman of the University Council, Prof. Vladimir Antwi-Danso said UCOMS will be introducing new programmes in areas which will benefit the Ghanaian society.
He said due to the quality tuition, their graduates are found in all sectors of the economy competing favourably in the job market both nationally and internationally.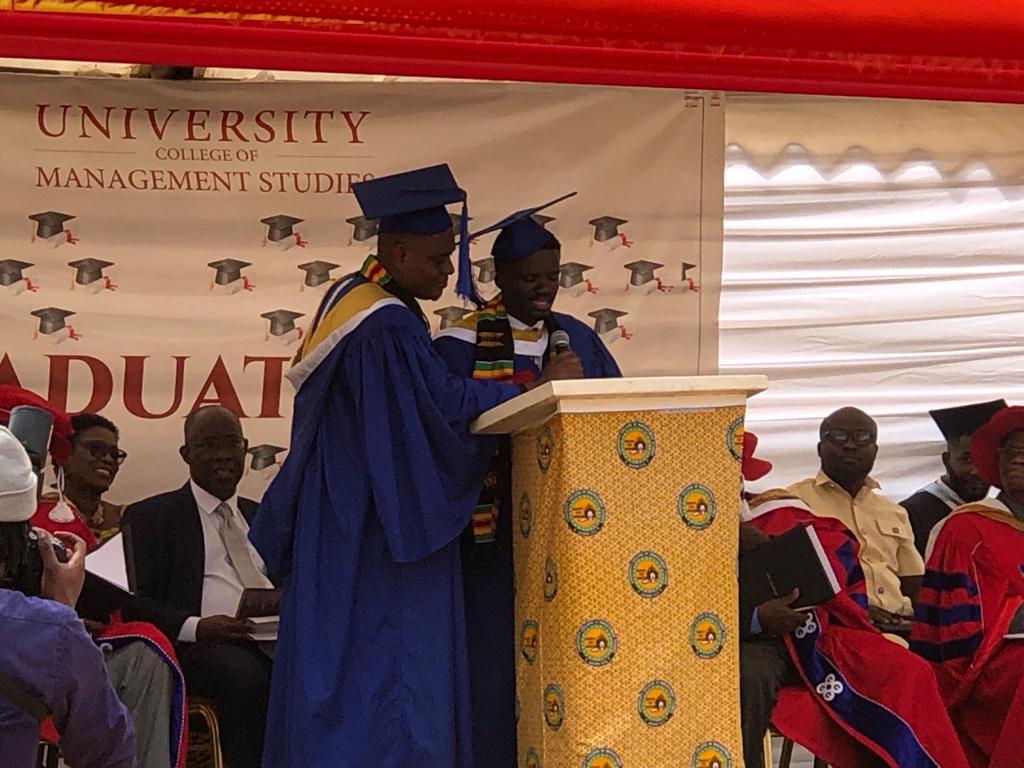 Prof. Antwi-Danso expressed appreciation to their mentor institution, University of Education, Winneba and the Ghana Tertiary Education Commission their ensuring very high standards are maintained in training the young men and women.
Vice Chancellor, University of Education, Winneba, Prof. Mawutor Avoke in a speech read on his behalf charged the graduates to be part of the solution to Ghana's problems.
He charged them to be agents of change to empower them to improve their immediate environment and beyond.
Prof. Avoke urged the graduands to hold themselves to high ethical standards in their chosen fields.
Consulting Rector of UCOMS, Prof. George Kankam said their curriculum is industry relevant to make their students marketable.
He noted that, given the current socio-economic conditions in the country, they have also introduced flexible payment systems to allow a lot more people have access to university education.
Prof. Kankam added that, plans are far advanced to gain autonomy to make UCOMS a fully-fledged public university.
15 of the graduands had First Class, 80 Second Class Upper, 36 and 4 had Second Class Lower and Third Class respectively.
The graduating students from the faculty of Business Administration with majors in Accounting, Banking and Finance, Human Resource Management, Marketing, Procurement, and Supply Chain Management were awarded Bachelor of Science degrees.
Also students from the faculty of Education, Hospitality and Tourism Management were also presented with BSc degrees.
Charles Darkwah who pursued BSc in Accounting was adjudged the overall best graduating student. He also won the Founder's Excellence Award.
Mr. Darkwah delivered the valedictory address on behalf of his cohort and expressed profound gratitude to the University community, their parents and loved ones for their sacrifices and pledged their commitment to make the institution proud in all their endeavours.
DISCLAIMER: The Views, Comments, Opinions, Contributions and Statements made by Readers and Contributors on this platform do not necessarily represent the views or policy of Multimedia Group Limited.