There was Rui Costa and there was Marco Materazzi. Beauty and the brawn. The elegant Portuguese shouldering the weight of his grizzled opponent's elbow.
Tranquillity amid the chaos as a pair of footballing rivals paused to ponder a hazy wall of red smoke and simmering flares.
"Everyone was focused on the flares, on the smoke," photographer Stefano Rellandini, who captured that iconic image 18 years ago, tells BBC Sport. "But near the centre of the pitch I saw a certain moment.
"Materazzi was nicknamed something like a butcher; he is not really a gentle player. Rui Costa was the opposite - more gentle, more artistic in his football. For several seconds Materazzi put his elbow on the shoulder of Rui Costa.
"So when I saw that, I shot it. I have just one frame in that sequence. That was the moment."
The picture has its own legacy, but it also captured the end of AC Milan and Inter Milan's most recent Champions League match; a 2005 quarter-final that was abandoned after flares and other objects rained down on the San Siro turf from a section of Inter fans, one striking and injuring Milan goalkeeper Dida.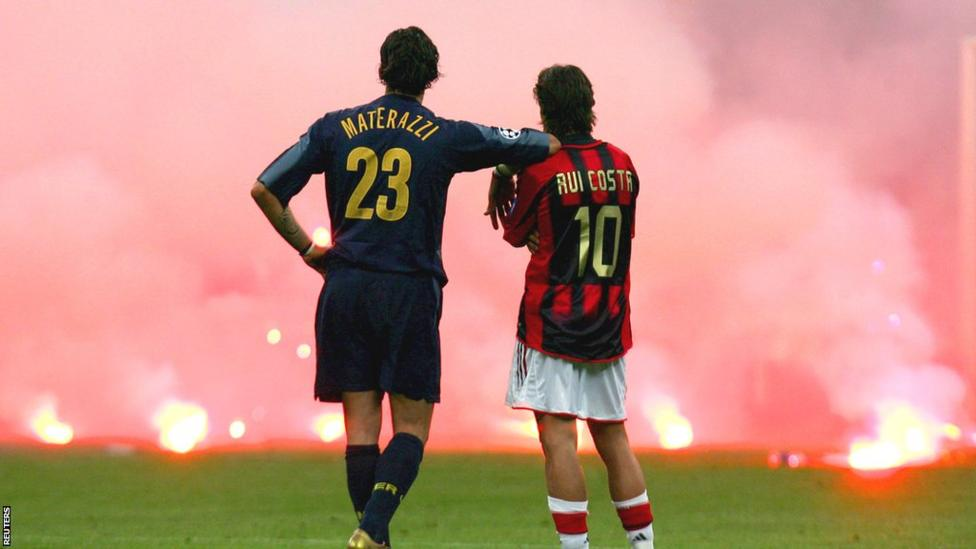 With 73 minutes played of the second leg, the referee abandoned the match and the tie was later awarded to Milan, who were leading 3-0 on aggregate.
"The atmosphere that night was like every time you have an AC Milan and Inter derby at the San Siro," says Rellandini, who was working for Reuters at the time.
"It is always strong. They don't fight a lot, but the choreography of the supporters is huge and great, so you can really feel it, even if you're not a player.
"When you put your feet on to the pitch, you can feel that it's not just a soccer match. It is something more.
"You are really close to the players. It was a nice atmosphere; there was adrenaline.
"It just blew up when they disallowed the goal from Esteban Cambiasso. That completely changed the situation.
"The Inter Milan supporters were freaking out. They started throwing down objects, flares, and did not stop for about 15 or 20 minutes. It was something like a war."

The tension had been brewing. Milan had knocked Inter out of the competition two years earlier on away goals, despite both semi-final legs ending in a draw at the San Siro. Milan went on to beat Juventus on penalties in the final at Old Trafford.
Milan also headed into the 2004-05 campaign as Italian champions - a sixth Scudetto since Inter last got their hands on the Serie A title in 1988-89.
Owner Silvio Berlusconi was building his second truly great Milan side and the entrepreneur-turned-politician had trusted Carlo Ancelotti, a member of the team that won successive European Cups in 1989 and 1990, to deliver another period of success as manager.
For the quarter-final second leg a formidable back four of Cafu, Jaap Stam, Alessandro Nesta and Paolo Maldini sat behind Andrea Pirlo, Clarence Seedorf, Massimo Ambrosini and Kaka, with Hernan Crespo - formerly of Inter - and Andriy Shevchenko up front. Rui Costa was on the bench.
Inter, meanwhile, had spent lavishly to try and compete with Milan and Juventus. Chairman Massimo Moratti broke the transfer world record twice in three years, first to sign Ronaldo from Barcelona in 1997 and then to get Christian Vieri from Lazio in 1999.
Crespo and Seedorf had arrived at Inter on big deals, but failed to land any significant silverware, before uniting across the divide at Milan.
Fabio Cannavaro had also come and gone - a misfiring two-spell ending with a move to Juventus.
By 2005 the Inter midfield was built around the Argentina pair of Cambiasso and Juan Sebastian Veron, while ahead of them precocious Brazil forward Adriano was enjoying his most prolific season in a black and blue shirt.
The team were improving. The results weren't.
Inter carried the unwanted tag of 'August champions' among rival fans, who mocked the expectations that had been built up in the summer transfer market and invariably fizzled out by the time silverware was at stake in May.
Among Inter supporters, there was an underlying feeling that they were running an unfair race - between them, Milan and Juventus had won 11 of the previous 13 titles.
However, in 2006 both would be implicated in the Calciopoli scandal. Juventus were relegated to Serie B for their part and stripped of two titles. Milan, Fiorentina, Lazio and Reggina were docked points.
In 2005 rumours were already swirling in the stands. Criminal investigations had begun in Naples and Turin over alleged bribery and corruption in football.
As the match turned against Inter, their fans' frustrations - at the scoreline and their inability to close the gap on Milan and Juventus teams who always seemed one step ahead - spilled over from the stands and on to the pitch.
Stam and Shevchenko had given Milan a two-goal advantage in the first leg.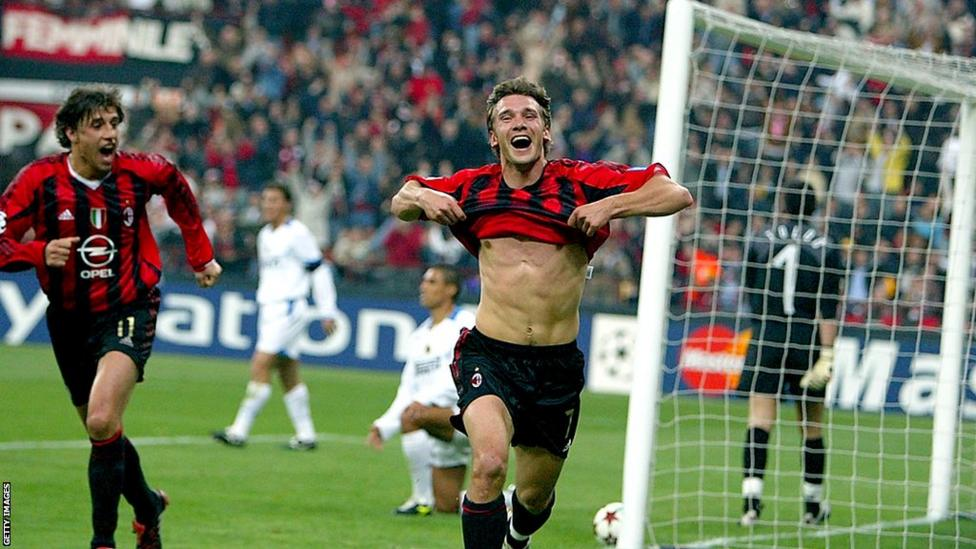 But heading into their 'home' leg at the San Siro, Inter's fans were still buoyant and hopeful of a comeback.
Milan great Alessandro Costacurta, who came on as a substitute in the first leg, talked of the 'Derby della Madonnina' meetings as the "worst" days in his career.
He couldn't sleep. "It was the turmoil of emotions," he said. "It was the tension." Team-mate Maldini described an "electricity" across the city.
Shevchenko also said he struggled to sleep and remembers seeing more club colours on show around the city as the games grew closer.
"There was great tension, great anticipation but above all passion, and always with civil attitudes," the former Ukraine forward told Gazzetta dello Sport recently.
It was Shevchenko, Milan's number seven, who opened the scoring half an hour into a fiery second leg when he beat Francesco Toldo with a left-footed effort from outside the box. That the forward had avoided punishment after appearing to headbutt Materazzi early on only added to Inter's fury, with fans also believing they should have had a penalty.
But the real flashpoint came with just under 20 minutes remaining.
Inter midfielder Cambiasso's bald head met Veron's corner to seemingly make it 3-1 on aggregate, only for the goal to be disallowed because striker Julio Cruz was ruled to have fouled Dida. There looked to be little contact.
Flares thrown by the ultras in the Curva Nord began to pour down on the San Siro turf like flaming arrows.
One struck Dida on the shoulder, narrowly missing his head, as he attempted to clear the pyrotechnics and bottles from his penalty area.
The players gathered in the centre of the pitch as Maldini, Cambiasso and Inter captain Javier Zanetti remonstrated with referee Markus Merk, before Zanetti and Veron took to helping the firefighters who were dousing the flames by trying to clear debris from the goalmouth.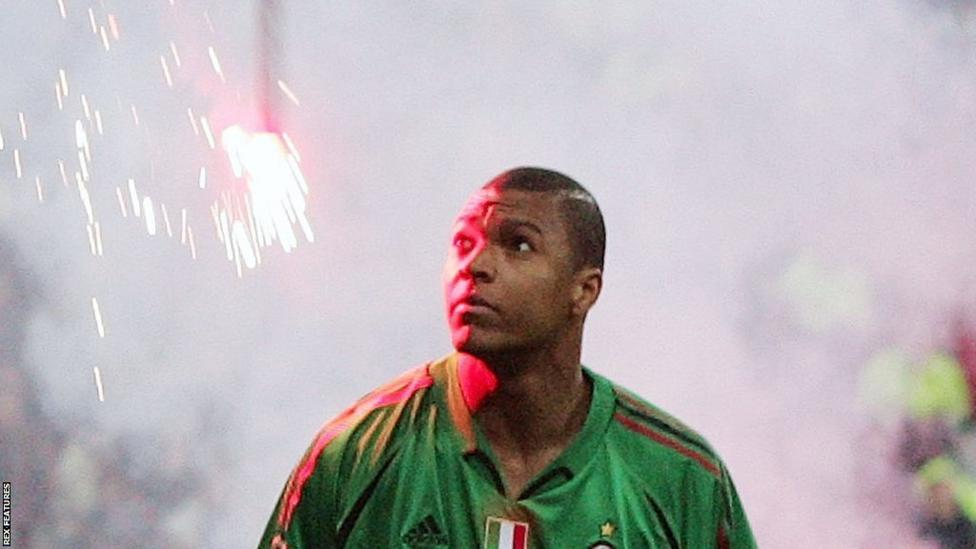 Eventually, with objects still cascading down from the stands, both teams were ordered off the pitch, attempting to shelter as they escaped via a tunnel in the same corner of the ground as the ultras.
"After the first few flares lit up, the pitch was completely in the fog, so you couldn't see. Even if you wanted to catch a picture of someone injured, you couldn't," explains Rellandini, although he did manage to catch his masterpiece amid the chaos.
"They stopped the match for almost half an hour, which was strange at that time. You start to think that something bad has happened because they really threw down everything - they were getting crazy."
When the players returned, Dida - treated for first-degree burns to his shoulder - was replaced by Christian Abbiati, but after 30 seconds, with the barrage continuing, Merk was forced to abandon the fixture.
"The referee took the right decision," said Maldini. "I was surprised that he tried to restart the game but it was good because so many supporters had paid to watch."
Ancelotti, like Inter manager Roberto Mancini, condemned the incident, calling it a "disgraceful episode".
"What happened will not just discredit Inter but all of the city," Ancelotti said. "The reaction of the Inter fans was completely unexpected. I was really surprised because I have never seen something like that in all of the Milan derbies that I have taken part in."
Milan police chief Paolo Scarpi blamed it on "two to three hundred hooligans… the usual hotheads from the Inter section", while Berlusconi, Italian prime minister at the time as well as Milan owner, suggested "drastic measures" were needed to stem the rise of violence at stadiums.
Uefa, European football's governing body, handed Inter a £132,000 fine and ordered them to play four European games behind closed doors.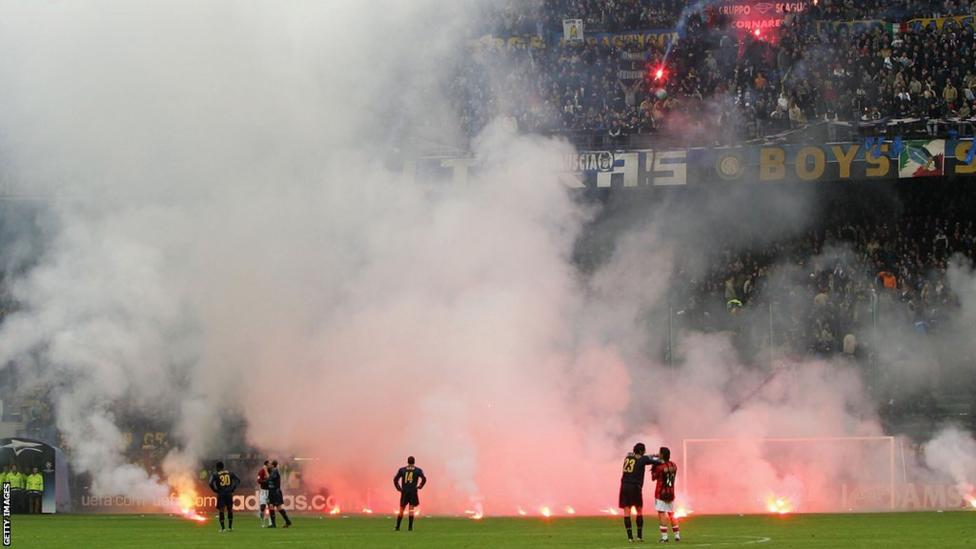 "This is the largest fine in Uefa's history. There will be some people who think it is lenient and some people who think it harsh," a Uefa spokesperson told the BBC.
Milan went on to beat PSV Eindhoven on away goals in the semi-finals - Dida set a Champions League record of seven successive clean sheets in their 2-0 first-leg victory, before PSV won the return 3-1.
Milan would have clinched a seventh European title but for a miracle in Istanbul in which Liverpool scored three times in six minutes in the final before winning on penalties.
Milan would get their revenge two years later, seeing off Liverpool in the final in Athens, although on a domestic level their points deduction and Juventus' relegation opened the door for a period of Inter dominance in Serie A.
Inter were awarded the 2006 title then won four in a row, culminating in a Treble under Jose Mourinho in 2009-10.
Neither Milan side have reached the final since, but that will change this year after a semi-final derby that has also brought Rellandini's iconic image back to life.
DISCLAIMER: The Views, Comments, Opinions, Contributions and Statements made by Readers and Contributors on this platform do not necessarily represent the views or policy of Multimedia Group Limited.
DISCLAIMER: The Views, Comments, Opinions, Contributions and Statements made by Readers and Contributors on this platform do not necessarily represent the views or policy of Multimedia Group Limited.