The Chief Executive of the Development Bank Ghana (DBG), Kwamina Duker says changing the mindset of players in the financial industry is pivotal to increasing support to the agricultural sector.
He believes that if financial institutions understand the importance of collaborating with players in the agriculture sector, it would be easier to lend to them.
Speaking at a training session organised for financial institutions by the Ghana Incentive-based Risk-sharing System for Agricultural Lending (GIRSAL) he said, "We've got ourselves into a cycle where there's blame on both sides; the SMEs are blaming the banks and vice versa and there's no common language.
He, however suggested that the way forward is changing mindsets of financial institutions about agriculture.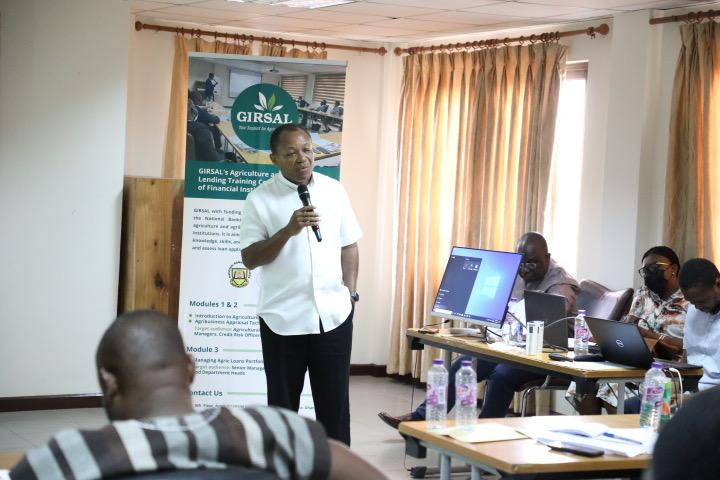 "So, by bringing together the banks, Development Bank Ghana and GIRSAL, we then look at the ecosystem and first ask ourselves, 'what is causing the risk? Is it the long-term financing? Is it that we need SMEs to be more ready? Do they have a good understanding of what banks require to be able to meet loans?'"
Mr. Duker believes "it's not a matter of just giving out the money because that ends with everyone going bankrupt. So, now there's a mindset of working together, collaborating and connecting for the common good."
The Ghana Incentive-based Risk-sharing System for Agricultural Lending (GIRSAL) introduced the Agriculture and Agribusiness Lending Course for financial institutions in 2020 in collaboration with the National Banking College.
The programme is to help financial institutions improve their capacity to access agricultural loan applications and manage agribusiness lending.
Chief Executive of GIRSAL, Kwesi Korboe reiterated his outfit's commitment to growing the agriculture sector.
He indicated that his outfit has identified three things that need immediate attention.
"Recently we added advocacy to our mandates where we're trying to look at the entirety of risk in agric financing. In fact, for this year, we have identified three critical issues; policy on exports at the Tema Port, agric production and the issue of imported chicken. These are some of the things we're focusing on to help make recommendations to government that these challenges need to be addressed to fully realise the potentials of the sector," he stated.
In all, 55 participants from 12 financial institutions attended the training session