Maize constitutes 60 percent of feed for poultry production.
However, the country continues to record rising prices in maize despite government's interventions.
One strategy to overcome increases in production cost is the use of poorly exploited products for use as animal feed.
A cocoa by-product, cocoa pod husk has therefore been tipped as maize substitute.
In this report, Luv FM's Emmanuel Kwasi Debrah explores the economic potential of the new feed.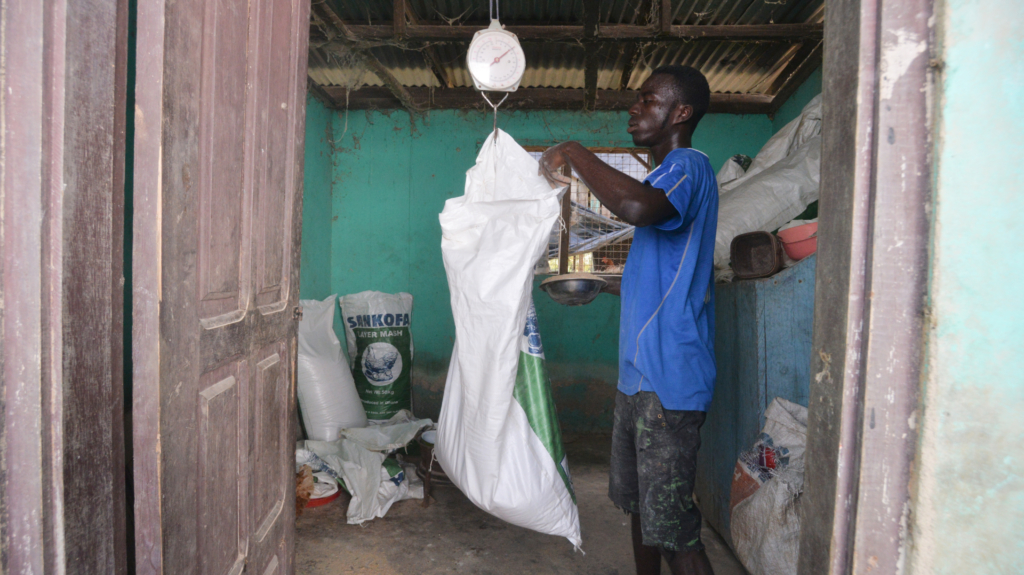 On the outskirts of the Ashanti Akyem central town of Obenemase, Francis Anim owns a pen, accommodating more than 1,500 chickens.
The Junior High School graduate has been rearing birds for half a decade.
His gluttonous friends are served everyday with Sankofa layer mash, a locally-produced feed.
Francis used to produce his own feed until the largest raw material component, maize, became scarce and expensive.
"We bought one bag of maize every week for 250 cedis to produce the feed. We could no longer get some to buy because of an outbreak of a maize disease.
"We went to different villages in Agogo in search of the commodity but to no avail. The ones we were fortunate to find were priced at 300 cedis," he said.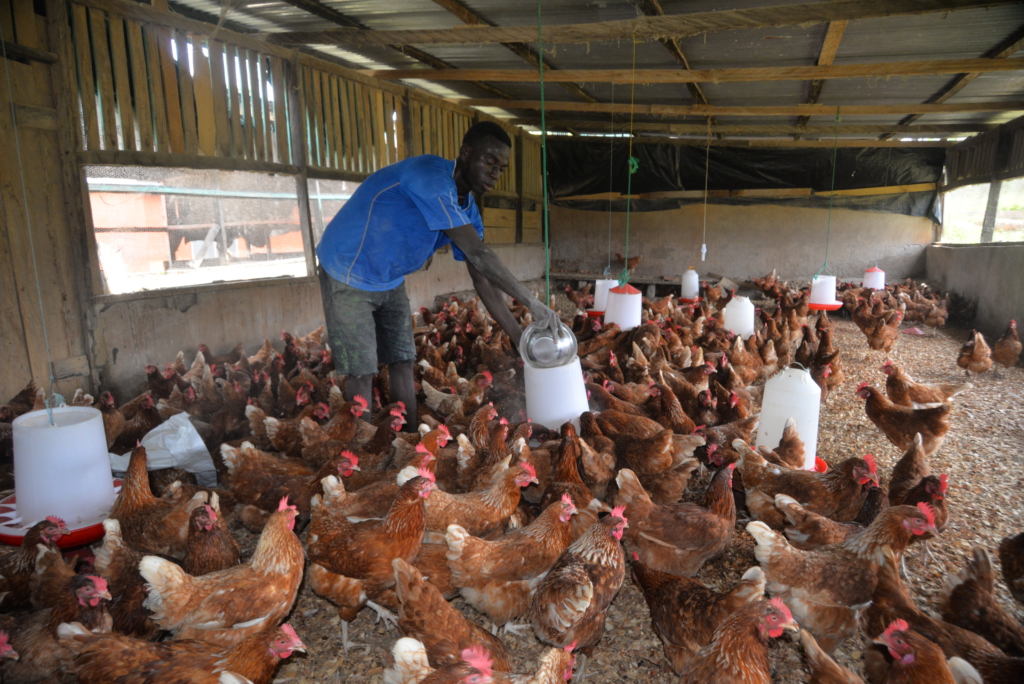 Francis resorted to a low-grade maize at the cost of his birds' lives.
"There was too much chaff and insects in the feed which made the birds sick and died. So, we were warned to discontinue," he recounted.
Unlike Francis, Boris Baidoo of Boris B's Farms and Veterinary Supplies Ghana Limited has tens of outsourced farmers.
Mr. Baidoo uses 256 tonnes of maize daily to produce the feed.
"And that is without what we're selling to people because most people are not coming in to buy the complete feed," he added.
Though the government's planting for food and jobs has increased maize production, he observes continuous upsurge in prices.
Mr. Baidoo is worried maize farmers are taking undue advantage of the huge demand for the commodity.
"With time, maize prices are just moving up. If somebody is using 30 cedis per 50 kg to produce chicken abroad and you are buying at 70 cedis that is unfortunate.
"The maize prices must be controlled because maize farmers are taking undue advantage, because they have to meet the government half way by not raising prices," he said.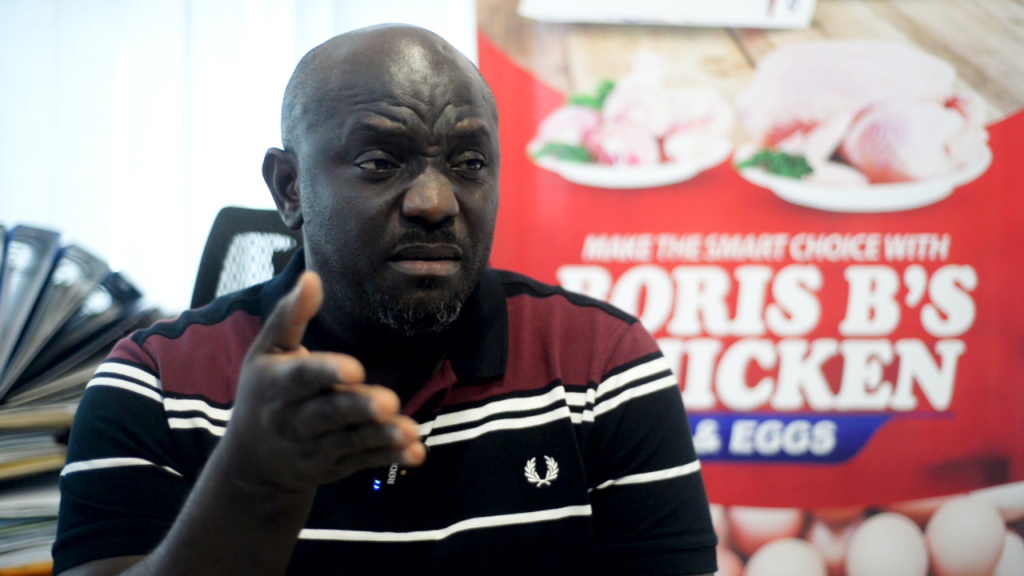 Quest for maize substitute
With the rising cost of the maize, animal nutritionists have continuously been searching into the use of cocoa by-products.
Ghana is the world's second largest cocoa producer, with an annual production of 750,000 tonnes.
Large quantities of cocoa wastes or by-products are generated as a result.
A hectare of cocoa is reported to produce 4,650 kg of dry cocoa pod husk.
According to a report in the research journal of Animal Veterinary Science, cocoa pod husk is estimated at about 10,500 metric tonnes per annum and forms about 70 percent of the waste.
The potential of cocoa pod husk as feed for poultry can be found in a 1995 report in the Journal of Science and Technology.
In that, 192 ready-to-lay day-old chickens were studied for 8-months.
"Four dietary treatments incorporating 0, 50, 100 and 150 kg of Cocoa pod husk meal per kg were used and the birds were randomly assigned in equal numbers in a completely randomized design," the report stated.
The feed was found to increase weight of organs such as gizzard, kidneys and intestines.
A 2011 report on pigs also concluded: "Cocoa pod husk can safely replace at least 25 percent of the maize component in rations of the finisher pigs."
Not all nutrients
A major attribute of an alternative feed however is the ability to provide adequate nutrients that meet the nutritional requirements of the animal without compromising on the animal's overall wellbeing.
A 2009 Ghana report found a similar chemical composition in cocoa pod husk, Bermuda grass and soybean hull.
Cocoa husk has been found to contain 5.9 percent proteins and 21 percent of fibre. Other nutrients such as calcium, sodium and magnesium are present in varied quantities.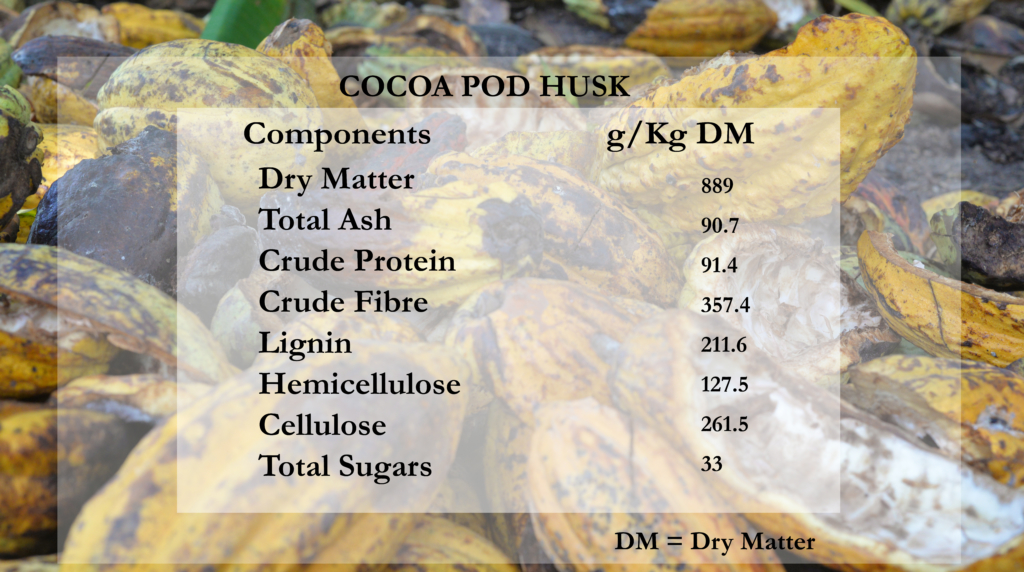 Feed for livestock and poultry also depends on the ability of the animal to digest the fibre. Sheep, for instance, can take more than the birds because they have enzymes that can digest the fibre.
"You could replace the feed for sheep with up to 60 percent cocoa pod husk, 25 percent for pigs and 10 percent for chickens," explains Dr. Gyedu-Akoto, Principal Research Scientist with the Cocoa Research Institute of Ghana.
A report in the 2013 edition of the journal of biological sciences also found cocoa pod husk could supply a substantial required energy needs for animals like cattle, goat and sheep.
Unfortunately, the use of cocoa pod husk has been hampered by an anti-nutritional substance called theobromine, which has been found to be toxic to livestock.
Theobromine level has been reported to be around 1.5 to 4 gram per kilogram dry weight.
Studies in Nigeria, have found detrimental effects on broiler growth when cocoa pod husk were included in their diets.
Another major hindrance to cocoa pod husk utilization has been its fibre content. The fibre is difficult to digest.
A 1985 study found untreated cocoa pod husk in diets have resulted in lower digestibility and animal performance.
A Ghanaian study reported cocoa pod husk has high levels of lignin, a component of fibre. Poultry and pigs, for instance, lack enzymes to digest lignin.
This means a nutrient like phosphorus which is readily found in the husk cannot be utilized by these animals.
Another anti-nutrient, tannins, is also present in high quantities.
"Tannins prevents the utilization of proteins," said Dr. Francis Alemawor of the Food Science and Technology department of KNUST.
Towards improved husk
Several strategies have been proposed to surmount the theobromine and fibre among other limitations and to enhance the nutritional content.
In Nigeria, chemicals such as Sodium hydroxide or warm water of various temperatures have been used to improve the feed.
"Water treatment at a temperature slightly above 60 degree Celsius for a few hours efficiently extracted theobromine," the Nigerian Agricultural journal report found.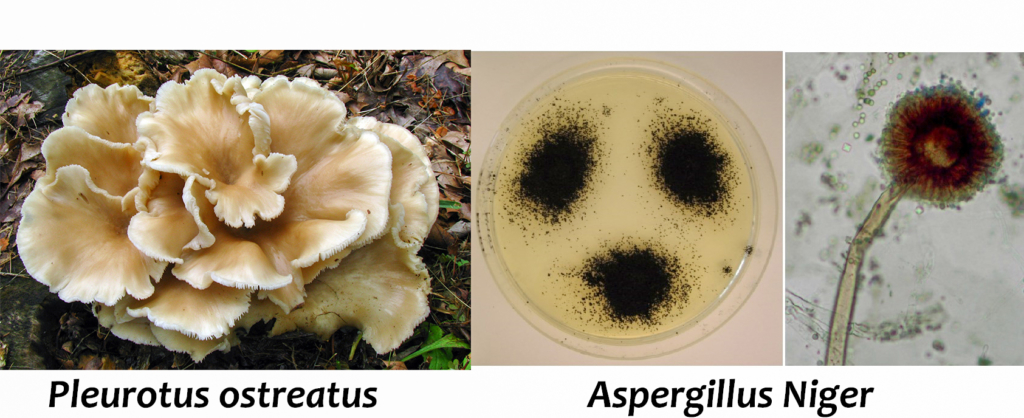 In Ghana, the Kwame Nkrumah University of Science and Technology has been using a fermentation process involving a fungus, Pleurotus ostreatus or oyster mushroom to improve feed value.
"By way of surviving, the oyster mushroom secretes enzymes onto organic matter including the cocoa pod husk and these enzymes are able to break down the indigestible constituents within the material for growth.
"The oyster mushroom has the ability, by virtue of the enzymes it secretes, to break down the fibre component and other anti-nutrients in cocoa pod husk and this releases nutrients for effective utilization by poultry or livestock," Dr. Alemawor explained.
In 2012, a 6-week fermentation with the fungus increased protein content by 25 percent and decreased the lignin content by 34 percent.
Minerals like phosphorus were also enhanced.
Theobromine content reduced by 72 percent after seven days fermentation with another fungus, Aspergillus niger, on cocoa bean shells.
"Aspergillis niger is more suitable for use as feed material for animals," the report concluded.
Dr. Alemawor has gone further to use Manganese to enhance the effectiveness of the fibre-degrading enzyme of Pleurotus ostreatus.
"Manganese peroxidase is one of the key enzymes secreted by the oyster mushroom requires manganese to break down the complex nature of the fibre. If you have that present it facilitates the activity of the enzyme," he said.
He found a 36 percent increment in protein and sugars as well as 88 percent reduction in tannin content of cocoa pod husk. There was 17 percent reduction in fibre and lignin.
More income
Agyen Brefo, a cocoa farmer at Kona in the Ashanti region has been leaving his cocoa pod husk to decompose on the farm.
Sometimes, soap producers would cart it away. He welcomes the idea cocoa pod husk is getting additional uses.
"I believe this can help us get additional income source," he is optimistic.
However, Boris Baidoo fears that increasing demand will cause cocoa farmers to start selling the pod husk at exorbitant prices.
"In the beginning we got the fibre for our feed from wheat bran, when they're done with manufacturing of flour. In the beginning, they were not selling it. But it came to 1 cedi and now it is 18 cedis which is making our feed expensive.
"It is a great idea but would they not do the same?" he questioned.
Mr. Baidoo suggests an incentive for cocoa farmers and subsequently an order to stop them from selling will be crucial in the idea's sustainability.
"If there can be a plan for cocoa farmers so they will be told they are not supposed to sell the pod husk to the poultry farmers," he said.
Dr. Gyedu-Akoto, who is also head of the new product development unit at the Cocoa Research Institute of Ghana reveals "recently two farmers made enquiries."
Dr. Alemawor however, advocates further studies to make it readily available to farmers.
"We need to do some further work in order to optimize the process," he said.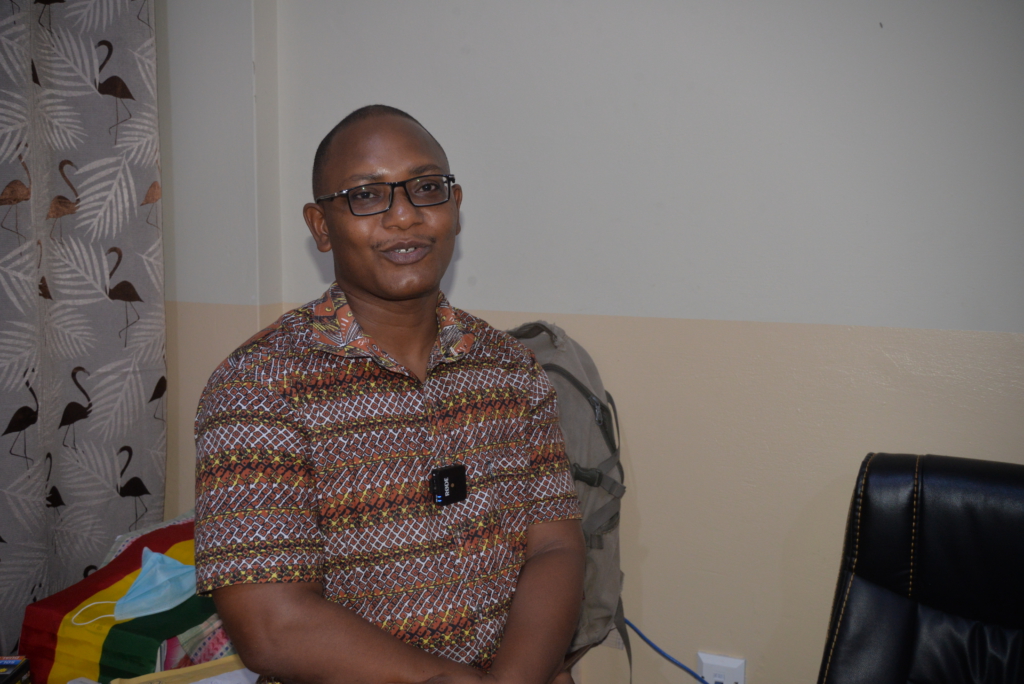 As Mr. Baidoo says: "Cocoa pod husk if found to adequately reduce reliance on maize use will cut down cost of feed production and reduce cost of the local kitchen."
Of course, goat, sheep, rabbit and pig will all be produced at cheaper cost and Ghanaians will be able to purchase livestock also at a cheaper price.