Science animated series, Dexter's Laboratory featured daily on Ghana Broadcasting Corporation's Ghana Television (GTV) in the late 1990's.
However, the cartoon and other science animations are no longer shown on Ghana's over 150 local TV stations, depriving underprivileged pupils of the motivation to pursue science.
At a science tour organized by Ghana's second largest research laboratory, the Kumasi Centre for Collaborative Research in Tropical Medicine (KCCR), 100 school pupils are being exposed to a science animation.
It's a flickerlab animation about the immune system.
"The video is about how the immune system helps us to defend ourselves against diseases. It's for them to learn and have fun and know that science is not hard, you can learn and have fun at the same time," the instructor, Nana Safi explains.
Indeed, Kelvin of Weweso Primary School, a public school in Kumasi in the Ashanti Region of Ghana also had fun and could recall vividly what he saw.
"It's a story where a queen was attacked by enemies which were germs, so she solicited the help of the immune system to fight off the germs," he summarized to me in Ghana's widely-spoken dialect, Twi.
I therefore went on to ask him if it helped him to understand the immune system well, of which he quickly responded 'yes, very well, it was fun'. But I was shocked when the 12-year-old pointed out, it's the first animation on science he's ever watched.
Interestingly, he wasn't alone. His peers and other 4 pupils from one other public school, Ayigya M/A Primary I spoke with surprisingly said they've never chanced on any science animations before.
But the situation was different with their private school counterparts.
When I asked Malvina of KNUST Primary, she quickly said Dr. Binocs show and Aumsum.
"I love them. They're very interesting," she said.
For Lamini, a pupil of D & D Academy, in addition to Dr. Binocs and Aumsum he watches Dexter's lab.
Like Malvina, Lamini watches all of them via the internet.
"I watch them on the tablet," he said.
When I asked Lamini if it's helped him to love science, Lamini said:
"It's called, It's Aumsum Time and that's what got me interested in biology and entomology."
Bernadette of Bethlinter Academy also watches Aumsum and Dr. Binocs Show and that was also through the internet.
"I watched it on my mother's phone, on the internet," she said.
For Daphe-Blessing of Infant Jesus, she used to watch Dexter's Laboratory on Nicktoons on DSTV.
"I watched on DSTV channel 308," she said.
For Emily of Bethlinter Academy, she watches Da Vinci Kids on DSTV, which she says made her love human biology.
"I watched it on DSTV, channel 118. It helped me love science, especially human biology," she said.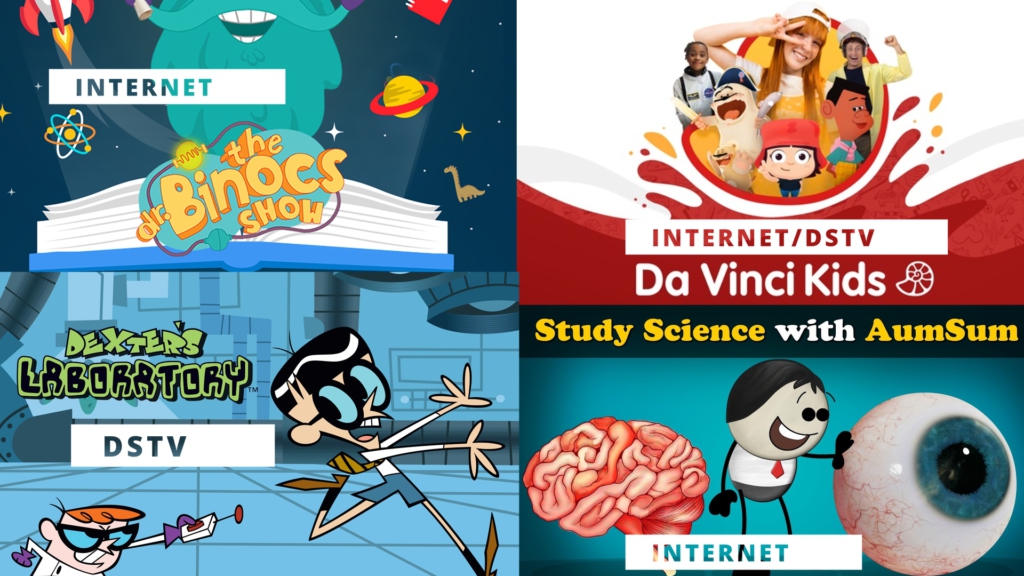 Expensive animations
Cartoons or animations have been used in many ways to improve children's understanding of many concepts and ideas.
A 2021 study published in the journal of Physics Conference Series concludes, animated videos can improve student learning outcomes and encourages students to think critically in learning science.
It's therefore very crucial in children's television programming.
GTV used to show Cartoon Network, where Dexter's Laboratory always featured.
The programme was shown at 3:00pm daily as all school pupils might have closed and will be at home.
However, that's not the case in recent times.
Now, cartoons are shown on only Saturdays and surprisingly, the Dexter's laboratory is absent.
"We've long stopped showing Dexter's laboratory," a TV technician, Mark, told me.
The major reason has been lack of funds. GBC officially reintroduced the collection of the TV license fees in 2015 after years of putting it on hold due to non-payments.
While domestic TV users were to pay between GH¢36 and GH¢60 for one or more TV sets in the same house every year, TV set repairers and sales outlets were to pay an annual sum of between GH¢60 to GH¢240.
Commercial TV operators were to pay GH¢36 per annum for each TV set.
Sadly, Ghana Broadcasting Corporation has been appealing to Ghanaians to voluntarily make their payments to no avail.
The situation is no different with Ghana's biggest private educational children's channel, Joy Learning and entertainment-news channel, Joy Prime, both hosted on the subscription-free decoder, Multi-TV.
Senior Channel Executive at Joy Learning, Naana Yaa Asiedu told me they are yet to consider animations on the channel.
"Our programming has always aimed at those in the JHS and SHS. Perhaps, when we move to lower primary, we'll consider adding animations, and of course we'll need funding," she said.
Joy Prime also used to show Cartoons including Dexter's Laboratory but has halted broadcast.
Channel Manager of Joy Prime, Ms. Emily Nyarko revealed her outfit stopped showing the cartoons due to cost.
She revealed a license for an episode of a particular cartoon show could cost the channel $300 to $400. With rising forex, the channel wasn't able to keep up.
"The economy hasn't been good and the dollar keeps on rising.
"The kids don't have purchasing power. In kids programming, we don't look at only the kids but also the cartoon's ability to attract the parents to watch. So we could sell items like diapers or Cerelac. However, getting sponsors is very difficult for these shows," she said.
'Syto' is a slang in the local Ghanaian parlance which refers to public basic schools which lack quality tuition and other relevant teaching and learning facilities. Children from poor homes mostly attend these schools. Weweso and Ayigya M/A primary schools are typical 'Syto'.
Indeed, a teacher at Ayigya M/A primary, Ms. Gloria Badu bemoaned the lack of STEM materials for effective teaching and learning.
"The teachers in these schools find it very difficult to teach the kids because we do not have textbooks, labs and other science materials to teach the kids," she said.
Kelvin and his colleagues at Weweso and Ayigya M/A primary schools lack these science materials to aid them towards early love for science. But the Flickerlab animation on the immune system has drawn Kelvin a bit closer to the beauty of science. Unfortunately, their parents can't afford DSTV subscription fee and may not make their phones available to them, that is, if they can even afford internet bundle.
Can Ghana's Ministry of Education make science animations available in many of the local channels so underprivileged kids can have access like in the past? Can we have Ghana's first science animation series which is in both English and local languages?
The Ministry of Education is putting up many STEM schools nationwide, especially in the rural areas. But the gains will be fully realized with an early exposure to science through, especially, animation.
DISCLAIMER: The Views, Comments, Opinions, Contributions and Statements made by Readers and Contributors on this platform do not necessarily represent the views or policy of Multimedia Group Limited.