As the year 2020 came to a close, thousands of students and parents were reflecting back on the months-long forced school closures which resulted in thousands of children missing out on their education.
"I'm at home because of Covid-19. I hear it kills people," a Primary 5 pupil, Perpetual Ahwireng sharing her knowledge of the virus. Perpetual Ahwireng is among the many Ghanaian children who had to sit at home due to the outbreak of the virus.
According to data from Ghana's Ministry of Education, 9.2 million learners from Kindergarten to Senior High School were affected by the school's closure.
The outbreak of the pandemic compelled 144 countries to shut down schools as of March 21, 2020, with an estimated 911, 786,722 learners from pre-tertiary to tertiary education being affected, according to data from the United Nations Educational, Scientific and Cultural Organization (UNESCO).
Ghana recorded its first two cases of Covid-19 on March 12, 2020. The President, Nana Addo Dankwa Akufo-Addo in a televised address on March 15, banned all social gatherings and ordered the closure of all schools and universities in the country.
"All universities, Senior High Schools and Basic Schools, i.e., public and private, will be closed from Monday, March 16 until further notice," President Akufo-Addo said during a live broadcast to the nation as part of measures geared towards fighting the pandemic.
The initial reaction to this was skepticism but as would be later realized, some Ghanaians believe the closure of schools which was a bitter pill prevented the spread of the virus among children.
"In fact, the first thing that struck me was; was it in the interest of all of us and for that matter the learners and workers of the schools? Yes, it was," said Stephen Adukor, a headteacher of a private school in Accra.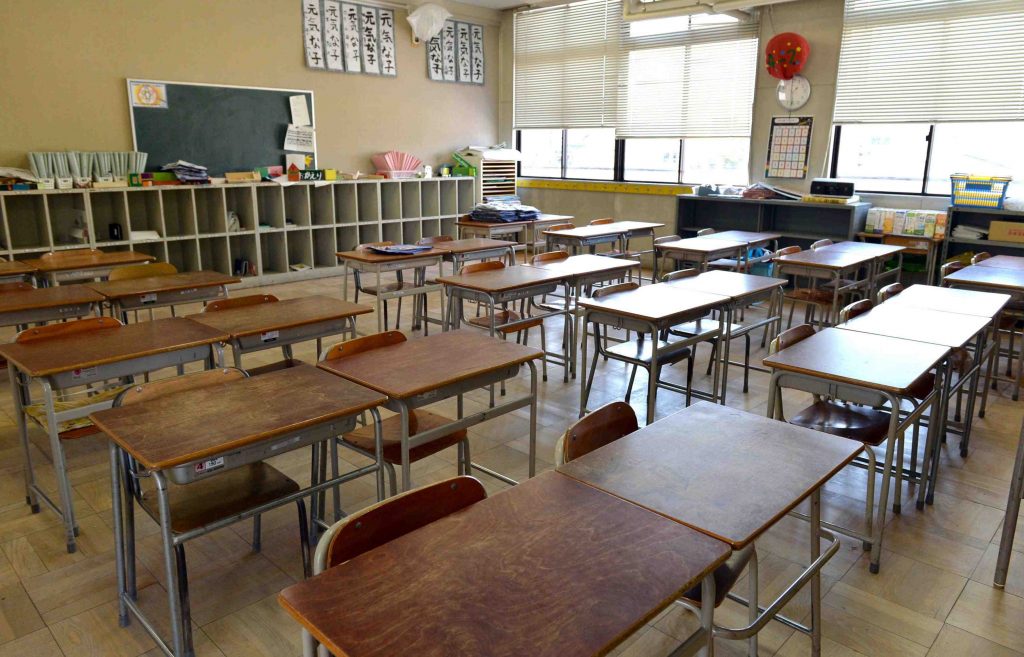 Schools across the country had to comply despite their reservations. Assistant headmistress of Osu Presbyterian Preparatory School, a mission school in Accra, Mrs Caroline Masoperh also revealed that; "We were disappointed because we had a lot of our learners who had not yet finished paying their fees and we knew if this went on for a long time, it would disturb our financial situation because we rely on the school fees to take care of the school so we were thinking of what to do but we had to obey."
In Ghana, the initial school closure directives allowed final year students in both Junior High School (JHS 3) and Senior High Schools (SHS 3) to continue attending school to prepare for their final exams with schools ensuring that social distancing and enhanced hygiene protocols were observed.

"Basic Education Certificate Examination [BECE] and West African Secondary School Certificate Examination [WASSCE] candidates will be allowed to attend school to prepare for their examinations but with the required social distancing protocols," the President announced.
Subsequently, on March 23, 2020, following the West African Examinations Council's (WAEC) decision to indefinitely postpone West African Senior School Certificate Examination (WASSCE), the Ghana Education Service directed schools to release the JHS 3 and SHS 3 students to go home until the President's directives were reversed.
President Akufo-Addo also directed the Ministry of Education and the Ministry of Communications to ensure that they rollout distance and remote learning programs to all students.
In response, the Education Minister, Dr Mathew Opoku Prempeh constituted a team to propose a plan for all levels of education. The team comprised representatives from the Ministry of Education (MoE), Ghana Education Service (GES), National Council for Curriculum and Assessment (NaCCA), Ghana Library Authority (GhLA), Center for National Distance Learning and Open Schooling (CENDLOS), National Council for Tertiary Education (NCTE) and the University of Ghana (UoG).
The setting up of this team is detailed in a Coordinated Education response plan for Covid-19 published by the Ministry of Education in April 2020.
The Ghana Broadcasting Corporation (GBC) collaborated with the Ghana Education Service (GES) to use radio as a means of providing content to all levels of students, from Kindergarten to SHS.
With regards to television, the GES secured the commitment of the state broadcaster, Ghana Broadcasting Corporation (GBC) to use television as a means to deliver content.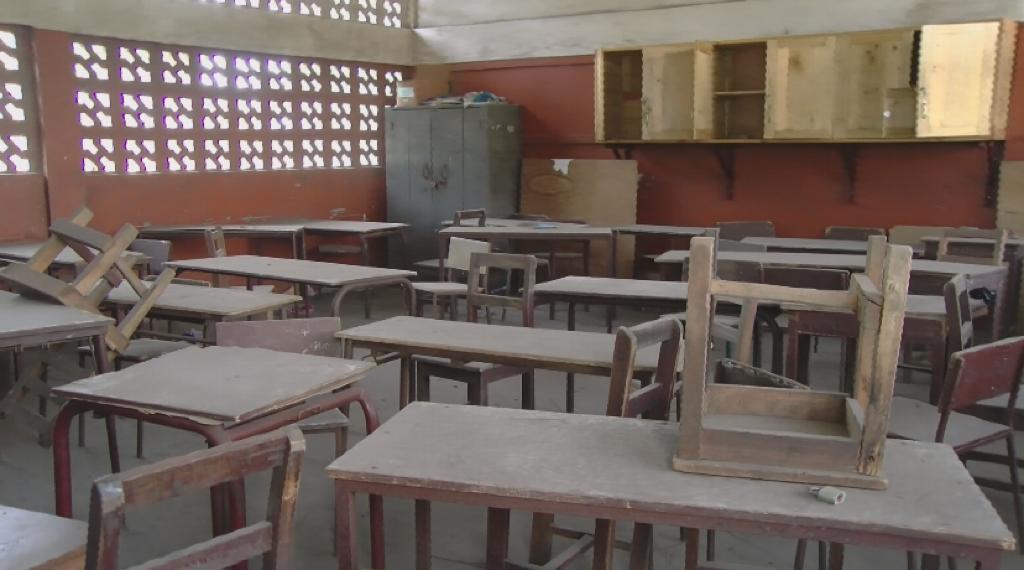 A 24-hour dedicated channel named Ghana Learning TV (GL-TV) simultaneously carried on the GBC Digital Terrestrial Television (DTT) platform and the National DTT platform as a Free-to-Air broadcast. This came along with sign language interpreters to assist the hearing-impaired to also participate in the lessons.
Also, the Ministry of Education and the Ghana Education Service through the Ghana Library Authority on November 5, 2020, launched the Edmodo Ghana e-learning platform for Ghanaian teachers and students.
According to the Ministry, this all-in-one platform solution for distance and hybrid learning helps connect all learners with their teachers and resources needed to enhance the learning experience.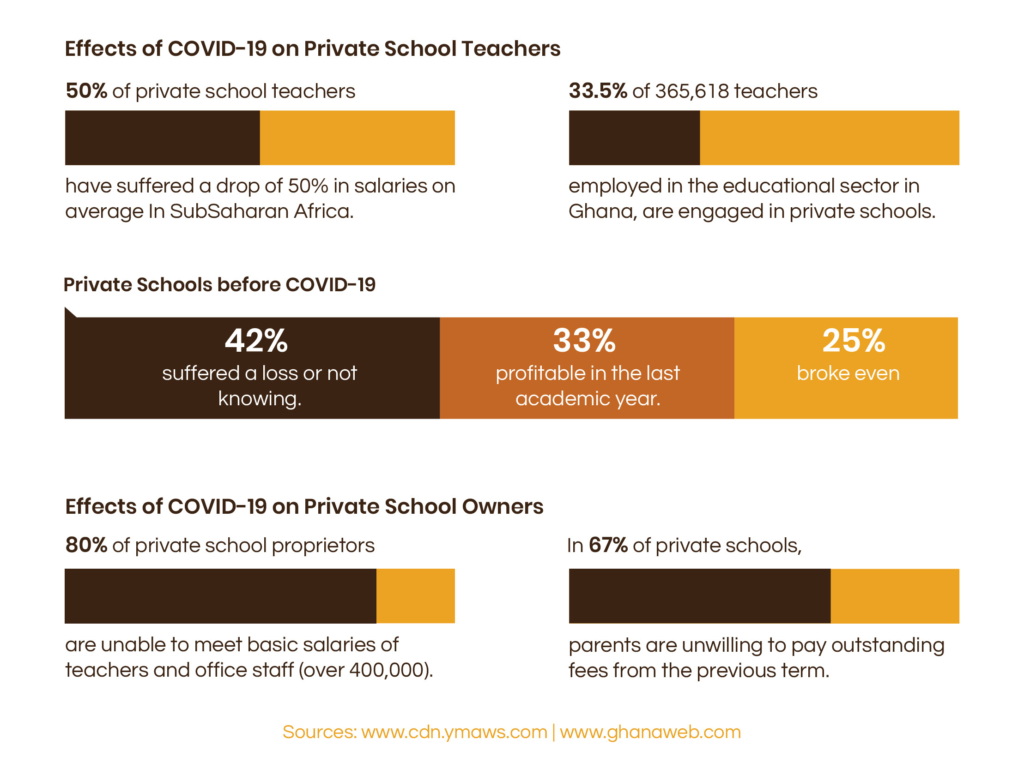 It also gives access to parents who want to monitor the learning progress of their children to do so.
According to a report by Child Rights International, a Non-Governmental Organisation (NGO), children are yet to benefit from the learning platforms provided across all regions.
The report published by the NGO in November 2020 revealed that the digital platforms reached only 5% of the children in the regions, namely Bono, Ahafo, Ashanti, Western and Eastern.
TV and radio coverage reached 32% of children surveyed except in Greater Accra. The report further stated that 6 out of every 10 children said they used peer and parental support in learning.
Charlotte Hesse is a guardian in Accra. Her two wards Pokua and Otubea, aged 12 and 9 attend a public school near their house. "The youngest one has been participating in the Ghana Learning Programme," Madame Hesse opined.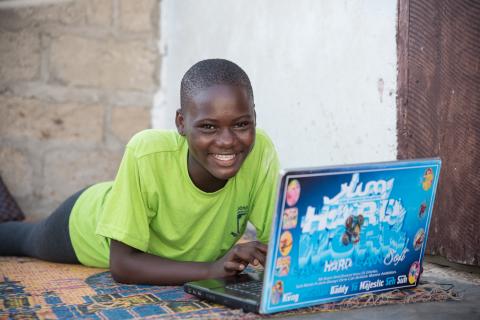 She, however, admits that it is difficult regulating the children's access to television.
"Sometimes, they watch television and it's difficult checking them because it's not always that I'm in the house," she said.
Nadine France is a nursing mother and a banker and has two of her children attending a private school in Accra. Her wards' school is one of the few schools in the capital to roll out the virtual learning programme during the closure.
"When the virtual learning started, I was actually on maternity leave so I was already home with the kids but the additional responsibility of having to teach them at home was so much for me because I had a new baby. New babies are already a whole package so it was really stressful for me," she lamented.
Soon, Nadine's maternity leave ended and she had to combine the arduous task of reporting to work and also assisting the kids with the virtual learning.
"One thing about virtual learning is that the parent would have to listen and understand what they are going to do because they will answer questions. I remember one of the days, my little one in KG 2, they were treating sandy soil.
"It was so abstract to him so I had to listen, understand it and explain it to him. Normally we do our virtual lessons at around 10 pm because I get home at around 7 pm. They are children and have to be guided throughout. We sometimes take pictures and upload them onto the virtual classroom," she added.
This additional responsibility placed on parents like Nadine France placed a heavy toll on them.
"Since they started, it has really changed my life because the earliest time I've gone to bed is around 12am and I'm doing that together with managing a new baby and my nanny goes home when I return from work. Sometimes I wake up very tired, I wake up with a headache. It is really tough for working parents but it is good for them because when you leave them on their own, they don't learn anything."
The virtual learning programme rolled out by some private schools came at a cost; a cost most parents found difficult to absorb.
"We started and along the way, they were like we'll pay 250 GHS a month. Some parents complained others paid. We also paid. That was 500GHS for the two boys. Others also complained bitterly that we paid full term fees for the 2nd term so really, we shouldn't pay anything. Some also stated strongly that it was not fair. We started another class again.
"That one, the fee was 1,600GHS per child and the truth is that the parents do everything with regards to the virtual learning. I think it's unfair for the parents to pay such an amount because their full-term fee is GHS 2,100 and it's just GHs 500 off. The difference is not compensatory enough for the stress that parents go through with the virtual learning," Nadine complained.
However, not all schools charged for the virtual learning programme.
"When school was not in session, each class was asked to create a WhatsApp platform and assignments were given on the platform. This is a community school and most of our learners come from deprived areas so if you ask them to do this e-learning thing, it would be a problem.
"Some were given exercises and parents were coming for them. The teachers also came around to mark. We did this from Primary to Junior High School. It was very effective," Assistant Headmistress, Mrs Caroline Masoperh revealed.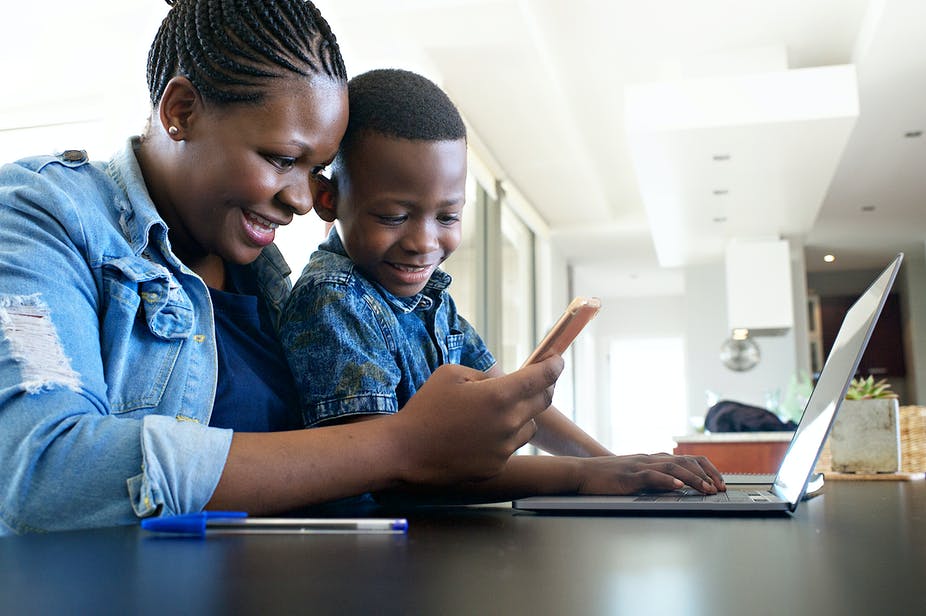 Most of these virtual learning programmes could not factor in the needs of all children with disabilities. According to the United Nations Children's Fund (UNICEF), children with disabilities in Ghana often lose out on education because they are 'invisible' in data and overlooked during the implementation of education programs. Emelia Gyenkel has two children; a boy and a girl.
Both children attend a private school in Accra. Her 10-year-old son Nana Kwame Boateng Appiah is living with cerebral palsy, the most common motor disability in childhood.
Even before Covid-19, many parents with special needs children in Ghana have had to live with the harsh reality of inequalities in the education sector.
"I went to the proprietor. And was told to pay some fees for Maame's virtual learning. I didn't bother to ask anything for Nana because I know there is no way they will have any expertise in teaching him online," Emelia remarked.
However, in the case of her daughter, Maame, "virtual learning was done via WhatsApp. Work was given monthly. In some cases, we are required to take a video of the child doing the exercises. Once the child is done, I take the book back to the school."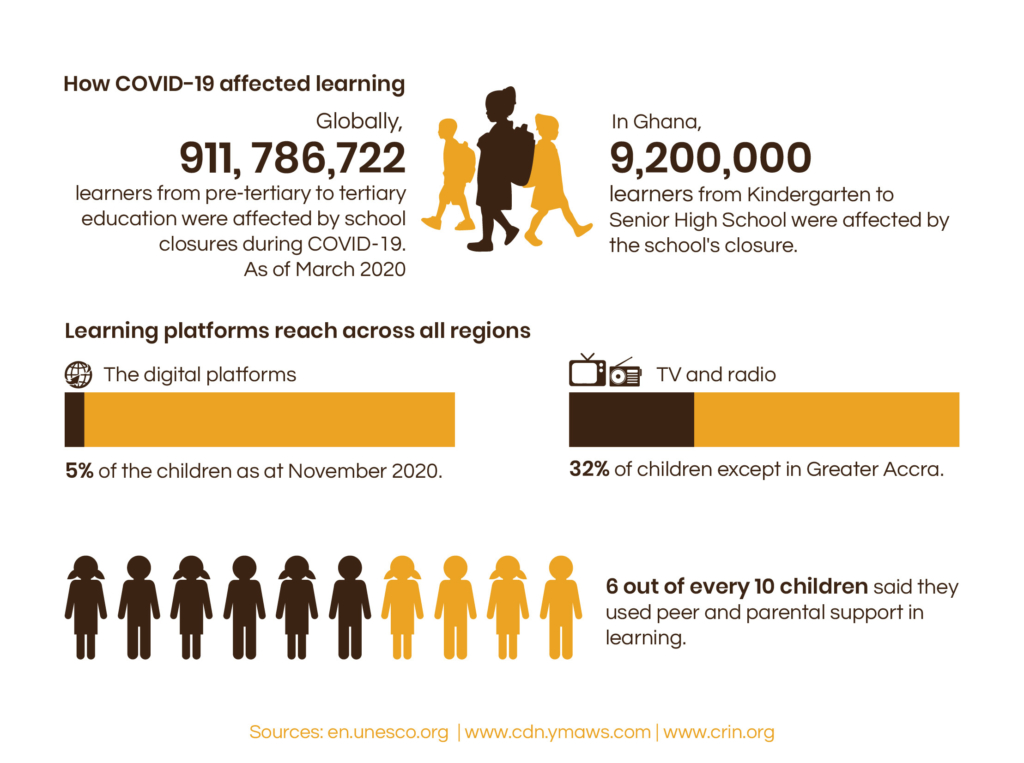 The report published by Child Rights International (CRI) also indicated that despite the alternative measures put in place, 89% of children complained that distance learning platforms have not been an effective way of learning as compared to classroom settings.
Over 70% of children claimed that they had no support or encouragement from their parents regarding their studies. It also revealed that an average of 28% of children stated that performing excessive activities for their parents affected their learning during school closure.
But that was not the situation at France's home. Jayden and Jason got the needed support from their parents. "Initially, my husband wanted us to get a teacher to teach them. They actually had one already but during the beginning of the pandemic, we asked him to stop coming.
"My husband wanted us to bring him again, but I was like; this man goes to different homes to teach children so it's kind of high-risk. I told him we should do it ourselves and that came with a price."
Children and parents were not the only ones affected by the closure of schools. Private teachers and school owners were the worst hit.
According to the Education Sector Annual Review (2018), during the 2017/2018 academic year, out of 75,740 Schools, 34,123 were privately owned (45.1%).
Although data on employment is not up to date, the Integrated Business Establishment Survey of 2015 indicates that the Education Sector employed 477,068 (14.1%) of total employment with 44.1% engaged by the private sector (sole proprietor, partnership or limited liability company).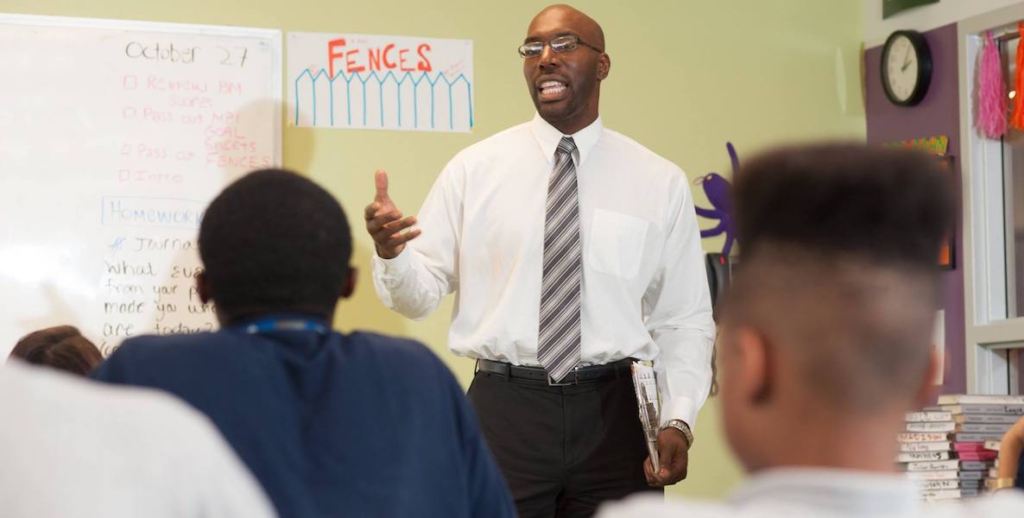 Education Management Information System (EMIS) Data for 2017/2018 also indicated that out of the 365,618 teachers employed in the educational sector in Ghana (Creche to JHS), 33.5% are engaged in private schools.
Unlike their counterparts in the public schools who were guaranteed salaries during the crisis period, the same cannot be said of teachers in private schools and for many of them, the announcement by the President on that fateful day ushered in the beginning of their woes.
"It was a blow because we did not expect this," proprietress of Deacons Montessori Academy, Janet Obiri- Yeboah said.
"It hurt me very much and I became very frightened when the President made that announcement because of fees owed by the children," proprietress of Ringway Estate Preparatory School in Accra, Mrs Christiana Tachie, also stated.
Non-payment of arrears owed by parents meant salaries of both teaching and non-teaching staff was going to be another problem for school owners unlike their counterparts in the government schools.
"At that time, the money available in our coffers could not even pay teachers because of the huge fees owed by parents," private school proprietress Christiana Tachie bemoaned.
For proprietress Christiana Tachie, "no teacher in my school has been paid from March 2020 till date." There were also media reports that some private schools impacted negatively by Covid-19 laid off staff. Some also adopted payment of half salaries to their staff.
"I had to explain to the teachers that with this situation, we would not be able to pay the full salary. In March, we were able to pay a full salary. In April too we paid full salary, even with that one, we had to go to our bankers for a special overdraft. Since May 2020, I've not been able to pay a penny to any teacher," Headteacher of Taifa Ebenezer Preparatory School, Stephen Adukor stated.
Assistant Headmistress of Osu Presbyterian Preparatory School, Mrs. Caroline Masoperh also indicated, "When we went home, we were paying our teachers. We paid them up to June and we realized that after June we could not pay them their full salaries so we had to slash down salaries to 50%."
Concerned about the plight of its members, the Ghana National Council of Private Schools (GNACOPS), made several efforts to lessen the suffering imposed by the closure of schools.
"That necessitated us to write a petition on the 23rd of March 2020 to the Office of the President and we were referred to meet the Minister of Finance on the 4th of May. When we met them, we presented our case and submitted to the Ministry 94,000 names of teachers that had been affected by the school closure. 4, 300 schools were affected because we opened our portal and they applied that they wanted some support.
"The assurance was that the Ministry of Finance would liaise with the Cabinet to get us some kind of support. We were also directed to go to the National Board for Small Scale Industries (NBSSI) to start the processes of getting support," Executive Director, Enoch Gyetuah disclosed to JoyNews.
On May 19 2020, President Akufo-Addo launched the GHS 1 billion Coronavirus Alleviation Programme (CAP) Business Support Scheme.
This relief fund which is managed by the National Board for Small Scale Industries (NBSSI) is administered to eligible businesses through the participating financial institutions and selected telecommunication companies.
The President said that the Scheme is targeted at Micro, Small and Medium Enterprises (MSMEs) in the formal and informal sectors, which have been affected by the economic downturn caused by the pandemic, with MSMEs in growth sectors that require additional capital to expand their business to meet the growing demand for Covid-19 related goods and services, also eligible to apply.
"A total of ninety-nine (99) employees is the limit of employment for any qualifying enterprise. The qualifying enterprise will be encouraged to belong to a trade association or group, and be registered with NBSSI. The application process starts tomorrow, 20th May, and ends on Saturday, 20th June," the President also stated during the launch.
This ignited hopes for private school owners but that hope was to be short-lived. "NBSSI came in, I thought it was a good thing. In fact, I was really happy because I had used all my money setting up the classrooms and getting them ready for a possible reopening. I got an alert that my money has been approved. I was very happy. I quickly went to their office only for me to get a blow. They had to call one of their officers to tell me there was a problem. I applied for about GHS 150,000," proprietress of a private School in Accra, Janet Obiri-Yeboah lamented.
She believes authorities are not concerned about their plight. "I believe if the money is not there they should come out and tell the truth. They've approved monies for the market women. That is fine. I'm happy for them, but how about us?
"You've taken our food out of our mouth. We shouldn't even be getting loans in the first place. We should be getting grants to eat every month. I'll be happy, teachers will also be happy. What are they doing with the taxes we pay to them," she fumed?
She is not the only one unhappy with the disbursement of funds. Private school headteacher, Stephen Adukor is uncertain about the release of funds.
"I belong to GNACOPS. We applied through GNACOPS and a series of meetings that we have had as an association with the secretariat, Ministry of Finance, Education, I don't know when whatever I applied for will hit my account. So, you can imagine. Some are even taking GHS1,500. In a nutshell, I haven't gotten anything. I applied for GHS 150,000 later, I was given a letter explaining the money I requested was too much so I'll be given about GHS 100,000."
On November 26 2020, Human Resource Manager of GNACOPS, Prince Kweku Ensie, in an interview with a radio station in Accra indicated that out of the 645 private schools that applied for the loan, "only 20%…have gotten something out of what they requested for."
"Those who requested for the loan, are about 645 private schools but some received just GHS 2,000, some GHS 1,000 and they were annoyed so they didn't even go for the money," he said.
For Madam Christiana Tachie, whose school has been running for over 35 years, feels her world is crumbling at her feet. "Now, I think my investment is going down the drain. I am a teacher and I have love for the children and I've been at it all my life and getting to the end, now look at what is happening."
At the heart of this situation, is the predicament of private teachers. "It was very terrible because knowing very well that I'm in a private school where parents pay fees and through that one is also a paid salary. I knew very well that my salary was going to be cut off because the school wouldn't be able to keep paying us.
"It was too early for frustration to start but honestly, it started that morning. How was I going to survive this whole period with a newborn baby and the bills? I was so worried and sad that day and the days that followed," Pearl Agbagba, a private school teacher said.
Days that followed were filled with uncertainty for Pearl and other private school teachers.
"We were asked to come to the school for a short meeting the following day after the President's announcement. Our proprietor assured us that everything would be fine and also told us that our March salaries would be paid but the subsequent ones were not going to be paid so we should brace ourselves for what was going to come," Pearl stated.
Another private school teacher, Kofi Adu; not his real name, also indicated that; "For 7 months now, I've not received any salary and I don't know how soon salaries are going to be paid. In March, we were given half of our salaries. Management at one point called all the teachers and told us the reality on the ground."
Kofi's woes have deepened because his wife is also a private teacher.
"I have three children, two boys and a girl. My wife has also been hit just like me so taking care of the children has been very difficult. I've even sent them to the village to stay with their grandparents. Their mother is also staying with them in the village," he added.
Kofi who has been a teacher for the past 22 years now works as an assistant to a lotto operator to survive.
"You can see where you've come to meet me now. Sometimes, I earn nothing because business is not booming. For instance, yesterday I went home with 2GHS," he added.
To drum home their plight, Ghana National Association of Private Schools (GNAPS directed all private school workers to wear funeral outfits for two weeks.
"I hereby announce that from Monday, October 19, 2020, all private school managers and workers are to begin wearing funeral outfits. If the government fails to come to the assistance of our teachers within two weeks, the full-blown funeral ceremonies will commence from Monday, November 2, 2020.
"A series of activities would be carried out from then onwards to mourn with our teachers and workers. To this end, funeral rites would be organised across the 16 regions of Ghana to mourn the plight of our emaciated starving workers," Acting President of GNAPS, Dr Damasus Tuurosong stated at a press conference held in Accra on October 15, 2020.
Days and weeks elapsed, the President lifted the lockdown restrictions imposed in Accra and Kumasi. "I have taken the decision to lift the three (3) week old restriction on movements in the Greater Accra Metropolitan Area and Kasoa, and the Greater Kumasi Metropolitan Area and its contiguous districts, with effect from 1 am Monday, April 20. In effect, tomorrow will see the partial lockdown in Accra and Kumasi being lifted," the President stated during a televised address on Sunday, April 19 2020."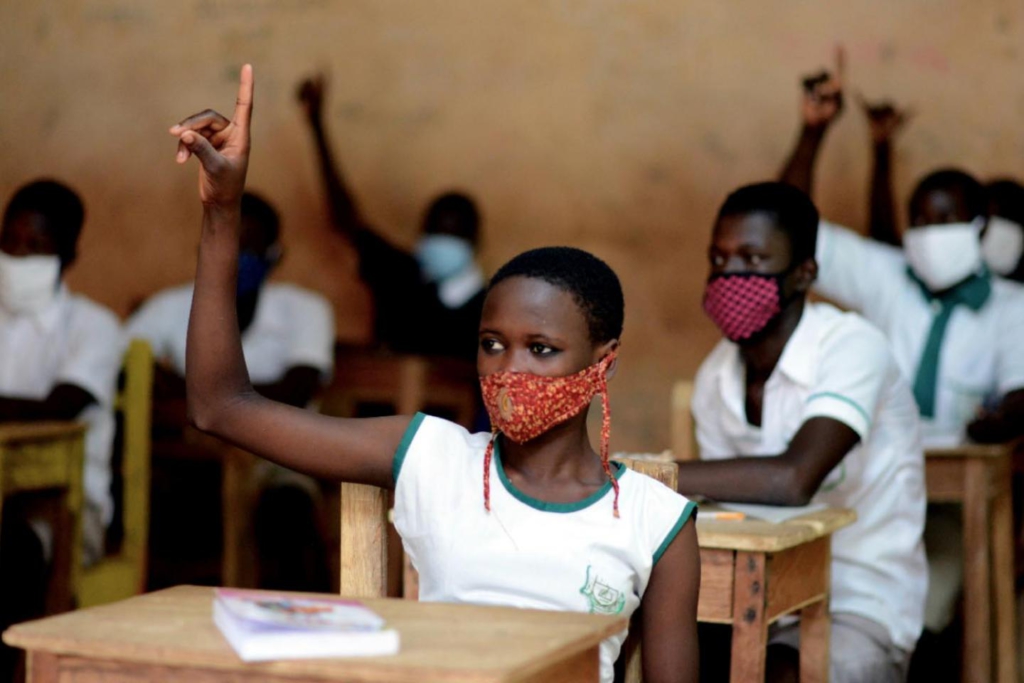 Subsequent announcements by the President saw the return of second-year students of Junior and Senior High Schools. "With Junior High Schools operating with class sizes of 30, and Senior High Schools with class sizes of 25, SHS 2 and JHS 2 students will be in school for 10 weeks to study, and write their end of term examinations," President Akufo-Addo stated on August 11, 2020.
"Since lessons resumed, there are some of the students who are having a hard time catching up so Covid-19 has really disturbed our children a lot," Science Teacher of Osu Presbyterian Preparatory School, Samuel Otokunor stated.
The reopening of school for Form 2 students came along with mixed reactions. "I was very happy when I heard we would resume school," a Form 2 Student, Emmanuel Armah stated.
"I was scared that I'll contract the virus. I'm not happy in school because we can't play together like we used to because of Covid-19," another Form 2 student, Lilian Okantey said.
"I remember when our father announced that the Form 2s should return. We humbly made an appeal that with only one class reopening, it would worsen the financial burden of the schools. I have 9 subject teachers, cooks and non-teaching staff," the Headteacher of Taifa Ebenezer Preparatory School, Stephen Adukor stated.
As a way of ensuring prompt payment of fees, "this time around, I've decided to break the fees down weekly. Every week, there must be a payment. Without it, the child will have to go home. By so doing, at least, we are able to get some money to pay the teachers. That is the structure we have put in place here and it is working. Parents were happy with this new arrangement."
"We've had some discussions with some local banks and international bodies to support us. These agencies sympathize with us because they have realized that all other sectors are working. This one would be in the form of debt support. Some kind of cushion for the teachers and school owners.
"A grace period would be given to them so when school resumes, these banks would come to the school to collect the fees directly from the parents so that they can take their money and the interest as well. We are starting with 15million USD for all private schools. The cap is 250,000GHS for a school. We are looking at about 1,500 schools that this support would be given to," Executive Director of GNACOPS, Enoch Gyetuah stated.
In returning our society and children back to any semblance of normalcy, there would be the need for the government to invest heavily in technology in our educational system.
This would allow the ease of its usage and application in learning modules for children as they advance in the educational ladder and also help the country to better tackle uncertain situations like Covid-19 in future.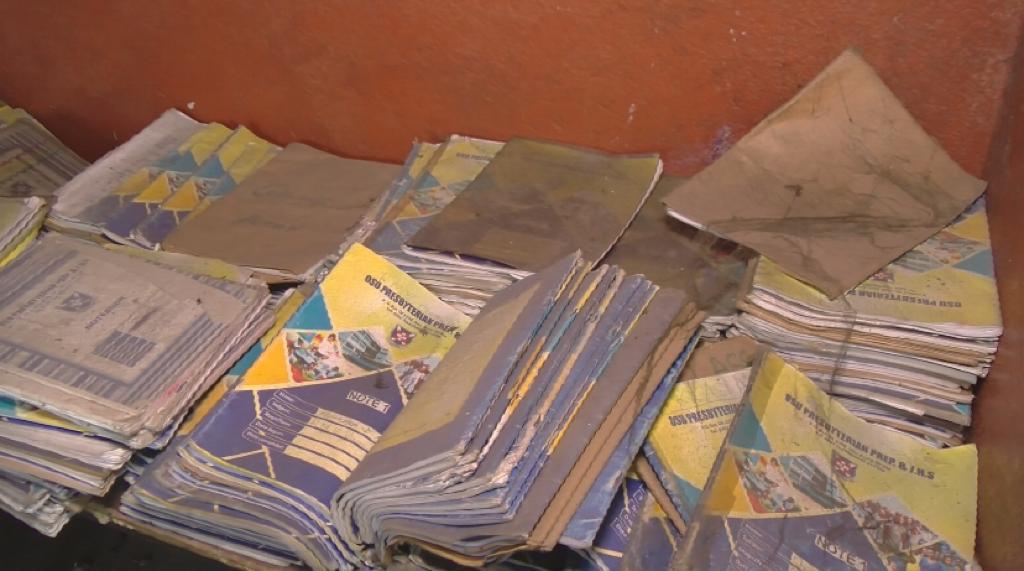 For GNACOPS, "going forward any support should be given to the National Inspectorate Board (NIB) to disburse to us because they are the people that we work with. They know us. These people (NBSSI) don't know us so when we attend meetings and they say something that we don't understand and we challenge it, they see us as people antagonizing their activities.
"The government could have done better so if there's a pandemic, these are the people we should be working with because they have our data."
But after almost 10 months of school closure and its negative impact, there seems to be sigh of relief for private school owners and teachers. This is because President Akufo- Addo on January 3 2021, announced that all students from Kindergarten to Junior High School will return to school on January 15.
"The lessons drawn from the reopening of some sections of our educational institutions, in the course of last year, have put us in a much better position to oversee successfully the full reopening of our schools. Our children must go to school, albeit safely, and we are satisfied that, in the current circumstances, the re-opening of our schools is safe. So, from 15th January, our children in kindergarten, primary and Junior High, in both private and public schools, will be back in school," he said in his 21st address to the nation on measures taken by the government to ease restrictions.
But despite this good news, owners of these private schools have some concerns.
"We would have wished the government had announced the resumption way back in December 2020 to have given us sufficient time to get our houses in order before we resume. Owing to the long closure, many of our staff have found other means of livelihood.
"You have teachers who will no longer be available when schools reopen, you have administrators who have found other work doing and may not come back to your institution so we have to go through recruitment," Acting President of the Ghana National Association of Private Schools (GNAPS), Dr Damasus Tuurosong disclosed in an interview with JoyNews on January 4.
He also added that "Government has to treat all private schools as if they were public. It means that whatever PPE's are supplied to public schools must be given to the private schools as well. We need a one-year moratorium to get our acts in place and to become strictly speaking private schools once again. We should go on some tax holidays for at least one year."
–
The author Beryl Ernestina Richter is a fellow of the African Women Journalism Project. This report is supported by the Africa Women Journalism Project (AWJP) in partnership with the International Center for Journalists (ICFJ). The writer can be reached via richhterberyl54@gmail.com
DISCLAIMER: The Views, Comments, Opinions, Contributions and Statements made by Readers and Contributors on this platform do not necessarily represent the views or policy of Multimedia Group Limited.