Member of Parliament for the North Tongu Constituency, Samuel Okudzeto Ablakwa has stated that the current high cost of living can have an adverse effect on Ghana's democracy.
According to him, if care is not taken, the level of suffering by the populace as a result of rising inflation and consistent hike in fuel prices may cause them to distabilise the peace and political stability, being enjoyed in the country.
Speaking in an interview on Newsfile on Saturday, the NDC lawmaker made reference to how Sri Lanka's democracy was derailed as a result of the unresolved hardship in the South Asian country.
He therefore called on government to employ very proactive measures to resolve the crisis; including a cut in government expenditure and the creation of social support systems to cushion citizens.
"We should be looking at serious cushioning. And what is making this situation even worse is that all of the traditional safety nets that could have even helped ameliorate the plights of the people are all in arrears. LEAP is not really going. Government has not supported LEAP in a long time.
You take NABCO. NABCO (beneficiaries) have not been paid for about eight to nine months now. So the traditional safety nets are all struggling. Health Insurance is in crisis. It's owed over 2 billion cedis. So we have to be careful. This is now an existential threat for this democracy", he warned.
He added that, "see what happened on Sri Lanka. The economic crisis we are faced with now has shown that if you do not manage the situation well, and you don't step in and offer people some reprieve, it can undermine your democratic stability and the people can just rise up and say 'enough is enough' and just topple the leadership and that's the end of your democracy".
Okudzeto Ablakwa, who is also a Ranking Member on Parliament's Foreign Affairs Committee further intimated that given the circumstances, government should pay attention to the current economic crisis, in its quest to prevent a likely terrorist attack in the country.
He said his personal interactions with citizens reflect a worrying situation, as they continue to decry the increasing cost of living as compared to their meagre and stagnant earnings.
Contributing to the discussions on the rising inflation and increasing cost of living in the country, a Finance and Economics lecturer at the University of Ghana, Professor Godfred Alufar Bokpin also stressed the need for government to consider urgent steps to address the hardship in the country.
In his submission, he said dating from 1964, Ghana has been grappling with inflation and other pertinent social challenges such as flooding with no workable alternatives to address these challenges.
He also expressed worry over how individuals are struggling to make ends meet, despite the country's huge potentials.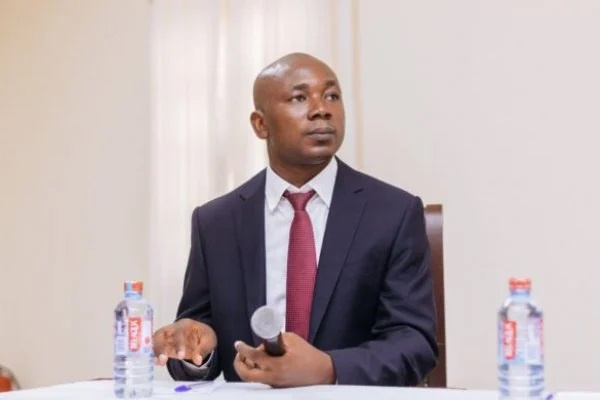 The comments by the two panelists on Newsfile on Saturday, were on the back of the recent rise in inflation and hike in fuel prices.
Ghana's inflation jumped to 27.6% from the 23.6% recorded in April, 2022, according to recent figures from the Ghana Statistical Service (GSS).
The GSS blamed this on the increase in transport fares and food prices.
According to the Government Statistician, Professor Kobina Annim, the rate of inflations for transport (39.0%), household equipment and maintenance (33.8%), housing, water, gas and electricity (32.3%) and food and non-alcoholic beverages (30.1.6%) were higher than the national average (27.6%).
In May, 2022, 12 of the 13 divisions recorded inflation rates higher than the rolling average from June, 2021 to May, 2022.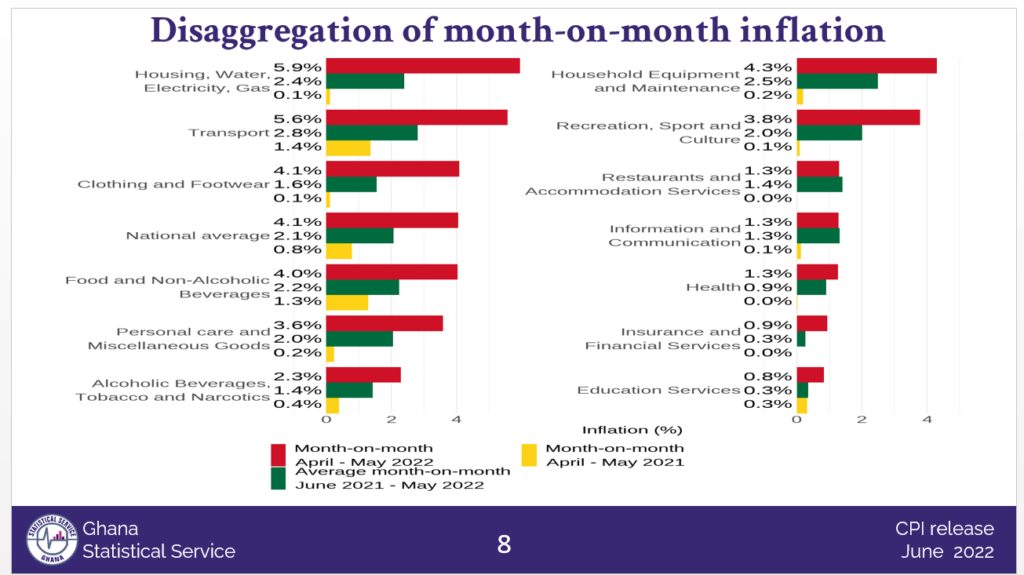 Also, the major drivers based on the year-on-year figures show that grapes, which is imported, saw a 100.8% inflation followed by diesel, 81.1%, also imported.
Firewood also saw 73.7% year-on-year inflation.
Below is the full list of the top 15 drivers of inflation in Ghana: