The Minister of Local Government and Rural Development has expressed his contentment with the pace of work done on the construction of the Nkurakan-Adukrom-Aseseeso highway.
The 36.1 km road from Nkurakan through Adukrom, Aseseeso, Trom junction to Akuse junction is expected to be completed in July next year.
According to Dan Botwe, the completion of the road will facilitate economic activities in that part of the Eastern region and help improve security to reduce the highway robbery menace on the road and boost economic activities.
"This road in particular from Koforidua through Nkurakan to Adukrom to Somanya is a major road which links the southern part of our country to even some parts of northern Ghana and it's a very strategic decision that the ministry took to work on this road and thank God we had a very good contractor who is working on the road".
Additionally, Dan Botwe, who is also the MP for the area said the road when completed will also boost tourism given that there are many tourism sites along the stretch.
The Okere MP said this when he joined the Minister of Roads and Highways Kwasi Amoako Atta to inspect the ongoing road construction.
Kwasi Amoako Atta is optimistic that construction of the 36.1 km road from Nkurakan through Adukrom, Aseseeso, Trom junction to Akuse junction in the Eastern region will be completed on time.
The contract which was awarded to General Construction Company Limited started in January 2021 and the expected completion date is the 19th of July 2023.
Currently, the road is 63% complete.
Amoako Atta called on Ghanaians to be patient as the government is fixing the huge deficit in the road sector.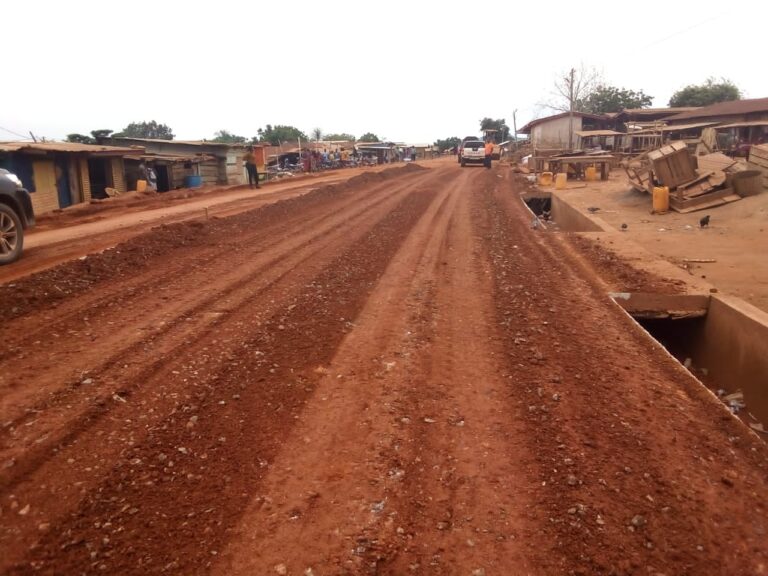 He explained that as of 2017 the total road network in the country was between 78,000 km to 80,000 km but per the provisional estimate of the road ministry, currently Ghana's total road network size is around 94,000 Km which the government estimates to hit 100,000 Km by the end of 2024.
The delegation government officials and chiefs took the opportunity to inspect the ongoing district hospital at Adukrom.
The road minister promised to construct the road that links the town to the hospital site.