Bono Regional Minister, Evelyn Ama Kumi Richardson has appealed to the Regional House of Chiefs to work towards bringing an end to the plethora of chieftaincy and land disputes in the former Brong Ahafo Region.
The traditional disputes, the minister said, thwart the efforts of bringing developments to the people in the communities.
She made the appeal at the maiden Brong Ahafo (Bono, Bono East, and Ahafo) Regional House of Chiefs meeting for 2020, in Sunyani.
The House continues to operate as Brong Ahafo Regional House of Chiefs because the Legislative Instrument (LI) that will mandate each Regional House of Chiefs to stand on her own is yet to be passed.
As of July 2020, cases pending before the Judicial Committee of the House are 46. This comprises 40 petitions and 6 appeals. The Regional distribution of the cases indicates Ahafo Region – two petition cases; Bono Region – 23 cases, 19 are by way of petitions; Bono East Region – 21 cases including 18 petitions.
Out of the supposed 50-member house, 34 stools are occupied while 16 stools are bedeviled with Chieftaincy litigations or controversies among the key stakeholders in the installation processes.
Addressing the House, Bono Regional Minister, Evelyn Ama Kumi Richardson said the many chieftaincy and land disputes do not augur well for socio-economic development in the region since peace is a prerequisite for development.
The Minister lamented on how one is perceived to be an "enemy" or against one faction of a dispute in the event of a visit or collaborating with the other for developments.
She said, "the Regional Security Council (REGSEC) is convinced the Regional House of Chiefs can do more through its Structures and Committees to facilitate the early resolution of all the pending disputes and also try to nib the emerging ones in the bud."
She, however, assured the chiefs that REGSEC will continue to play its mandated role to ensure peace and security for all at all times.
The President of the Brong Ahafo Regional House of Chiefs, Pimampim Yaw Kagbrese V, noted that the house is poised to work towards reducing pending cases drastically.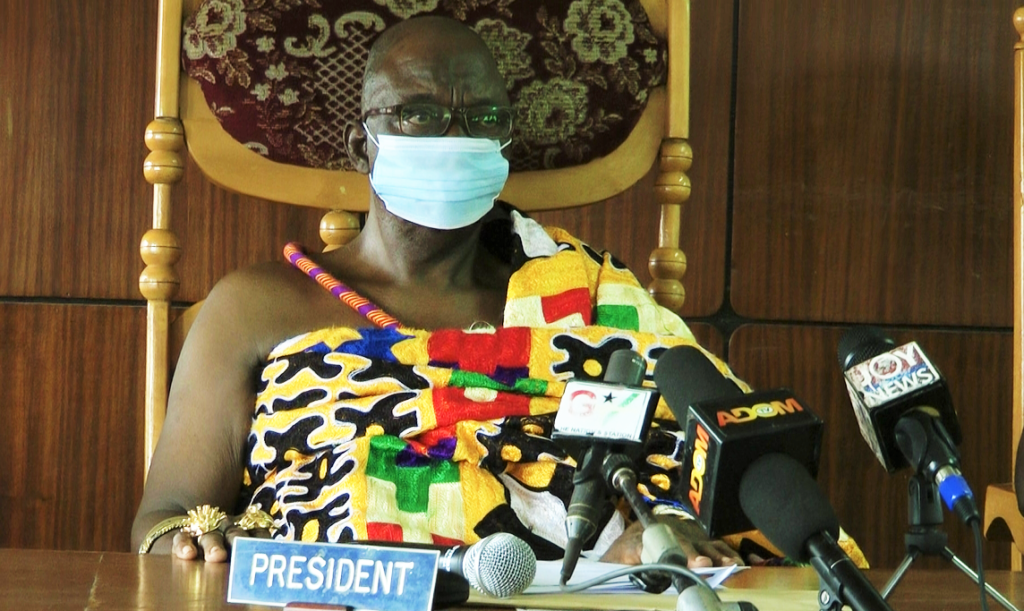 The chief who is also the Paramount Chief of Yeji traditional area expressed the house's appreciation to President Akufo-Addo for the financial support given to the house of chiefs in the country and hopes it will enhance speedy adjudication of cases pending before the judicial committees.
The maiden meeting saw Daasebre Okogyeaman Duodo Ampem II, the chief of Nsawkaw in the Tain district admitted to the house after ascending to chieftaincy.
He was sworn in by the President of the House and the Supervising High Court Judge, His Lordship Justice Patrick Baryeh sworn him on the judicial Oath and Oath of Secrecy.
Pimampim Yaw Kagbrese V appealed to all Queen mothers, family elders, and kingmakers "to follow the customary processes in the nomination, selection, and installation of chiefs to avoid needless chieftaincy litigations", adding that, "it breaks down family cohesion, breeds violence and retards development".