Senior Vice-President of IMANI-Africa, Kofi Bentil, says it is not disgraceful for Parliament to scrutinise and hold government to account on policies that affect everyone.
Commenting on the tussle to approve the 2022 Budget statement, he said it is in the right direction for the Minority group to effectively push the Executive to do what is right.
Speaking on Newsfile on Saturday, the private legal practitioner indicated that "this is the purpose of Parliament" as it changes the 'winner-takes-all' narrative in the House.
"Much as there seems to be quite a lot of chaos, and we are not happy with the kind of indecorous and dishonourable behaviour we see in Parliament, we need to bear in mind that this is not a bad thing. It is not a bad thing for Parliament to scrutinise and hold the Executive to account and the ultimate test of holding somebody to account is to look in the person's face and say 'no'."
"When you have a situation like this when the Minority effectively is going to have a say and determine somehow what happens in the Executive's budget, then you cannot claim that you have a winner takes all so I'd like us to keep in mind that this is not a bad thing and indeed we should improve on it," he told Samson Lardi Anyenini.
Parliament on Tuesday reversed an earlier rejection of the budget and approved it after the National Democratic Congress (NDC)'s MPs staged a walkout.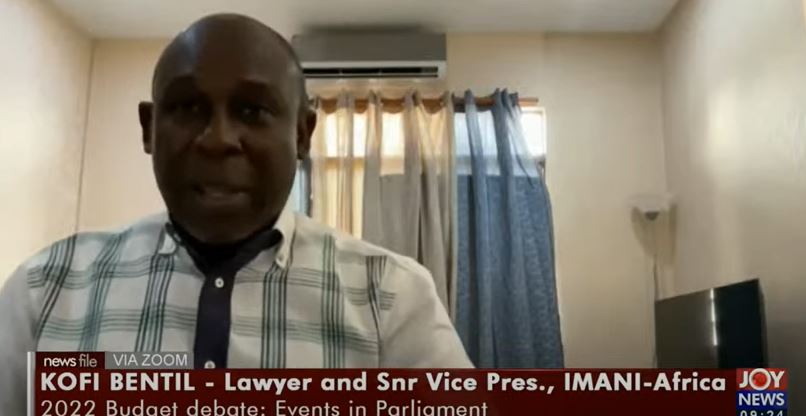 Members of the Majority and Minority groups subsequently engaged in dramatic displays that nearly led to fisticuffs on Wednesday, December 1, as they took entrenched positions to defend their respective interests over the fiscal policy.
Commenting on this, Mr Bentil noted that one way of ensuring that Parliament is independent of the Executive is by amending the Constitution to ensure that Ministers of State are not chosen from the members of Parliament.
"I am one of the people who believe that we should stop connecting Parliament to the Executive and have a Parliament which is purely about legislation and oversight and make sure that our Parliament is capable and actually act to be a check on the Executive, failure to do that creates a lot of problems."
"This is the purpose of the Parliament and I am one of the people who believe we should stop taking Ministers from Parliament; if we amend our constitution, that's the first thing to amend so you have a Parliament where people go in and stay in Parliament and they act as professional parliamentarians, representing their people and be a check on the government," he noted.
He, however, conceded that there were certain actions by the legislators which must be condemned and not tolerated.
"I didn't say everything is to be happy about; I said we need to take out the indecorous conducts, we need to take out basically the hooliganism and please there are crimes being committed in Parliament.
"We cannot lump everything together and say it's all good or it's all bad [but] what I am saying is that everything we are seeing happening in Parliament is not necessarily bad."
"What is bad is the illegal, indecorous, dishonourable conduct and when those things happen it is in the interest of Parliament and in the interest of the rest of us."
Meanwhile, the Editor-In-Chief of the New Crusading Guide newspaper, Abdul Malik Kweku Baako, has described the happenings in Parliament as unfortunate.
The veteran journalist who was disappointed by the turn of events, stressed that such a behaviour will affect the country's international image.
According to him, "one cannot be happy as a Ghanaian" over the recent events in the legislative chamber.
"It's not good. The institutional integrity, the corporate integrity of the House of Parliament is at the brink. We've had one or two instances before but those were on a lower scale.
"What happened on 6th January [prior to the election of the Speaker] and what happened recently is completely unpardonable. It affects Parliament itself, its moral AUTHORITY, its legislative authority and Ghana's international image," he stated.