Officials of the Komfo Anokye Teaching hospital say they are grappling with a worrying number of patients who are unable to settle their medical bills.
Such patients, they say, come from poverty-stricken homes in the Ashanti Region and beyond.
Many of them, according to staff of the hospital, either extend their stay or flee the hospital premises to avoid footing medical expenses.
Health workers who have been supporting such patients out of sympathy, say it is eating into their finances.
Grace has been delivered of twins at the maternal ward of the Komfo Anokye Teaching hospital.
The mother of four was discharged a week ago.
But she is forced to stay on the ward because she cannot afford her bill totaling one thousand, nine hundred Cedis.
She has spent another week at the facility with no help in sight.
"I was admitted to the hospital due to forced labour. I was struggling to pay my medical bills, coupled with drugs prescribed for me. Financially I am not sound," she admitted.
Grace represents what is becoming Komfo Anokye Teaching Hospital's main challenge- a growing number of patients who cannot pay their medical bills.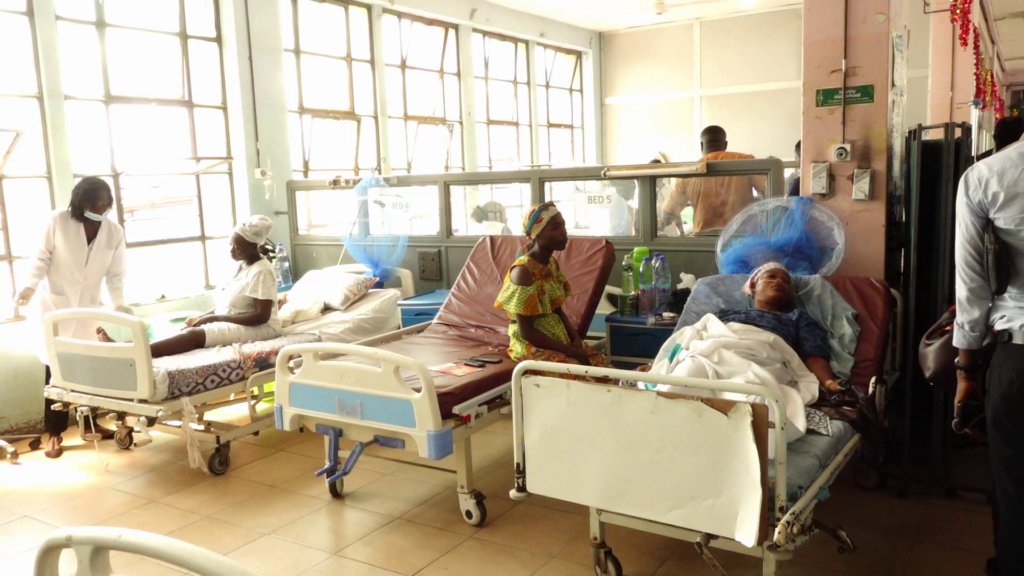 Here at the maternity ward of the Komfo Anokye Teaching hospital, a number of patients continue to occupy bed-space after their discharge. Because they have no money to settle their bills.
"I was thinking of paying in installments. My family planned to pay 500 first, then I will continue staying here till they are able to pay in full. This is the best way. I cannot steal or beg to pay my hospital bill," she explained.
Some mothers in labour come without sanitary items and materials needed for labour and the new-born babies.
In most cases, nurses have to foot their bills from their private pockets.
Afia Serwaah Yegbe, is Chief Nursing officer and the Nurse Manager for O and G Directorate at the Komfo Anokye Teaching Hospital.
"Sometimes, mothers do not have diapers for their new born babies. Sometimes we feed them from our own pockets. Most of the women, after delivery, demand heavy meals. We buy fufu and the likes for them. This will help in getting breast milk to breastfeed their babies. It is becoming a problem for the nurses in charge at the wards," she revealed.
This came to light when Gospel Sensation, Diana Antwi Hamilton, paid a visit to the hospital and paid the medical bills of some mothers on the ward.
She also promised to sponsor others in various vocations.
"These mothers are in the hospitals and need to go home. Some of the babies are without fathers. It was not that we were singling out women to assist them. In this particular instance, it just had to happen. But we do pay fees for young men as well" she said.
Diana Hamilton also visited the homes of some disadvantaged women in Kumasi, donating beverages, cash and chest freezers to help sustain their crippling businesses.
"The aim is health promotion and education. We help a lot of young women in health. Sometimes the help is not even physical. We have mentorship sessions where we sit down and talk to them about life issues," she said.
This donation was part of the annual philanthropic initiative of the Diana Hamilton Foundation.
It was done in partnership with the Kasapreko Company Limited, Enterprise Life Insurance Limited and Property Electronics.
DISCLAIMER: The Views, Comments, Opinions, Contributions and Statements made by Readers and Contributors on this platform do not necessarily represent the views or policy of Multimedia Group Limited.