Fast-Moving Consumable Goods (FMCG) Marketing Director of 2021 has called on the public to embrace change by switching from traditional cloth to disposable handkerchiefs.
Barbara Incoom said the change, no matter how little it appeared, was significant post-Covid-19 as part of the country's efforts toward minimising the spread of disease-causing germs and bacteria.
She made the call after picking an award on behalf of Flora Tissues on July 27 as the Premium Quality Tissue Paper Brand of 2021 at the 6th Global Business Quality Awards 2022 ceremony held at the Movenpick Hotel in Accra. 
The Award is an initiative of the Entrepreneurs Foundation of Ghana (EEG), organisers of the prestigious Ghana Entrepreneurs and Corporate Executive Awards and Made in Ghana Awards.
The Awards have been instituted to recognise indigenous and foreign companies with operations in Ghana for their product and service quality investment in the consumer.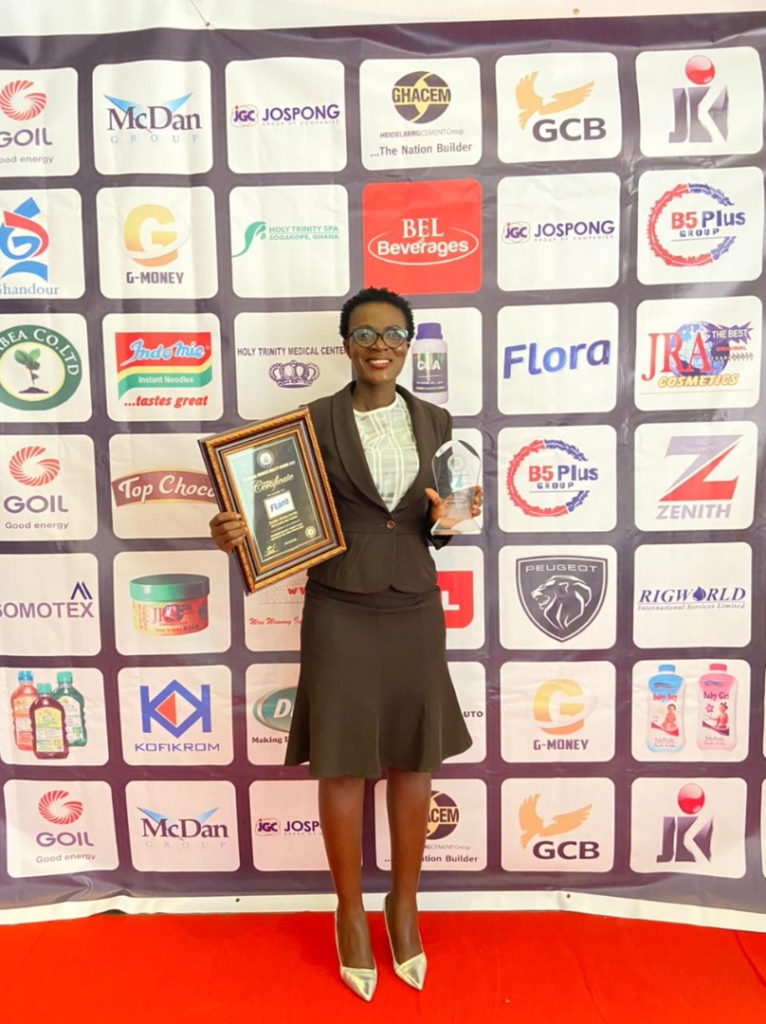 "I understand change takes time, but it is the best option we face as a people today. Ghanaians must switch from the traditional cloth handkerchief to the more hygiene-proven paper disposable handkerchief," "he said.
She added, "The use of tissues hasn't been a dominant part of us until Covid-19 came around, but aided efforts at controlling the Covid-19 situation in the country, and it is the thing we must continue with."
She dedicated the Award to staff and management at Delta Paper Mill Limited while eulogising them for their absolute commitment to making the brand a sought-after on the Ghanaian market.
Between January and July, Flora tissues have secured three awards for its brand innovation, quality, and resilience in the face of the Covid-19 pandemic. Thus, taking its awards tally to four even before the year comes to an end.
The latest Award, in the view of the organiser, is in recognition of the Flora brand's commitment to standard quality, product innovation, and resistance to the shocks of the Covid-19 pandemic.
This year's award event was under the theme "Celebrating Decades of Quality Global Brands in Ghana."
And among the notable brands recognised on the day are the Ghana Oil Company (GOIL), Zenith Bank Ghana Limited, and Alpha Industries Limited (Top Choco).
The ceremony was attended by people across industries, including diplomats, business people, investors, and the media.