According to the 2021 Population and Housing Census, Ghana's female population in tertiary institutions is 5.6 million, with a total male population of 15.2 million.
In 2017, female enrolment in tertiary education was 13.53 percent, while male enrollment was 18.68 percent. This calls for major adjustments to raise girls' enrolment in tertiary education in Ghana.
But the numbers at the 2022 graduation ceremony of the Webster University, here in Ghana, revealed that indeed the efforts to increase the enrollment of girls is seeing steady progress as majority of its graduates were women.
At the event which took place on Saturday, it was all smiles for graduates, Management, family, and friends of the graduands.
The overall best graduating graduate student, Abigail Owusu, and the overall best graduating undergraduate student, Olivia Claesson, shared their excitement with JoyNews.
"It's so awesome, I think it's such an honor and I am so grateful to have been nominated for the position of a valedictorian", Abigail said.
"I feel very proud and I'm also very glad that I followed my gut, telling me that you should actually go and study in Ghana", Olivia said.
Speaking after the ceremony, the Chief Executive Officer of Vodafone Ghana, Patricia Obo-Nai stressed the need for women to be supported to realize their goals.
"It is a delight to see so many women graduating today. I have always said that women are fifty per cent of the population of Ghana and so when you see them pursuing their careers, pursuing their education and wanting to contribute to society, I think it is phenomenal and they should be supported," she noted.
The Academic Director, Dr. Linda Deigh, also explained why there are more females graduating from the University this year.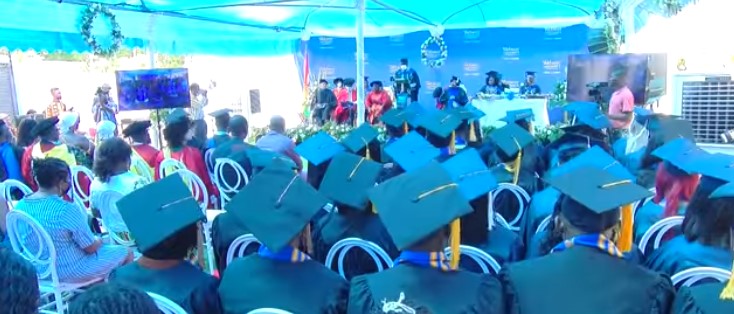 "Today, with our graduates it might seem that we have more women than men, but I don't think that it is deliberate or intentional, it is just their approach that we take in delivering the learning experience women take," she said.
Touching on the activities of the school, during the period under review, the Dean of the George Herbert Walker School of Business and Technology, Dr. Simone Cummings, noted that, despite the onslaught of the COVID-19 pandemic, the school's academic calendar, was not disrupted.
She explained that the students were already familiar, with virtual learning methods, hence there were minimal challenges during the early days of the pandemic.
"We have been offering the zoom format for the past five years or so, what we call our network format in which we offer students the opportunity to take classes by zoom. So when the pandemic hit, we were able to transfer all of those students over to zoom format very easily and it worked well for us," she explained.
A graduate, Joshua Fiifi Asante, who also doubles as a worker, explained how he navigated the cumbersome task of combining his lessons with his economic engagements.
"The Webster experience has been an amazing one…Combining work and school has not been an easy one but by grace we have been able to come this far and I'm excited about the new possibilities that a Webster education offers every Webster student", he said.
Education they say is the key to success, and with more people having access to same, especially the girl child, there is no telling how far society will be transformed.
DISCLAIMER: The Views, Comments, Opinions, Contributions and Statements made by Readers and Contributors on this platform do not necessarily represent the views or policy of Multimedia Group Limited.