My heart is full of songs and quotations.
I don't know which to share first. But one has to give so, "The elephant is a winning symbol, it will take us to win power aaa 🎼🎼🎼."
If I am not mistaking, it is the first time President Akufo-Addo sang the above song in public. It was during the 2022 Delegates Conference of the NPP last weekend at the Accra Sports Stadium. And I liked it.
Such a beautiful song. Like the one composed by Daddy Lumba that won Nana Addo power, the latest song is so melodious it keeps resonating in your ears once you are exposed to it.
The reality though is that for some within the NPP fraternity, the elephant has turned out to be, not just a losing, but an ungrateful symbol. Mr. John Boadu is the leader of the group that may be feeling this way by now. He lost the bid to retain his role as the scribe to a supposed underdog with a renowned initials- JFK (Justin Frimpong Kodua). Under such circumstances, usually, it is not the loss that is painful but against whom it is suffered. Chai!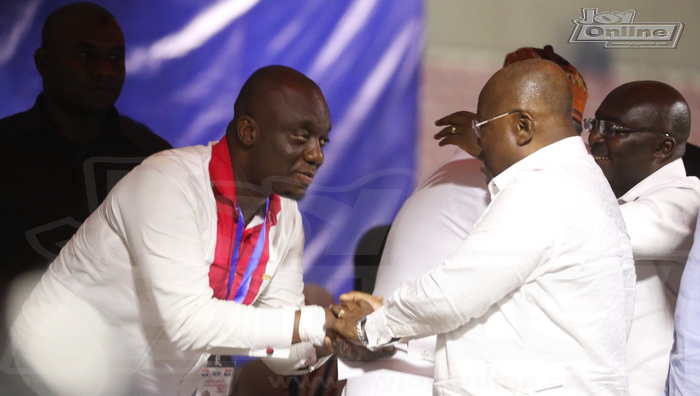 This brings me to Daddy Lumba's song, which for want of space, I will reproduce just the end of a chorus, '…oy3 winner aaa…frim 🎼 🎼 🎼 !!!' to wit, "he is a winner so go away."
Now to the quotes. "John Boadu gave meaning to the saying that power changes people"- Winston Amoah and "I am happy when people lose power because it emphasises the point that power belongs to the people… the delegates saw the difference between John Boadu who drove a Mahindra and the one who now wields power"- Raymond Acquah.
The John Boadu I know
I know John Boadu, affectionately called 'JB', from afar. Our paths crossed but did not meet over two decades ago at Holy Trinity Cathedral in Accra. It was mostly during Easter Monday picnics where he was seen hanging out with the boys.
I kept on observing him during my days at Radio Gold 90.5FM. From a distance, he seemed very calm and approachable. I never saw him engaging in any rowdy behaviour typical of most influential politicians. I guess that was because at that time, he was just one of the many important NPP members.
His name became popular during the erstwhile Kufuor administration and turned into a household name when he became the National Organiser of the Party.
His assumption of the Acting and subsequently substantive General Secretary role apparently took him away from the household to the table of men- Cabinet.
Judging from recent events, he seems to have left his affable and approachable self behind on his way to the NPP headquarters and the Jubilee House. He became tough-talking, sometimes even issuing insults clothed in questions to his political opponents.
Now, he has to return through the same route to his Kasoa residence. Unfortunately, while returning, he will meet the same people who he saw while climbing to the top echelons of the NPP hierarchy. Will he be able to say hi to them? Well, he has to. But I bet the response to this gesture will be uttered nonchalantly.
Fear Delegates, a statement of fact
It was under a similar circumstance as that of JB, that the late Kwadwo Owusu Afriyie, alias Sir John, originated the now famous political quote, "fear delegate, not ghosts." This is obviously a corruption of a famous Ghanaian saying- "fear humans, not ghosts." (Suro Nipa na gyae saman).
The dateline was 2014. The National Delegates Conference was held in Tamale. Sir John was defending his position as General Secretary of the NPP. His main contender was Kwabena Agyepong. He lost.
This is how www.Ghanaweb.com reported it, "The New Patriotic Party (NPP) might have had a good Delegates' Conference in Tamale, with the election of a new team to man the affairs of the party at the weekend…commenting on his painful loss at Tamale, Sir John told a radio station that apart from death, there could be no wicked personalities on this earth than delegates, "Fear delegates, not ghosts."
Eight years later, the same fate has befallen JB in his quest to retain the General Secretary (GS) post. What is interesting about this happening is the element of karma that is at play. I say so because JB gladly accepted the position of Acting General Secretary when Kwabena Agyapong was booted out over allegations of working against the interest of the NPP ahead of the 2016 general elections.
The National Executive Committee of the NPP acted based on findings of the party's Disciplinary Committee and suspended Mr. Agyapong on December 10, 2015. The suspension followed a petition by some NPP members.
Mr. Agyapong was removed indefinitely along with then Chairman, Paul Afoko and Second Vice Chairman, Sammy Crabbe.
In their absence, John Boadu, apparently not having dreamt of such a quantum leap in his political fortunes, 'chopped' the post. Having tasted the power that the GS position wields, he aspired and with the support of his benefactors, was elected as the substantive General Secretary in 2018.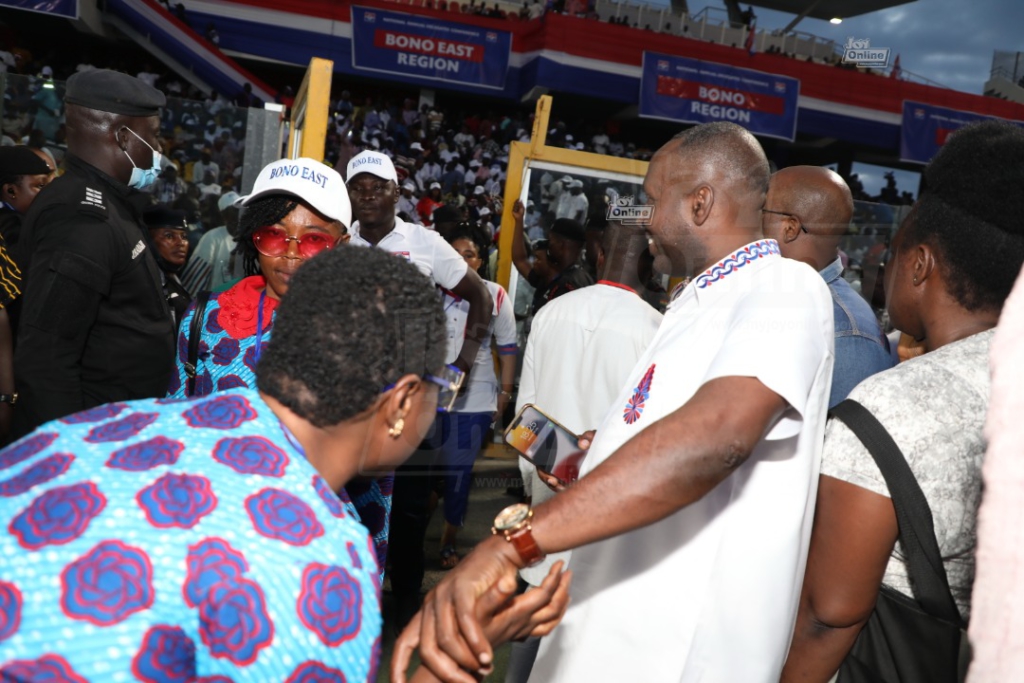 Who is JB and why did he lose touch with his roots?
From my reading, Mr. John Boadu is a dye in the wool member of the NPP.
His profile, as posted on the party's website describes him as an Accountant, a Quantitative Analyst, a Political Realist and a father of four.
Holder of a Business Administration (Accounting option) degree from the University of Ghana, he is said to have joined the party as a member of the Danquah-Busia Club in 1991.
"Mr Boadu became a polling station chairman and agent at the Korle-Bu polling station and then became the Constituency Secretary of the Ablekuma South Constituency. He was the trainer of trainees in the Greater Accra and Volta Regions for the 2000 elections. He subsequently occupied the positions of Director of Information and Research for the Greater Accra Region and Finance Officer at the head office of the New Patriotic Party (NPP) in 2001.
He was the National Youth Treasurer from 2002 till 2006 when he became the National Youth Organizer of the party. He was appointed Deputy Director of Communication from 2011 to 2013," is how JB's association with the NPP is showcased for all who care to know.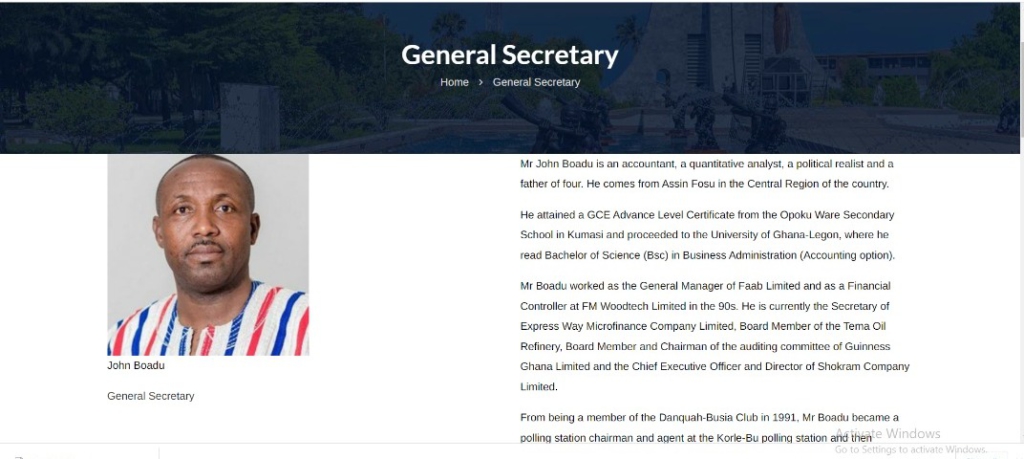 Quite impressive if you ask me. Whether or not this wealth of experience qualify him to be the Chief Executive Officer of one of the biggest political parties in the country, indeed the ruling party, is what I have qualms with.
What I know about leadership
I have mentioned in this column before that my favourite definition of leadership is the one put forward by Prof. Stephen Addae- "Leadership is cause, everything else is effect."
However, recently, I was introduced to a simpler explanation of the concept which has caught my fancy. I had the opportunity to sit through a leadership seminar organised by the Management of the Multimedia Group. As far as I am concerned, the objective of the session- a refresher, was achieved, very much.
A key take away for me was a statement by the facilitator, Madam Taka Awori, to the effect that leadership is about the '3Ps'- Partnering with People for Performance. It is not about using power to lord it over people.
And if yours is an elective position like that of JB, it is the more reason why you should have a disposition to serve instead of wanting to be served.
One thing that Taka bemoaned which I agree with is the tendency for employers to thrust people into leadership positions merely because they have been loyal to the organisation. Even so, such persons are not equipped with the requisite skills for effective performance in their new role.
She emphasised that as a leader, the resource one works with is people. My understanding of this statement is that the Accountant works with ledger books, a Pastor works with the Bible, the Doctor works with stethoscope and sphygmomanometer, the Journalist works with the computer etc but the tool of the leader is the people.
It goes without saying that without people, you are not a leader. Stated differently, you are not a leader if you don't have followers.
And from what I have heard and read since Saturday, JB lost his position because he lost contact with his tool- the people.
Who do people say I am? Ghanaian leaders' Achilles heel
Over the years, I have observed, rather worryingly, that most Ghanaian leaders don't care a hoot about what their followers think about them. Their mantra is, "we are here to do the job, period!"
However, invariably, this posturing tends to be their Achilles heal. It unmakes them, all the time. Do you remember, "Yentie obiaaa"- John Mahama and "Wuu kanu kwraa na mey3 nu more"- J.J.Rawlings, "Bring the evidence of corruption"- J.A. Kufuor and "Eni3 onko y33"- President Akufo-Addo?
A colleague of mine, Paa Kwesi Schandorf who was on the pitch of the Accra Sports Stadium from the morning of Saturday July 16 to the dawn of Sunday July 17 when the results of the election was declared, attributed JB's defeat to, "The neglect of grassroots members and discriminatory allocation of goodies" among four others.
Here is how Schandorf reported the matter, "Another sentiment about John Boadu that featured prominently on the lips of aggrieved delegates was his apparent lack of concern for the grassroots. For the avoidance of doubt, a party's grassroots maybe be described as the organic supporters of the party, whose loyalty does not change regardless of circumstances.
In other words, they are the 'die-hard' faithful who can travel every length to advance the cause of the party. Usually, during elections, it is these people who go into the mud to ensure the victory of their parties. Unfortunately, their demands are ignored when their parties come into power.
This, some NPP delegates said, became worse because of John Boadu. According to them, many NPP grassroots could not access certain privileges and opportunities, which JB could have facilitated. Instead, such opportunities, the delegates alleged, were given to close associates of John Boadu, and people who were in his inner circles.
Some added that, it was even difficult to get audience with John Boadu, as he was hardly available at the party headquarters to engage and interact with teeming party faithful who trooped there consistently to seek audience with him.
In sum, the delegates claimed that, John Boadu did not ensure equitable distribution of goodies, and did not make enough go around for everybody, except his cronies and special affiliates.
This, the delegates, said was not the mark of an all-inclusive leader, and therefore their decision to replace him with someone whom they deem to be more affable and less discriminatory."
Reading the above, what I asked myself is, "Did he know about this? If so, what did he do about it? If not, why and how come?
I believe my questions are legitimate because I have also seen a video that predates the election, in which Hon. Kennedy Agyapong expressed similar sentiments- "The people cannot find him to address their concerns," he said.
As someone who is into reputation management, this is critical because I hold the view that it is a mark of a good leader to know what your followers think about you. Unless you don't care a hoot. If your response is yes, then believe me, you are in danger.
Remember Jesus and the disciples? "Who do people say the Son of Man is?" This was a question he put to his disciples. And they replied, "Some say John the Baptist; others say Elijah; and still others, Jeremiah or one of the prophets."
Then the follow up question. "But what about you, who do you say I am?" Simon Peter answered- "You are the Christ, the son of the living God." Even he, who knew what his disciples think of him, was betrayed by one of them- Judas Iscariot. How much more you who cares less about what they think?
They will take your 'T&T', assure you of votes and systematically ensure that your opponent gets more votes than you.
And if you are the Managing Director of the Ghana Airports Company Limited, they will leak your dismissal letter before filing it on your desk. The result is that you will read your dismissal letter on myjoyonline.com while on a duty tour.
It's time to go
I would like to end by repeating the first part of Raymond Acquah's statement alluded to above, "I am happy when people lose power, because it emphasises the point that power belongs to the people." That's because it is exactly what I feel and think.
For those who don't know Raymond, he serves as a resource person on Joy FM's Super Morning Show every morning- Monday to Friday. He also hosts the Upfront on JoyNews at 6:00pm on Wednesdays and Thursdays. You should hear his analysis of political and governance issues- Brilliant. That's my opinion.
I want to believe that I have made a good case for why leaders must pay attention to the led.
JB's defeat at the hands of JFK has drummed home the need for politicians to fear delegates. That's good.
The general lesson though is for every leader worth his salt, to constantly ensure that the led are in tune, not just with his or her vision, but the personality as well.
Don't forget it is Partnering People for Performance.
From what has been said so far, there should be no tears for John Boadu, or?
Au revoir – That's goodbye in French.
Let God lead. Follow Him directly, not through any human.
The writer works at Myjoyonline.com. He is also an author of two books whose contents share knowledge on how anyone desirous of writing like him can do so. Eric can be reached via email eric.mensah-ayettey@myjoyonline.com
DISCLAIMER: The Views, Comments, Opinions, Contributions and Statements made by Readers and Contributors on this platform do not necessarily represent the views or policy of Multimedia Group Limited.