The Ghana Chamber of Mines has supported the Yaa Naa Educational fund with GHS 20,000.00.
This forms part of efforts to improve education and entrepreneurship skills among the youth in Dagbon.
The Chamber believes that for the country to achieve the sustainable development goals, there is a need for more people to be educated.
Speaking at the presentation of the cheque to the Yaa-Naa, the Chief Executive Officer of the Ghana Chamber of Mines, Sulemanu Koney said the aim is to help deepen the peace and development in Dagbon.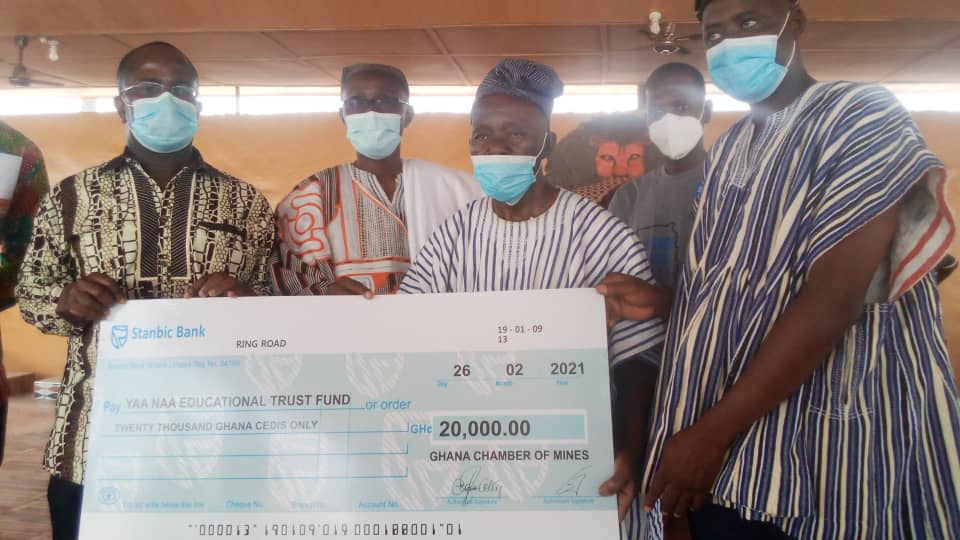 He said the bedrock of every development is an educated community.
Mr Koney added that the support is the beginning of a partnership with the King to help educate more children in the area.
He said mining is about development and educating people to undertake certain responsibilities when the opportunity comes.
He urged Ghanaians to take advantage of the supply chain in the mining sector adding that there are lots of opportunities to be tapped.
He said mining communities cannot benefit from the sector if they do not understand the sector and how to get involved.
Mr Koney urged the youth to gain skills; noting that it is the only way they can secure jobs in the mining sector.
He said the chamber will support capacity building in preparing the youth ahead of the commercial mining in the area.
The Chief of Zangbalun, Naa Dr. Jacob Yakubu Mahama who spoke on behalf of the Yaa Naa said the Yaa Naa considers education important for youth development because there are many brilliant but poor students who need support.
He said the fund needs a lot of support to be able to undertake its obligation and equip the youth in the area.
He thanked the Ghana Chamber of Mines for coming to their aid.