The organisers of the annual Glastonbury festival say performances scheduled for 2021 have been cancelled due to the surge of the coronavirus pandemic.
The administrators of the five-day event of contemporary performing arts took to social media to share the unfortunate news.
"With great regret, we must announce that this year's Glastonbury Festival will not take place and that this will be another enforced fallow year for us," organisers Michael and Emily stated.
Although the necessary measures had been put in place to ensure the annual music festival takes place, "all efforts to move Heaven and Earth" proved futile.
"It has become clear that we simply will not be able to make the Festival happen this year. We are sorry to let you down," the organisers said.
Persons who managed to secure tickets in October 2019 would have the opportunity to roll their £50 deposit over to next year and guarantee the chance to buy a ticket for Glastonbury 2022.
The organisers – Michael and Emily have expressed gratitude to all and are also optimistic of a grand music festival come 2022.
"We are very appreciative of the faith and trust placed in us by those with deposits, and we are very confident we can deliver something really special for us all in 2022!"
"We thank you for your incredible continued support and let's look forward to better times ahead."
The 2020 Glastonbury festival which was also axed, unfortunately, was to see the likes of Grammy nominee, Burna Boy to perform alongside Kendrick Lamar, Taylor Swift and Diana Ross.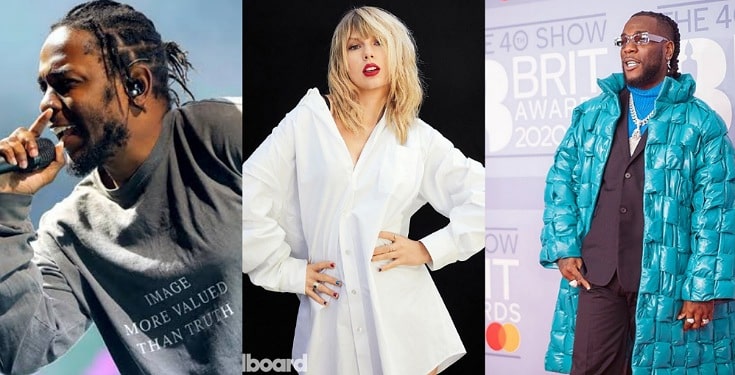 The "Dangote" singer was not the only Nigerian scheduled to perform as Seun Kuti, the son of late afrobeat legend, Fela Kuti was also listed on the bill.
The festival was scheduled to take place on June 24 – 28, 2020 at Worthy Farm, Pilton, Somerset in the UK.
The current surge of Covid-19 cases pose a threat to the art and music industry as big concerts are prone to suspend various activities.
More than 3.3 million persons have tested positive for the coronavirus in the UK.
A worrying turn out of event that has facilitated the creation of 10 new mass Covid-19 vaccination centres to assist government meet its target of offering 15 million people in the UK a dose by February 15.