The outgoing president of the Association of Ghana Industries, Dr. Yaw Adu Gyamfi, has remarked that existing hurdles to government's industrialisation agenda must be addressed head on. 
In his address at the 10th AGI Industry and Quality Awards, the pharmaceutical industrialist impressed on government to leverage on gains made through the 10 point industrialisation agenda for an improvement in the ease of doing business.
"Today businesses in Africa now have access to a 1.2-billion-person market with real GDP projected to grow at 3.7%. This means Intra-African trade has the potential to increase significantly, especially considering the current low levels. The agreement also affords the creation of an enabling business environment, improve human capital, harmonize payments and settlement systems on the continent."
"In all these, the private sector will carry out the bulk of investment, so a good business climate will be critical," he stated.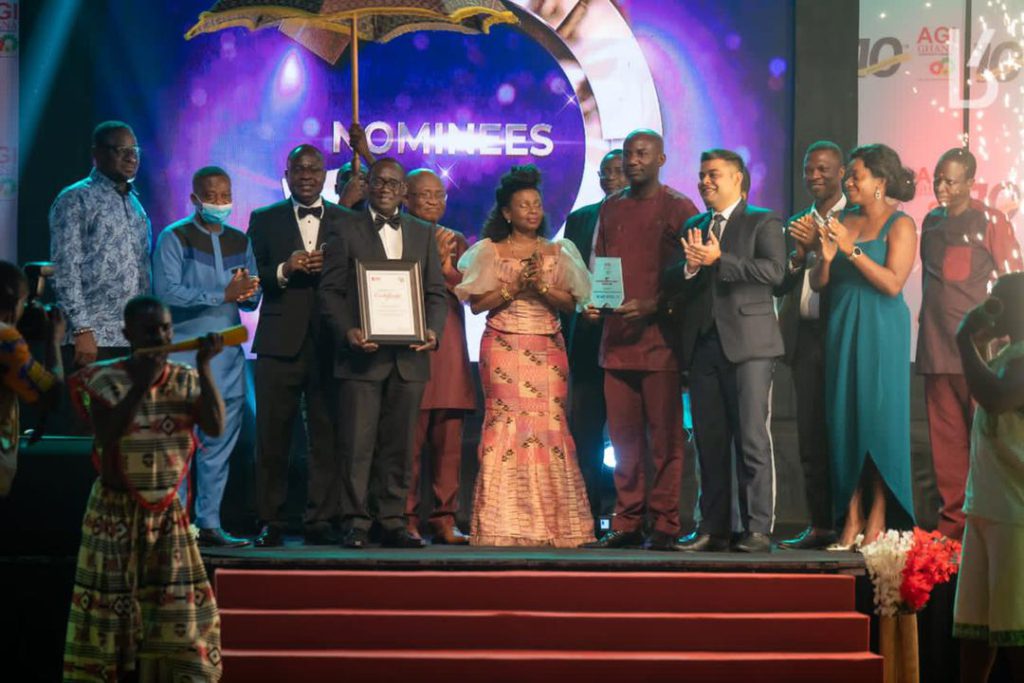 Also, Chief Executive of the AGI, Seth Twum Akwaboah warned that Ghana's industrialisation agenda remains flawed if a free market regime is granted importers who bring in cheaper goods to compete with local ones.
"There is no way we can develop our supply chains if we continue to promote policies that make imports cheaper. It also defeats job creation and our 1D1F initiatives risk becoming redundant. AGI called for a review of the policy and thankfully, this has received Government's attention," he stated.
The 10th AGI Industry and Quality Awards saw Nestle Ghana adjudged the Overall National Best Quality Company.
List of Awards
| | | | |
| --- | --- | --- | --- |
| Best Industrial Company of the Year Award | | Wilmar Africa Ltd | |
| 2 | Best Corporate Social Responsibility Company | | B5 Plus |
| 3 | Best Company Employer | | Olam Ghana Ltd |
| 4 | Young Enterprise Award (Innovation and Entrepreneurship) | | Nelplast Eco. Ltd |
| 5 | Fastest Growing Company of the Year | | Alpha TnD Ltd |
| 6 | Best Practices in Sustainable Manufacturing Company Award | | Guinness Ghana Breweries Ltd |
| 7 | National Quality Award | | Nestle Ghana |
| | Diamond Category | | |
| 8 | National Quality Award | | Upfield |
| | Gold Category | | |
| 9 | National Quality Award | | Nestle Ghana |
| | Overall National Best Quality Company | | |
| | | | |
| | SECTOR AWARDS | | Winner |
| 1 | Agri-Business | | Wilmar Africa Ltd |
| 2 | Automotive & Transport | | Silver Star Auto Ltd |
| 3 | Chemical | | Azar Chemical |
| 4 | Electricals & Electronics | | Nexans Kabelmetal ltd |
| 5 | Financial Services | | Ecobank Ghana Ltd |
| 6 | Garments, Textiles & Leather | | Tex Styles Ghana Ltd |
| 7 | Beverages | | Guinness Ghana Breweries |
| 8 | Food | | Nestle Ghana Ltd |
| 9 | Metal | | Fabrimetal Ltd |
| 10 | Pharmaceuticals | | M&G Pharmaceuticals |
| 11 | Printing, Stationery & Packaging | | Jay Kay Industries |
| 12 | Construction | | Diamond Cement |
| 13 | I.C.T | | IT Consortium |
| 14 | Oil & Gas | | Goil Ltd |
| 15 | Environment & Sanitation | | Sewerage Systems |
| 16 | Hospitality and Tourism | | Aqua Safari Resort |
| | | | |
| | REGIONAL AWARDS | | Winner |
| 1 | Best Regional Awards (Ashanti, Brong and Bono Regions) | | Amponsah Efah Pharmaceuticals |
| 2 | Best Regional Awards (Western and Central Regions) | | Benso Oil Palm Plantation |
| 3 | Best Regional Awards (Northern, Upper East and Upper West | | Pumptech Ltd |
| 4 | Best Regional Awards (Volta and Eastern Regions) | | Caltech Ventures |
| | | | |
| | HONORARY AWARDS | | Winner |
| 1 | Albewini Consult Ltd | | Marketing & Advertising |
| 2 | JRA Cosmetics | | Cosmetics Sector |
| 3 | Mericom Solutions Ltd | | IT Sector |
—