Albeit being just a friendly, there is a real vibrancy which has surrounded Ghana versus Brazil. And why not? Games with Brazil do not come everyday, and as excitement amongst the fandom grows, for the technical team, it goes beyond a game of entertainment, as this could be the most accurate gauge of how ready the Black Stars is ahead of the World Cup.
Ghana has lost only once in 6 games under Otto Addo, and despite, it being a 4-1 defeat, this Brazil encounter could be the most embarrassing of Addo's tenure, and yet still, it could be one to raise the stocks of the Dortmund trainer.
Coincidentally, the 4-1 Ghana trashing done by Japan, could have some meaning, as the most recent game for the Brazilians was a 1-0 win over the Japanese in an international friendly.
So in Japan, Ghana and Brazil have something in common, and there are keys from Brazil's game with Japan which suggest how Ghana can approach the game on Friday evening, to end a long winless streak versus the Samba boys.
But before going into it, there's the need to breakdown Brazil's win over the Samurai Blues.
Japan 0 - 1 Brazil: Tactical breakdown
The scoreline does not tell the full story, as Brazil, and even Japan, could have certianly scored more goals. While Japan lacked cutting edge when they had their moments, Brazil were wastfeul and needed Neymar's 77th minute penalty to win.
Japan lined up in a 4-3-3 but the Selecaos put up a 4-2-3-1 - Lucas Paqueta leading the line with Neymar in a 10 role.
Flanking Neymar were Vinicius Jnr and Raphinha, both who played as traditional wingers. The back four of Arana and Dani Alves as fullbacks, with Marquinhos and Eder Militao playing center back had Casemiro and Fred immediately ahead. Alisson played as goalkeeper.
However, this was only on paper and for teamsheet purposes, as Brazil instead played in a lopsided 3-3-4.
Dani Alves was the deepest of fullbacks, playing on the right side of a back 3 which had Marquinhos central and Militao as a left centre-back.
In midfield, Casemiro sat centrally, Arana played invertedly while, Fred sat on Casemiro's right. Raphinha and Vinicius Jnr were deployed wide, as traditional wingers. Meanwhile, Lucas Paqueta, played as a false 9, with Neymar playing closely to the West Ham midfielder. The quartet formed a front 4 - Neymar in a free role.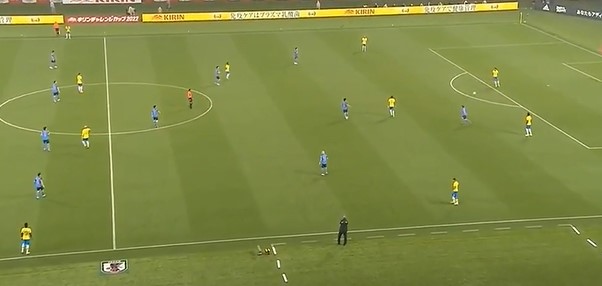 Brazil in Possession
The 3-3-4 was Brazil's shape in possession and during buildup.
In their new shape, Brazil looked to play through midfield, with Casemiro and a dropping Neymar as primary outlets. When unavailable, Fred moved slightly wide, interchanging with Alves as Brazil looked to progress.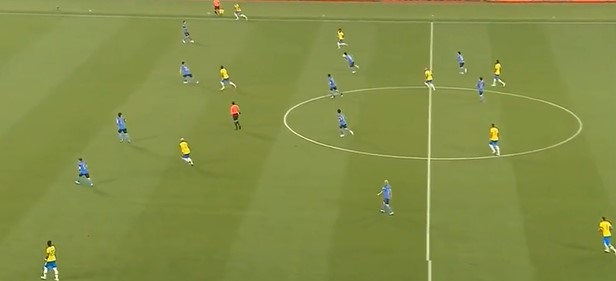 Despite a national demand to play intricately, the Selecao are not obsessed with playing out from the back and can go long, as demonstrated versus Japan. Alisson or any one of the three CBs were free to ping balls to Vinicius or Paqueta, and Neymar, in a free role, was usually on hand to pickup second balls.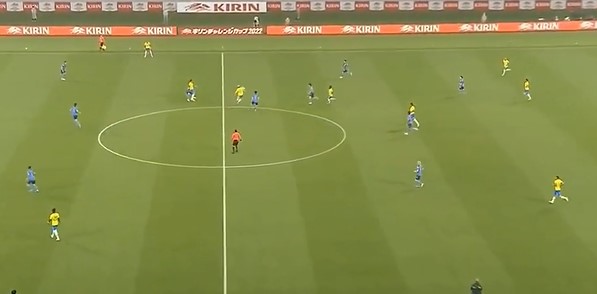 Approach Play
Paqueta and Neymar especially, were constant nuisances to Japan's backline, as they consistently dropped into midfield to link play. A defender following them into midfield created gaps in behind which Brazil looked to exploit with long balls to Vinicius and Raphinha.
If the CBs held their positions, Neymar and/or Paqueta had space in midfield to operate from. But their presence in midfield were not Japan's sole headache, as Brazil's inverted FBs also played roles in offense, picking their moments to bomb forward from their inside positions. Plus the position of Fred anytime Brazil progressed, created further problems for the Samurais.
Brazil often aimed at creating numerical superiority around the ball.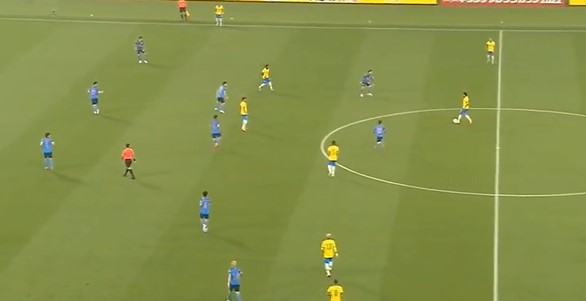 Brazil in Defense
The Selecao pressed in a 4-2-2-2; Neymar and Paqueta as the first line of pressure, severing Japan's centre-backs and goalkeeper.
Vinicius and Raphinha pressed wide, doing work on Japan's FBs, while Casemiro and Fred screened the defense. They picked up their opposite central numbers.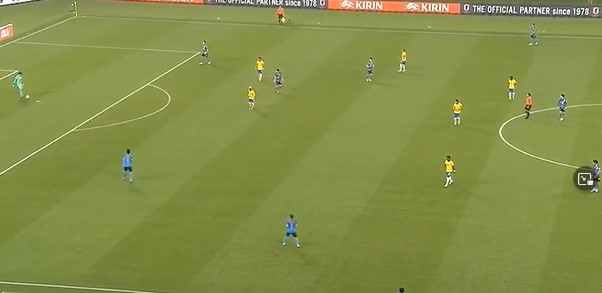 In a mid/low block, Brazil defended in a narrow 4-4-2 closing down inside spaces to prevent central progression.
In this mid/low block, Neymar sometimes came further inward to help defensively.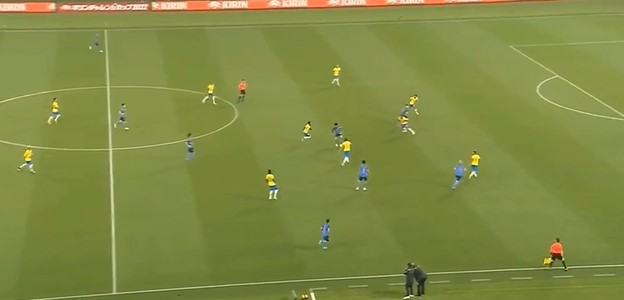 How Ghana can setup versus Brazil
Brazil's biggest newspaper, Goleo have reported that the Selecao will setup in a 3-2-4-1, and despite not being the 4-2-3-1 used against Japan, there's every reason to believe there will be a similar approach in this new system.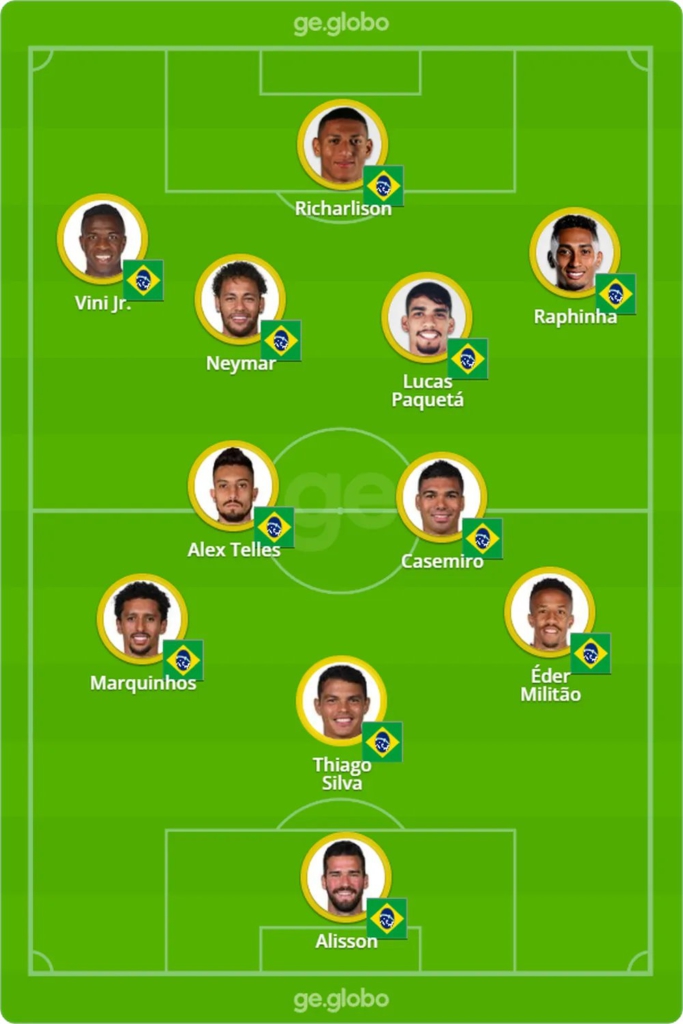 Neymar will stick to his free role from the game against Japan, while Paqueta could shuffle between attacking midfield when Brazil attack, and in defense Brazil shifting to a back 4 with Telles moving to leftback will have Paqueta play central midfield - a pivot with Casemiro.
Tactical preview
The Black Stars have often started with a back 4 before switching to a make-shift 'back 3' in-game, and a similar approach will work against Brazil.
The Selecao's 4-2-2-2 shape when pressing, is meant to trap opponents centrally, and also gain an immediate offensive advantage when they win the ball back, since there's a high probability they might have more numbers in dangerous areas.
Meaning, the Black Stars' 'back 3' during buildup will work against Brazil, as they will immediately have numerical superiority [3v2] against the first wave of pressure.
However, the sole pivot of a 3-1-4-2 will have to be abandoned for a double pivot in a 3-2-2-1-2, as that will provide more passing options during build up and also help in recycling possession due to the number of players in central areas. Ghana's fullbacks, will also need to be positioned high and wide, while two forwards pin Brazil's center backs.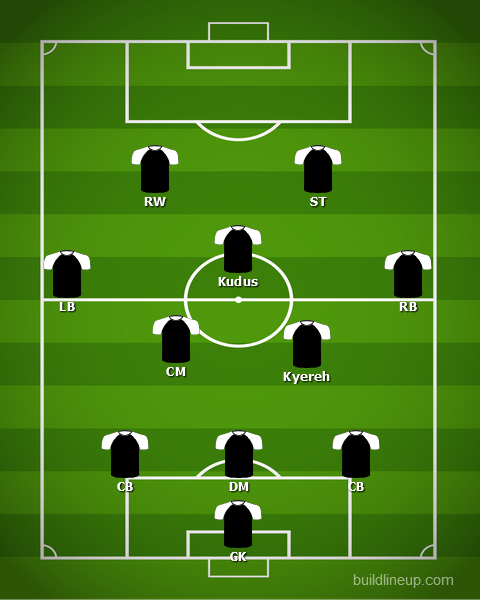 Mohammed Kudus will thrive in a free role, just behind the double pivot, and also just ahead of the new forward pair, as he has the skillset to exploit space which pops up in between Brazil's midfield and defense whenever they press and defend.
This new shape will not only give the Black Stars more passing options in possession, but will also provide a safety net against the counter-attack.
Due to Brazil's pressing and defensive system, they always readily have 3-4 players available for a fast break, a threat the 3-2-2-1-2 will help control as there'll be at least 4 players behind.
Attacking with the new shape
The 3-2-2-1-2 will have Ghana's fullbacks operating as wingers, a feature which can hurt Brazil since they defend narrowly, as shown versus Japan.
Meaning when quickly worked wide, fullbacks will have good time on the ball to put good crosses into the box.
An alternate application of this shape could also have one player in the double pivot push up in support of the attack, in a box-to-box role.
This is particularly important because Brazil's wide players sometimes drop deeper to help their fullbacks in defense. So pushing up from a pivot will give the Black Stars unpredictability as they won't have to rely solely on wide areas to create chances.
That box-to-box role is one Kofi Kyereh could flourish in easily, as displayed at the Africa Cup of Nations.
Ghana in defense
Defensively, Ghana should have central emphasis rather than looking to defend wide.
The need for central emphasis is because, it's around the 18-yard box Brazil come alive, with flicks, one touch combinations and off-the-ball movements - traits they are well-known for.
And their wide players; Vinicius and Raphinha in the case of Japan, only serve as decoys to stretch opposition right before an attack.
Despite starting with a forward line of four, versus Japan, Brazil ended up with about 5-7 bodies in and around the Japanese's 18-yard box in the final phase of attack.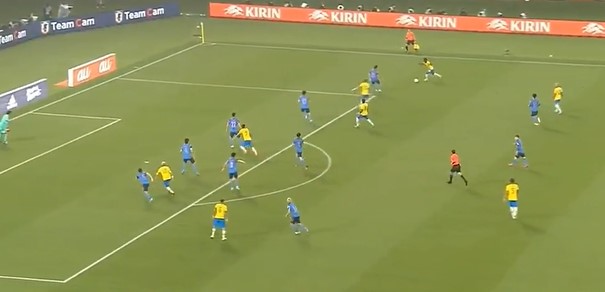 Therefore, the Black Stars could opt for a narrow 4-2-3-1 in defense to help mitigate Brazil's central threat.
Conclusion
The Black Stars will definitely know they have their work cut out for them, and might have to defend for long periods of the game. However, they have to adopt a proactive approach to defend, and not solely sit back and look to hit Brazil on the counter. They will need to try and assert themselves on the Brazilians by retaining more than some portions of possession when they get their moments.
A good result here will build confidence ahead of November 24, while a bad one could do damage to the team before a ball is kicked in Qatar.
DISCLAIMER: The Views, Comments, Opinions, Contributions and Statements made by Readers and Contributors on this platform do not necessarily represent the views or policy of Multimedia Group Limited.