It is not easy to get common spaces where members of a community can interact together and get the opportunities to build and sustain their social works and jobs.
In Ghana, setting up businesses seem to be the ideal thing anyone can do to grow their earnings. For startups, working from home seem to be convenient, but at a point when the business begins to grow, getting an office location becomes something to grapple with.
The need for an infrastructure that ensures access to essential resources to boost businesses cannot be overemphasised, as business owners can enhance their social networks and allow clients to share information and opportunities.
The JoyBusiness Van took a tour of the ComUnity Spaces, a company that is helping startups with office spaces.
"ComUnity Spaces started off with one of our clients who wanted to have an office space around East Legon and as we tried to help this client, we realised that the rent was a bit above what a startup could actually afford, and at that time, he didn't even have the team to fill up a house.
"We came up with the idea that we're going to just share the space so my business was going to take part of the space and his business was going to take part of the space – that is how it actually started," Emmanuel Anni Acquah, a co-Founder of the ComUnity Spaces.
Most businesses do not need any big space to operate; they only need that prime location to reach out to millions of customers.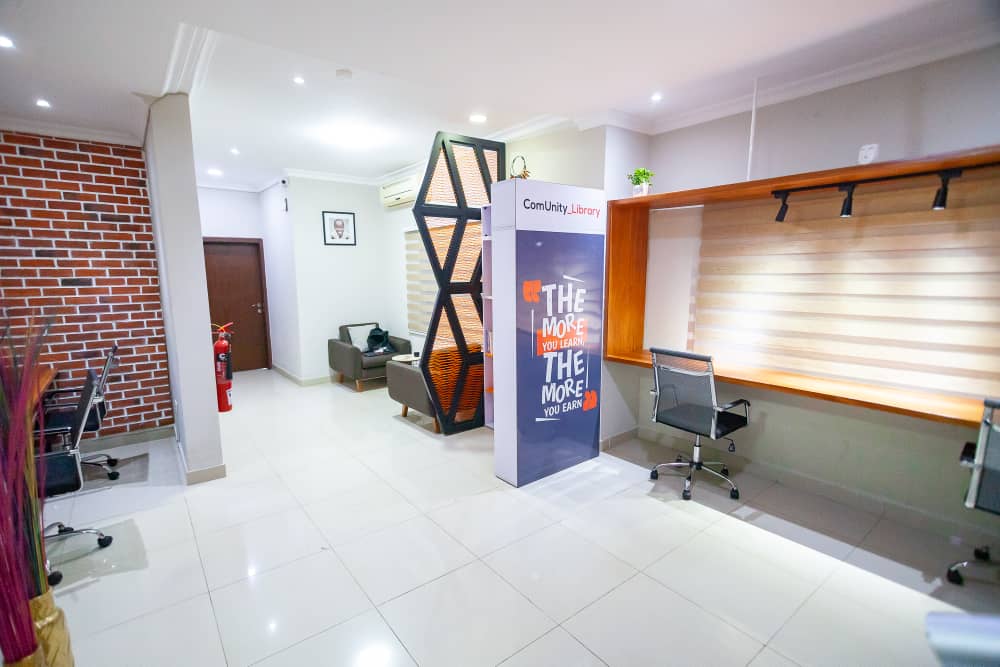 In the country's capital of Accra, the average monthly office rent is close to $2 or even more per square foot, and it keeps going up.
"You can imagine; in our economy, if you want a location for your business, the first thing is that you want it to be in an area that your customers are willing to come to. If that location is that prime, then you're going to be charged in dollars, and they would require you pay one year or two years advance."
This motivated founders of the ComUnity Spaces to start that initiative that would be affordable for the average business owners "to be in a location that makes sense for your business and at the same time be able to afford and be able to pay in ways that are comfortable to your working capital."
Members can access facilities of ComUnity Spaces at any time each day, so far as their finger prints are registered for easy accessibility.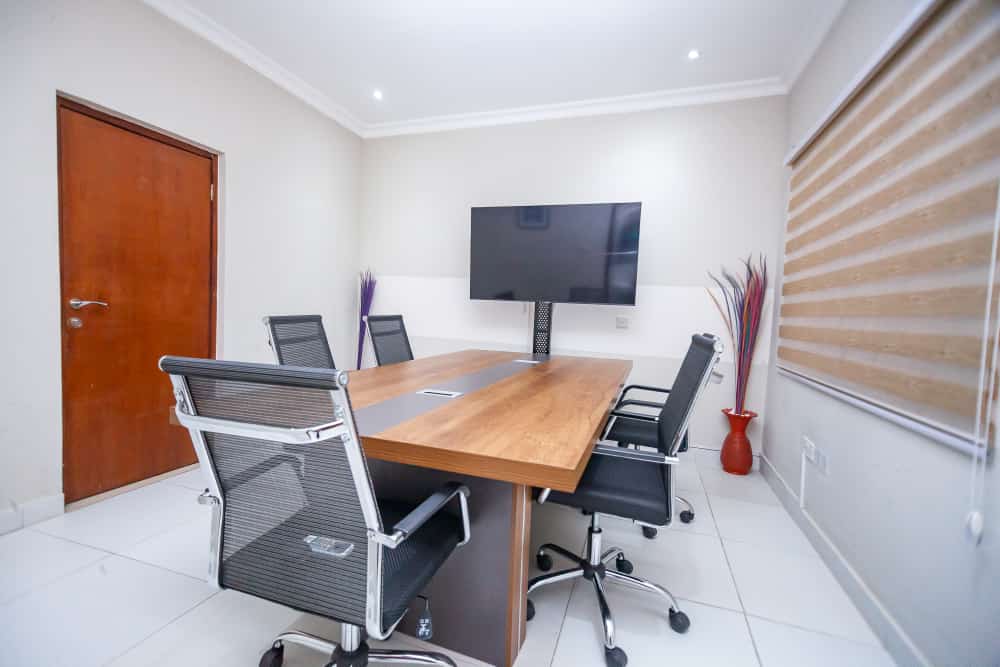 Located in East Legon, ComUnity Spaces has been able to serve over 50 clients since it started operating in 2021.
"We have different kinds of clients. There are clients who come in just for the address; they take the business address and come in as and when they need to have a meeting or when they need a day out in the office.
"We also have those who actually take on longer term space with us – they take a month or a quarter or a year," Emmanuel Acquah says.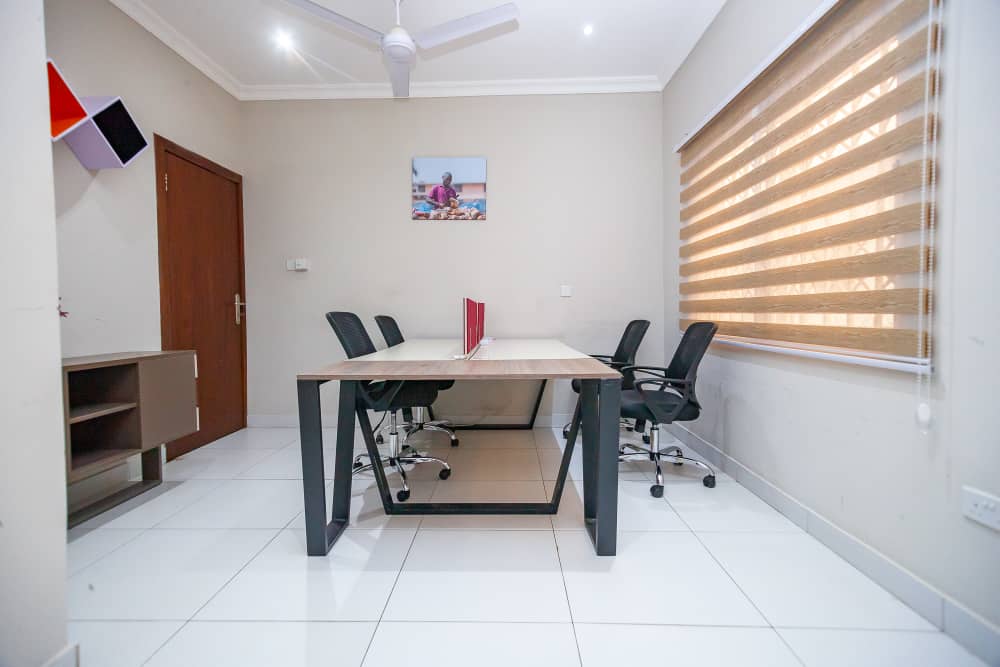 Aside from the provision of equity for all startups, the initiative is also helping develop social capital – business owners are equally making healthy choices to enjoy quality services.
Although the concept of co-working spaces is relatively new in Ghana, businesses are beginning to get used to the idea.
There is an advantage.
Emmanuel says, "It actually brings a plus to your business because you are able to stay in the same location with other businesses that becomes like an ecosystem. So you find that your business code complements that of another business – you could begin to have partnerships."
Aside from managing the facility, ComUnity Spaces tries to build very good relationships among businesses occupying the space. It plans to have facilities in communities around the country.
They are currently piloting one of their Spaces in Tema Community 25, "where we are exploring how this concept is going to work with neighbourhood communities where several urban people live."
In addition, they are setting up systems at prime locations to allow more business owners keep their address with them for enhanced exposure and market.
Emmanuel recognises that there are challenges, including the dynamics of Ghana's real estate market.
"The dollar rent in Ghana is a problem, but I'm not sure how it's going to be solved. You could actually have members sign up and we charge in Ghana Cedis, you could be looking at abreakeven position but once the exchange rate changes, you could land with a loss."
Just like their name goes, they are companies united in a space. The idea is to have as many companies as possible one space.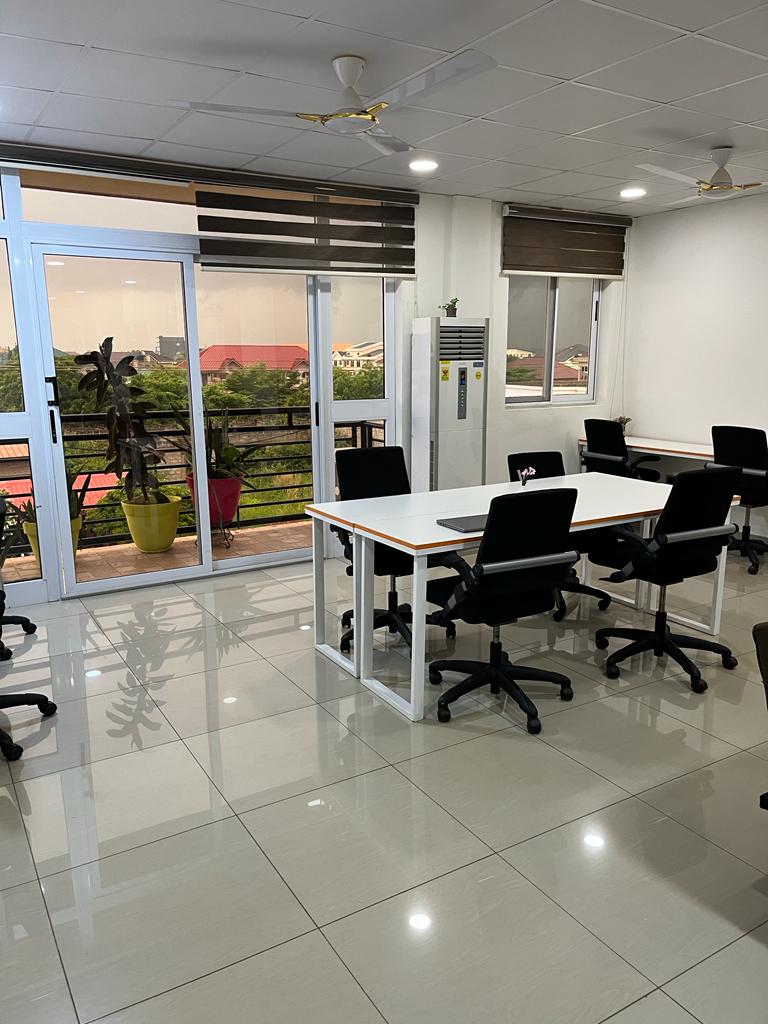 "I have an organisation; we didn't want to invest fully in all the office setup. We found that [ComUnity Spaces] to be very valuable. It's in a central location, it's easy to meet people around where it is located in East Legon. It's one of the key things we considered.
"Also, given that all the office accessories are available, it makes it easy for us in terms of owning assets – it makes very light for us to work," Osei-Tutu is a member of ComUnity Spaces.
He says being part of the Spaces afford them the opportunity to invest money they would have used to rent offices into the business, "that is why we find this place very good for us."
"I think the unique service we have is having an office that you don't have to be present but you can still get the opportunity to serve your customers and customers can even walk in and they would still be served," says Mr Osei-Tutu.
But why should young entrepreneurs be interested in joining ComUnity Spaces?
"It will afford them the opportunity to save the capital they have. Rather than using the capital they have to finish an office, they have the opportunity to come to the fully furnished office. I am sure even when they require laptops, ComUnity Space can offer them some laptops to use and pay something small.
"At least, it gives you the opportunity to start small, watch your investment and then if you grow and think you are now fine to rent your accommodation, you can do that," Mr Osei-Tutu admonished.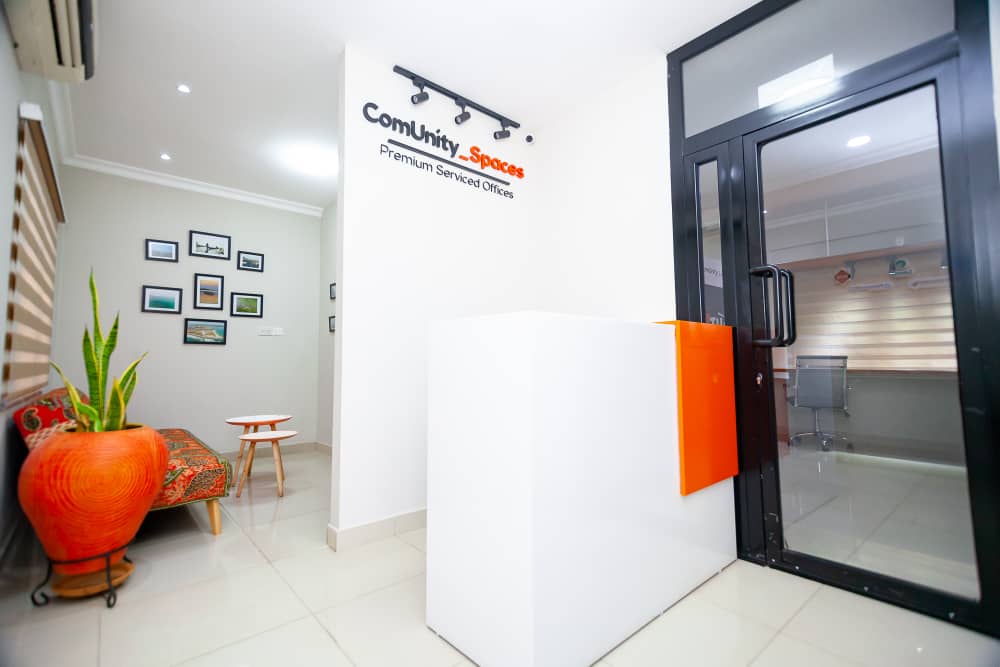 ComUnity Spaces has a co-working space, business lounges, meeting rooms, private offices and team offices.
"But quite apart from that, we are a community and we want to be in every community; so, wherever there are workers, we want to have a facility with a space where people can actually work very close to their homes," Emmanuel noted.
DISCLAIMER: The Views, Comments, Opinions, Contributions and Statements made by Readers and Contributors on this platform do not necessarily represent the views or policy of Multimedia Group Limited.