A Christian organisation, International Needs Ghana, has commissioned a GH₵58,000 mechanical borehole at Nuaxorve in the Akatsi North District of the Volta Region.
The project makes it possible for the residents to access safe drinking water and solve their long-standing water problems.
Speaking to the media at the event, the Director, International Needs Ghana, Mr. Cromwell Awadey expressed his excitement at the new facility.
"International Needs Ghana is excited today because we have commissioned a borehole that we have provided for the Nuaxorve community. We had a request from the community in 2021 that they needed support for a borehole. So we responded late last year and we finished the construction early this year and today, we are commissioning it.
"What we see here today, everything we see is about GH₵58,000 and it's a joy that International Needs can share the joy of this community having pure and potable water through this borehole," Mr Awadey said.
He also urged residents to maintain the facility for the greater good of the community and also promised that there will be a medical outreach to deal with some of the water borne diseases.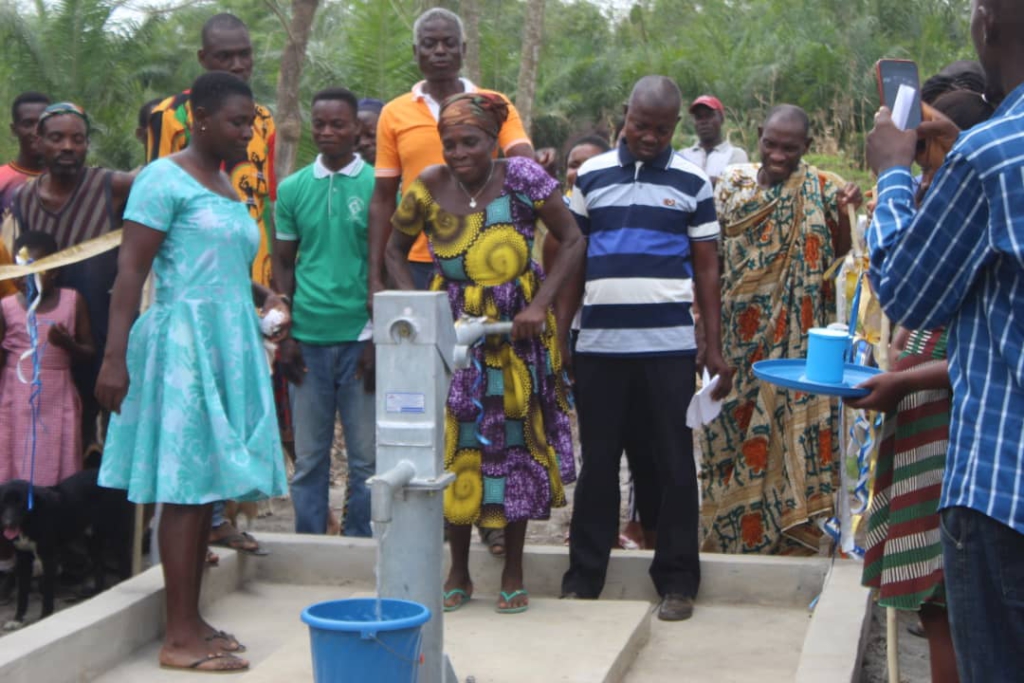 The Chief of Nuaxorve, Togbe Adzakpa II could not help but recall how they used to suffer for water while thanking International Needs Ghana.
"Some few years ago, potable water was a headache to us. Sometimes our wives go to fetch water early in the morning and return around 9, 10 O'clock. Sometime later, we had a borehole, but it also left us on the way and it became a great worry.
"International Needs came to the community to teach our adolescents, and through that, we asked them to help us with good potable water and today by the grace of God, we have a new mechanical borehole and we are so happy. Our children will now go to school on time and we won't have all those water-borne diseases anymore. Thanks to International Needs Ghana," Togbe Adzakpa II said.
Madam Paulina Tordzro, a resident recalled how they suffer to get water.
"We used to trek for more than 4 hours to get water before the dam came. But the dam isn't safe for cooking. Our children get diseases like Guinea worm from the dam and in harmattan the water gets dried up and sometimes our children don't even get water to bath and go to school. This gave us a lot of worry.
"Today, this water is good for cooking and our children will no longer suffer. Thanks to International Needs."
"The government came to provide us with a borehole, we used it for about 2 years and it suddenly stopped functioning. It came to a time you can only fetch 20 pans a day. Water is life. Thanks to International Needs,' 'Mr. Kwabla Avorkpo, another resident of Nuaxorve told the media.
The Assemblyman for the area, David Vorsah thanked International Needs for the assistance.
However, he said the single borehole won't be able to sustain the whole community adequately.
He, therefore, pleaded with International Needs Ghana to extend it to other parts of the community.
International Needs Ghana Association in the Akatsi North district began when the 'Trokosis' were liberated in the then Akatsi District.
Later, International Needs Ghana implemented the Safe and Protective Environment for Adolescent Development (SPREAD) project in Nuaxorve.
The project team observed the absence of a reliable source of clean potable water in the community was adversely affecting adolescent development.
In 2021, a request was made by the SPREAD team on behalf of Nuaxorve to support the community with a borehole.
The project has finally been made possible.
DISCLAIMER: The Views, Comments, Opinions, Contributions and Statements made by Readers and Contributors on this platform do not necessarily represent the views or policy of Multimedia Group Limited.