A not-for-profit independent organization for journalists, Journalists Sanctuary International (JSI) has presented protective equipment to the Joy and Adom clusters of the Multimedia Group Limited to help protect frontline reporters from attacks.
The NGO, which was founded in January 2022 by multiple award-winning journalist, Latif Iddrisu of JoyNews, promises to give meaning to protection of journalists in Ghana and around the world.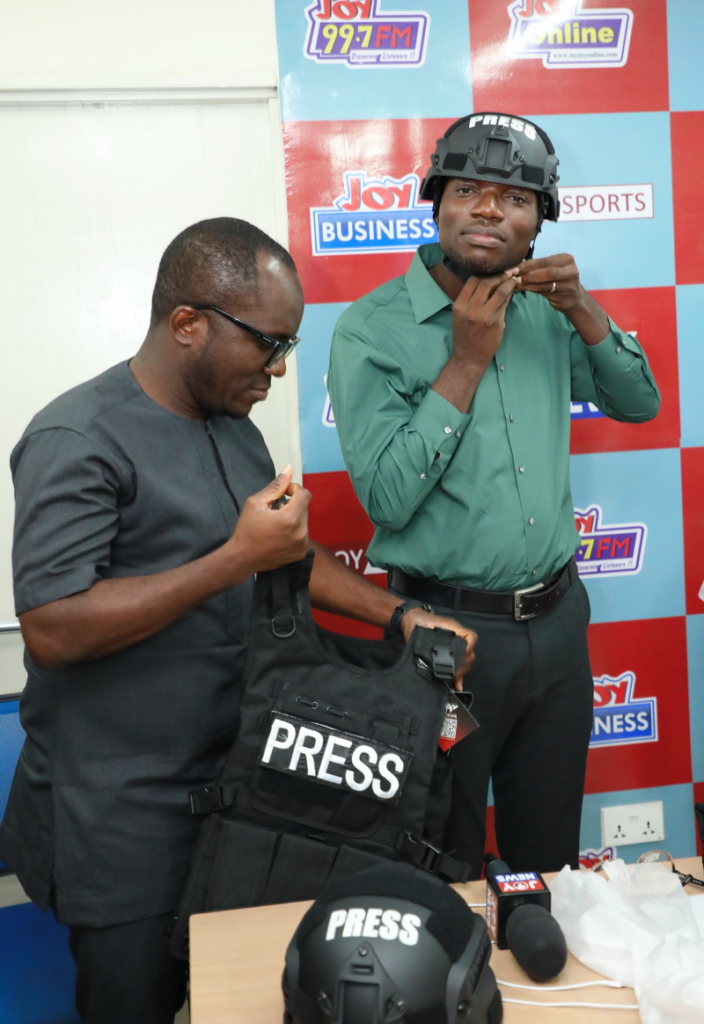 The organization has been set up to uphold the safety of journalists who at great personal cost, go to perilous places less travelled by other reporters and take frontline position to report on issues that are given less, or 'armchair' news coverage because of the risks involved.
JSI does this by supplying journalists with protective equipment (Military standard helmets and bulletproof vests). Additionally, expertly designed training on security and safety, and the significance of environmental awareness are offered to journalists.
Presenting the protective gear to the team at JoyNews, Professor Audrey Gadzekpo who is a member of the Board of Directors at JSI said:
"Latif is on course to turn the unfortunate injury he suffered following the attack by some officers of the Ghana Police Service into something positive. With this organization, Latif plans to go beyond advocacy for journalists by giving practical meaning to journalists in newsrooms across Ghana, with a long-term plan of reaching out to newsrooms in the West African sub-region."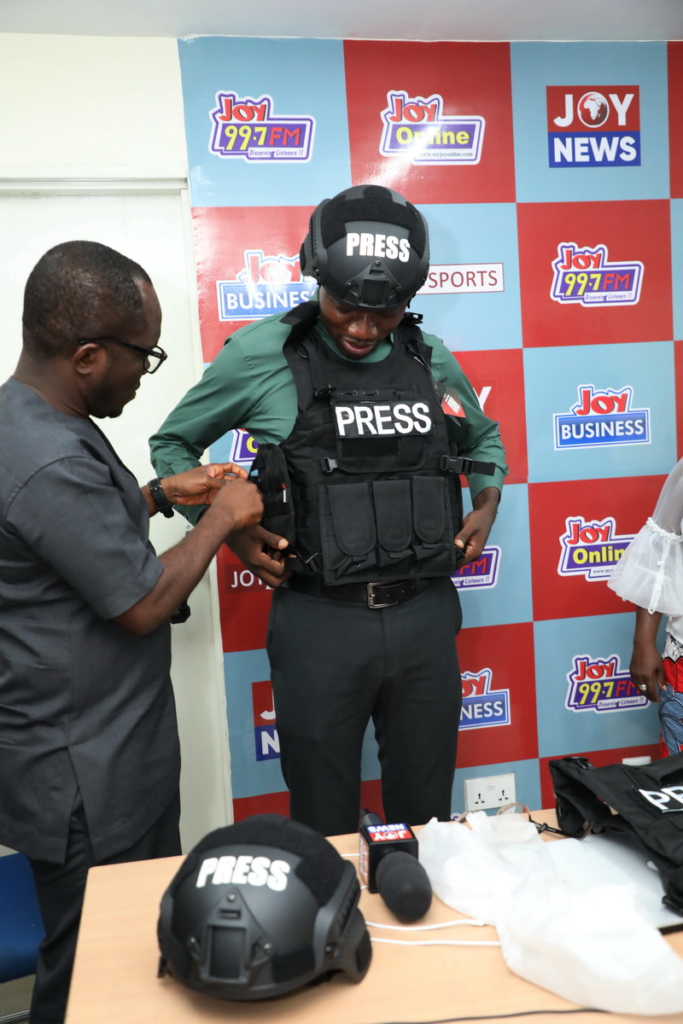 On his part, the Founder of Journalists Sanctuary International, Latif Iddrisu said, "the presentation of the military standard helmets and bulletproof vests is a symbolic gesture to get managers of media organizations to prioritise the protection of the reporters they put on the ground to go and bring the news."
Beyond the distribution of protective equipment and the specially designed safety training programs, Journalist Sanctuary International offers refresher training on journalism trends aimed at getting reporters to stay relevant in a craft that is fast changing with time.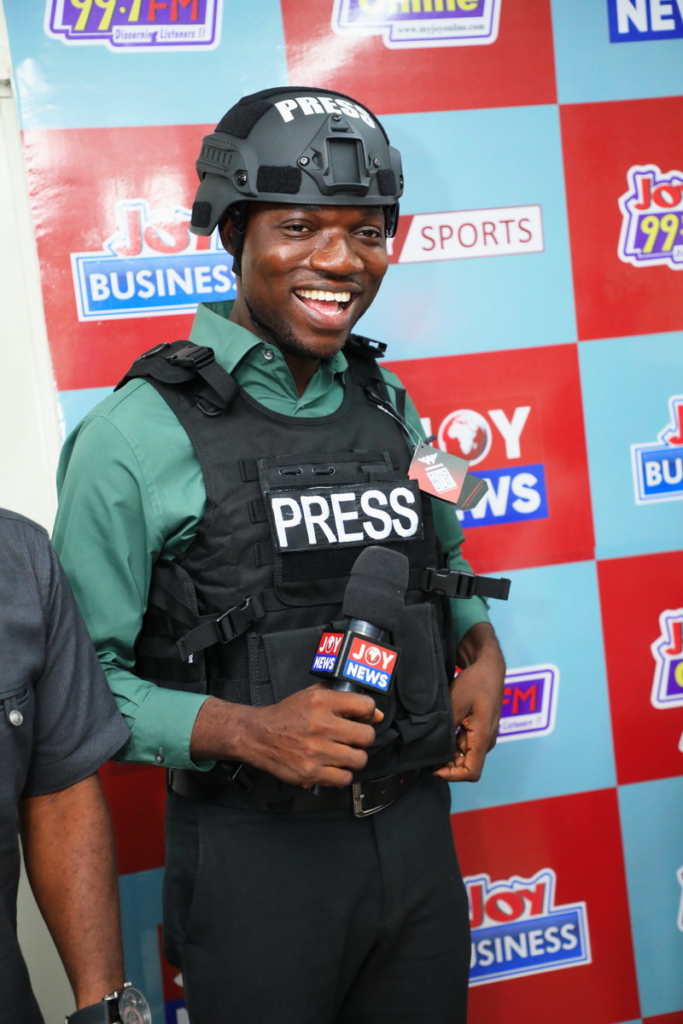 JSI also marshals, publishes and takes action on behalf of journalists who may come under any form of attack while doing their work anywhere in the world.
One other important role JSI performs is to conduct research, engage experts to draft bills, and lobby the legislative branch of government for the passage of the same into law to help create a sanctuary environment for journalists to practice their trade without fear.
Mission:
Journalist Sanctuary International promotes the safety of journalists not only through advocacy, but supplies them with critical safety tools for their work.
Vision:
To create a world in which journalists feel safe and go about their independent work without having to look over their shoulders over the fear of an attack.
History of Journalist Sanctuary International
On March 27, 2018, the promising journey of a budding journalist was derailed when some officers of the Ghana Police Service, brutally assaulted him and broke his skull in the process.
The head injury and its cascading effects slowed what many journalists and members of the public considered at the time as a promising journalism career.
Following that injury, and after years of treatment, Latif did not give up on taking up the frontline position to bring the news to the audience. He defied all odds to crawl in tunnels, flew in choppers, sat in the bucket of tricycles in forest reserves, and stood on rafters on river bodies to report about illegal mining menace in Ghana, his motherland.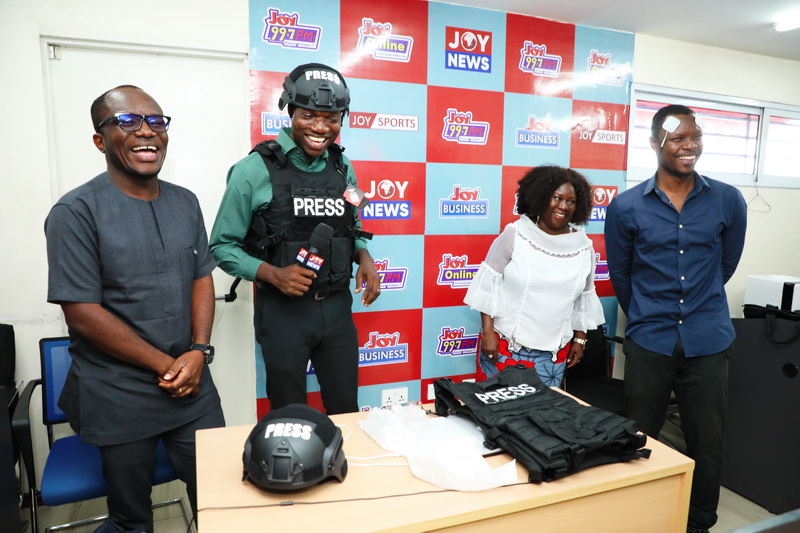 He also risked it all to walk and speak with land guards (dangerous, outlawed and armed gangs who go about using violence to protect or forcefully confiscate parcels of lands) in a rare quest to tell stories about the languardism phenomenon; stories that not many journalists tell in Ghana where he practiced his craft.
The journalist also showcased his investigative journalism prowess by undertaking a sting operation in a report that uncovered how some businesses illegally evaded tax in Ghana.
As a workaholic, Latif Iddrisu stubbornly got back to frontline reporting to produce these and many other impactful journalism masterpieces against advice by local and International medical specialists who treated him for the head injury.
However, persistent relapses of the injury forced him to stay out of work for days and in some instances weeks whenever he defied medical advice to undertake 'difficult' assignments in Ghana, and when he had to travel to Kenya, Germany, UK, USA, and Switzerland on international assignments.
As passionate as he is about the journalism profession, Latif Iddrisu in January 2022, conceived and established Journalists Sanctuary International (JSI) in order to prevent other journalists from suffering similar damages to their person in the event that they get assaulted while doing their independent work.
DISCLAIMER: The Views, Comments, Opinions, Contributions and Statements made by Readers and Contributors on this platform do not necessarily represent the views or policy of Multimedia Group Limited.