The first edition of the 'Health and Wellness Series' initiative by Joy FM hit the airwaves yesterday, August 1, leaving our audiences informed, educated and satisfied.
The program was live on Joy 99.7 FM and streamed live on Youtube, with speakers Dr. Yaw Osafo (CEO of Medicas Hospital), Ella Yayra Saku (Registered Dietician), Dr. Ruth Owusu – Antwi (Mental Health Specialist), who spoke of various aspects of health leaving our audiences absolutely satisfied. One caller intimates that, "this is great stuff and I can tell you, you have to pay for this session in North America, and Ghanaians are fortunate to hear this on their airwave for free". The Health and Wellness Series was hosted by Lexis Bill, host of Drive Time on Joy.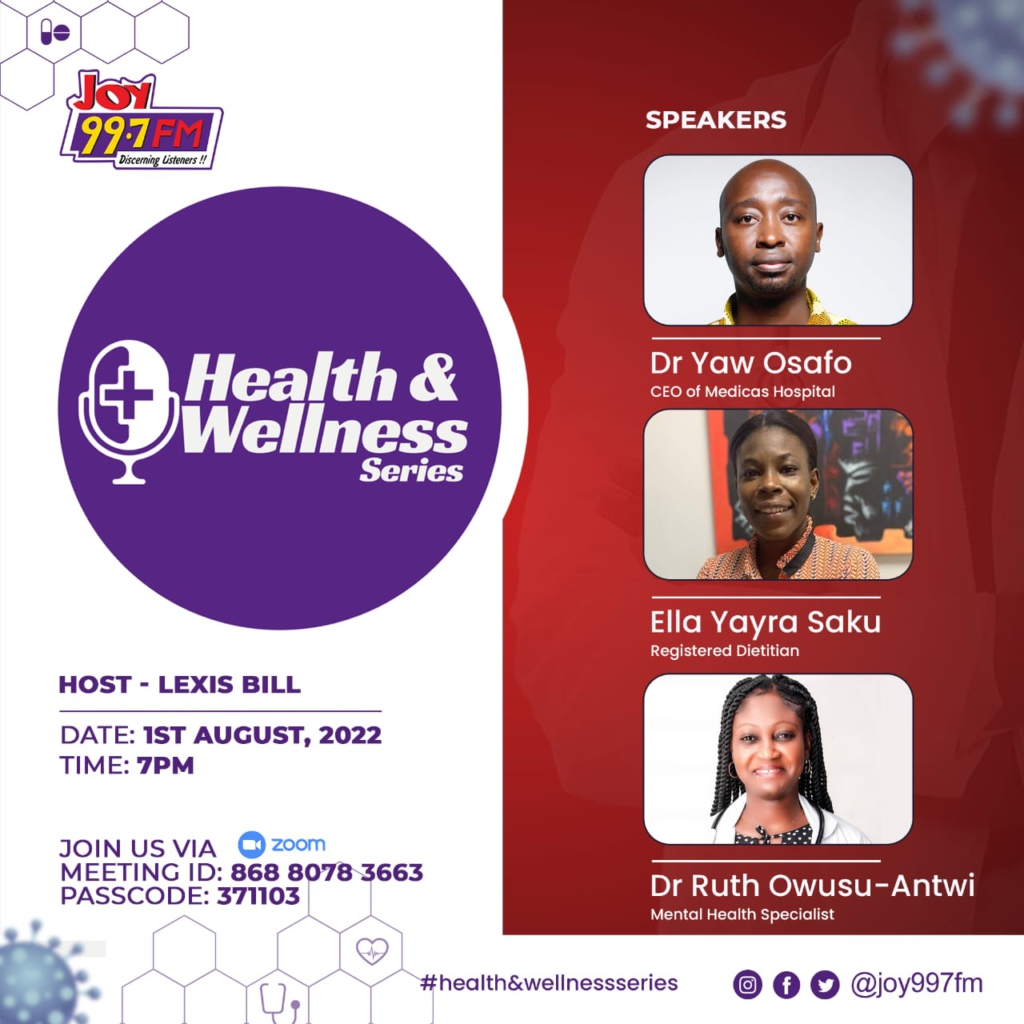 Dr. Yaw Osafo who is also the resident doctor on Drivetime on Joy, once again explained his excitement behind the initiative. "People have a lot of interest in health issues but we never give them the platform, but tonight, we will give patrons ample opportunity to be interactive with us", he disclosed in his preliminary remarks.
His remarks were followed by Registered Dietician Ella Yayra Saku, who spoke on 'Family Health History and Nutrition'. She answered a very important question that is often neglected – 'Does your family health history and your personal dietary habit have anything in common?' Her session also tackled the importance of being conscious of one's family health history as well as whether or not it should inform a person's choice of food. Notable among the information shared by Ms. Saku is cultivating the habit of visiting a dietician after gathering information on family health history, in order to apply preventive measures to some health conditions.
Next was Dr. Ruth Owusu – Antwi who elaborated on the importance of good sleep, spelling out its correlation and effects on an individual's mental health. According to her, "stress is the number one risk factor for all mental disorders", thus the advocacy for proper sleep for everyone. Dr. Owusu – Antwi revealed, "It is very important that we sleep. Sleep forms about a third of our entire existence". She broke down the 5 stages of sleep and their various effects on the human body, highlighting the importance of making a conscious effort to have enough sleep, considering the quick-paced society we live in. She also stressed that every hour of sleep lost must be replaced with four hours of sleep to be in good health. Dr. Owusu – Antwi advised that adults must try to get at least 7 hours of sleep 4 times in a week.
Dr. Yaw Osafo who spoke after Dr. Owusu – Antwi educated listeners on the role of hormones. He focused on the important role played by the thyroid gland in humans. He advised that attention be paid to this butterfly shaped organ located at the area of our neck where men often put their bow tie (The thyroid gland) because low levels of the hormone, termed Hypothyroidism, could ruin a child's life forever. Dr. Osafo's session detailed some facts about Hypothyroidism, noting that it's more common in women older than 60 years, even though it affects children too. He revealed some signs and symptoms of hypothyroidism, including forgetfulness and poor memory, slow heart rate, reduced cardiac output of blood, constipation, and anemia.
The program fulfilled its promise of interaction; activating the phones and welcoming questions and comments from listeners and the public. All three speakers addressed various questions from our audiences topics discussed to the delight of all.
The 2nd edition of the Health and Wellness Series will be in December, ahead of the Christmas festivities.
Kindly watch a playback of the show below