Former JoyNews journalist, Manuel Koranteng has joined the British Broadcasting Corporation (BBC). This comes just a year after being named the Komla Dumor Most Promising Journalist by the Ghana Journalists Association (GJA).
At 25, Manuel joins a tight list of former journalists of The Multimedia Group Limited, including Komla Dumor, Akwasi Sarpong, George Addo Jr, and Daniel Dadzie, at the BBC to work with the Corporation on-site in London.
Manuel holds a Bachelor of Arts Degree in Political Science and Philosophy from the University of Ghana and is currently pursuing a Master of Arts Degree at the University of Sussex in the United Kingdom.
Earlier in 2023, Manuel was nominated for the Discovery of The Year Award alongside Black Stars and West Ham United show-maker Mohammed Kudus, respected Photographer and Curator Paul Ninson, and gospel sensation Perez Muzic, in the 2023 edition of the prestigious Exclusive Men of the Year (EMY) Africa Awards.
As the only mainstream journalist in the category, Manuel's EMY Africa nomination was a deserving acknowledgment of his impressive journalistic work over the years.
His professional journey has been a shining example for many young people who aspire to make a difference in their society. In July 2023, Manuel mounted his one-day exhibition on Ghana's first photojournalist and Dr. Kwame Nkrumah's personal photographer, James Barnor in Brighton, England.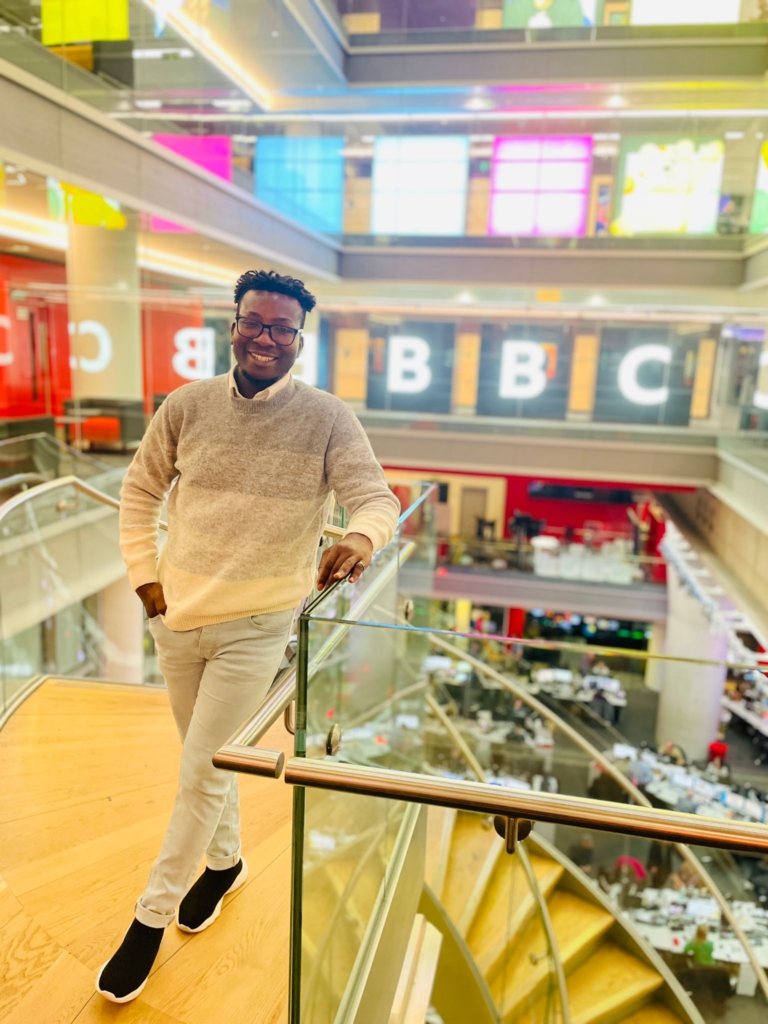 Journalism Journey
Manuel Koranteng's journalism journey started right from his days as a student. His sterling output at the University of Ghana campus-based Radio Univers, facilitated his meteoric rise to become Morning Show host at the end of his second year. In December 2019, Manuel was awarded Best Student Journalist of the Year by the National Union of Ghana Students (NUGS) for his leadership of the team of student journalists to cover several big stories, including the Ayawaso-West Bye Election, Student Riots, Sex for Grades Scandal, and the Covid-19 pandemic in Ghana.
With one of the country's first two COVID-19 cases recorded at the University of Ghana, the management of the university insists the work of Manuel and his team was instrumental in shaping the university's response to the outbreak of the virus.
When he was scouted by The Multimedia Group in 2020, Manuel fit perfectly into the fast-paced Joy Newsroom. He played a crucial role in the station's coverage of the 2020 Elections, reporting on the Greater Accra Regional Campaign Tour of former President John Mahama. He was a regular anchor of the 6am News on Joy FM.
Apart from anchoring major news bulletins both on radio and television, Manuel was the lead reporter for two of the station's flagship programmes – Joy Clean Ghana Campaign and NSMQ on Joy.
At the University of Sussex, Manuel started and hosted the weekly political and current affairs programme on Brighton-based URF Radio – Talk 360, attracting massive listenership within the city and earning him the coveted Spirit of Sussex Gold Award. It is awarded by the University to students who excel beyond their academic responsibilities.
But even before his entry into any radio or television studio, Manuel had always been drawn to the news. At Accra Academy where he had his high school education, he started and led what would later come to be known as Bleoo News. This was a daily summary of the biggest news stories which he and his colleagues read out to over 2,000 students at the morning assembly.
Impact in Ghana In Ghana, many of Manuel's stories have led to significant changes and triggered policy conversations. His award-winning story on a 10-year-old homeless boy who slept rough under the Kwame Nkrumah Interchange with his mentally ill mother, revived a 2017 government of Ghana policy dubbed "Operation Get off the Streets for a Better Life" initiated by the Ministry of Gender, Children and Social Protection, with a focus on expanding existing shelters in Accra and Kumasi for the purposes of rescuing more homeless children.
In 2022, his "Mind Matters" documentary highlighted the story of Mariama Issifu, who was sexually abused by a mental health nurse, during her treatment for Schizophrenia. Her abuser was investigated and punished as a result. According to Manuel, stories like that of Mariama and her abuser remind him of how much work there is to do in not only exposing such human rights abuses but also in securing commensurate sanctions through advocacy to deter others.
That is why he set up MentaPulse Africa, a charity organisation that provides mental health support and advocacy services for working professionals in Ghana and across Africa. He believes that with over 60 percent of the world's population currently falling within the working bracket, governments and employers in Africa must begin to prioritize issues of workplace mental health and employee wellbeing.
In addition to his new role at the BBC which started in October, Manuel will be working as a News Content Officer at the University of Brighton. Though permanently based in London now, BBC's status as a partner of JoyNews will allow Manuel to still report for the Accra-based outlet from time to time while focusing on his new roles in London and Brighton.
DISCLAIMER: The Views, Comments, Opinions, Contributions and Statements made by Readers and Contributors on this platform do not necessarily represent the views or policy of Multimedia Group Limited.