For seven months, Evelyn Gadri, a former tollbooth worker has been eagerly waiting for the government to reassign her to another job.
She has been broken, desperate and depressed since the government announced the cessation of road tolls.
She has, however, been nursing hopes that government will re-assign her to another job, as promised by Finance Minister, Ken Ofori-Atta, when he announced the abolition of road tolls on November 17, 2021.
"The toll collection personnel will be reassigned. The environmental pollution will more than offset the revenue forgone by removing the tolls," he said.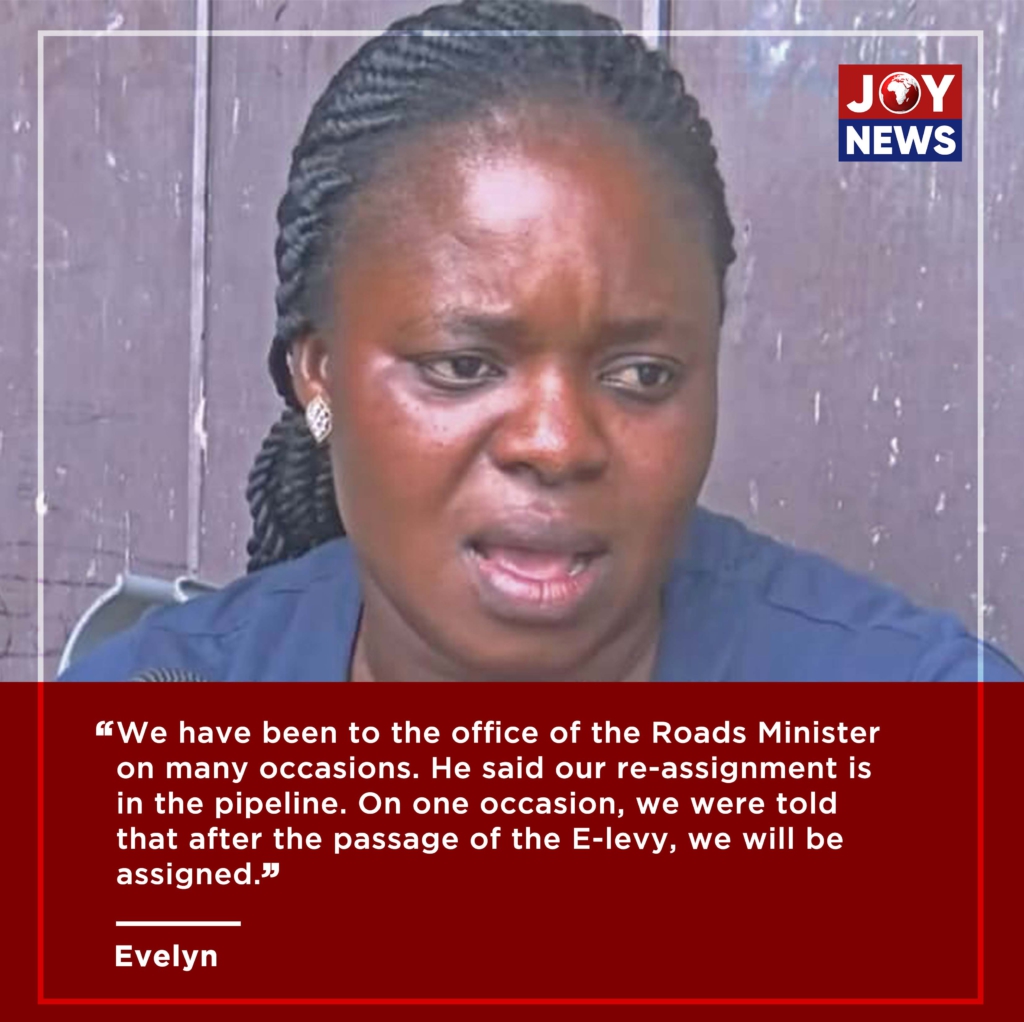 The Roads and Highway Minister, Kwesi Amoako-Attah, then hurriedly directed cessation of the collection of tolls nationwide, effective midnight of November 18, 2021 after Ken Ofori-Atta announced the abolition of road tolls.
There was no plan on how the government will engage the workers. In February 2022, the Roads and Highways Ministry promised toll workers will be paid until government reassigns them.
But the tollbooth workers say they have not received salaries yet.
Hundreds of them, including persons with disabilities employed to collect tolls, have been picketing and crying out to the government to re-assign them; but unfortunately, the government has not followed through with the promise.
Evelyn Gadri is the breadwinner in her family - her husband's shoe-making shop was demolished and that has put him out of business.
To put food on the table for her family, Evelyn has started hawking in traffic. She dangerously weaves through vehicles, selling her wares to commuters.
But a recent incident around the Achimota Melcom traffic light area has left her in shock.
She narrates, "I usually sit close to a beggar who has twins. I saw a vehicle move speedily towards one of the children. The car crashed her legs and she was rushed to the hospital. We later heard that the child had died. We were all sad. I have never seen her again. So, I am also scared of selling in traffic."
She tells JoyNews she has returned home to brood over her problems and appeal to friends and family for help.
Evelyn has been engaging in advocacy to ensure government fulfils the promise of reassigning her to another unit so she can remain employed and get her life back on track.
Unfortunately, picketing around the Roads Minister's office has yielded no result.
"We have been to the office of the Roads Minister on many occasions. He said our re-assignment is in the pipeline. On one occasion, we were told that after the passage of the E-levy, we will be assigned.
"We went back after the passage of the E-levy but they kept saying it is in the pipeline. So, when will the pipeline be operational to carry water," she cried out.
Evelyn now lives in her mother's house at Pokuase after her husband's shop which also served as their home was demolished by the local assembly - they are unable to rent a place of their own and that has become a source of anxiety.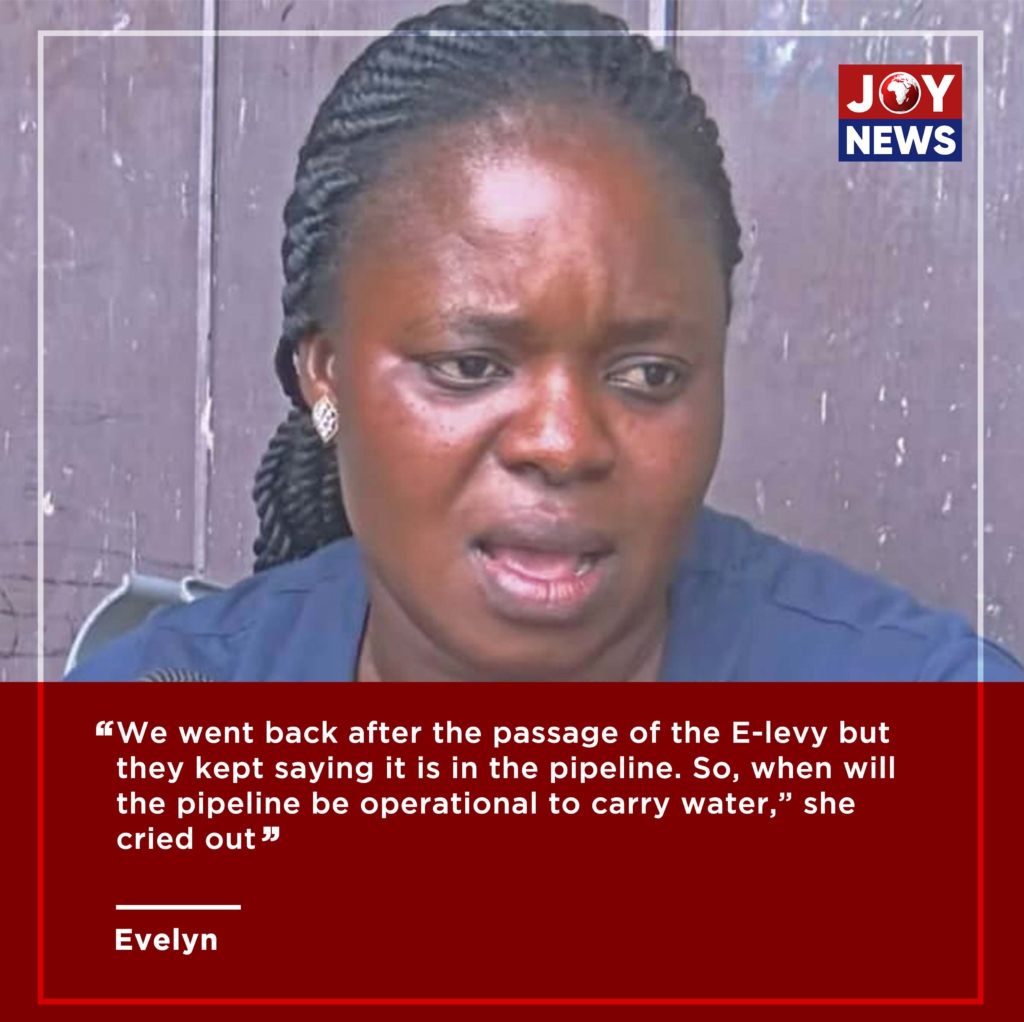 A tear rolled down her cheek as she narrated how living in her mother's house with her four children makes her feel.
"My husband's workshop was demolished. We used to sleep in the shop. We have nowhere to go. I live with my mum now. I keep praying to God to intervene. I am so worried I can't even sleep. I had a child with an "able-bodied" person.
"He abandoned us. I found a man with a physical disability and he took care of me. He married me. But he is not rich. I managed the home when I used to work at the tollbooth. But for now, I am also broke and depressed."
Filled with different emotions, Evelyn pleaded with President Akufo-Addo to intervene.
She said, "Nana, please speak up (kasa). We know your words carry weight. We don't believe the Minister of Roads. Nana, we believe in you."
Currently, persons with disabilities have to scale many barriers to get employed.
Alexander Bankole Williams, the Chairman of the Advocacy Committee at the Ghana Federation of Disability Organisations, says many of his members remain unemployed because private and public institutions refuse to employ them.
"It is difficult to be employed as a person with a disability. Many write applications but are not engaged to work; so, the tollbooth work was good news to some of our members but it did not solve all the employment challenges. It guaranteed at least 300 of our members a job. Now that is also gone," he added.
Evelyn says losing her tollbooth job has not only exacerbated her suffering, especially in these hard economic times, but has also caused her to lose respect.
"Your family respects you when you are employed. They call you for meetings because they know you can contribute to a project. But when you have no job, no family member respects you.
"We know we have impairments. The tollbooth job made us overcome our disability. But losing our jobs has further disabled us," she lamented.
Genevieve Ama Kujem also used to work at the Pobiman tollbooth. She says the news about the abolition of tollbooths is taking a toll on her. She is on medical leave recovering from a hip surgery from the news broke.
A car lost control and crashed into the booth she was working in. She was trying to get away when she fell on her hip; breaking her hip implants and worsening her condition.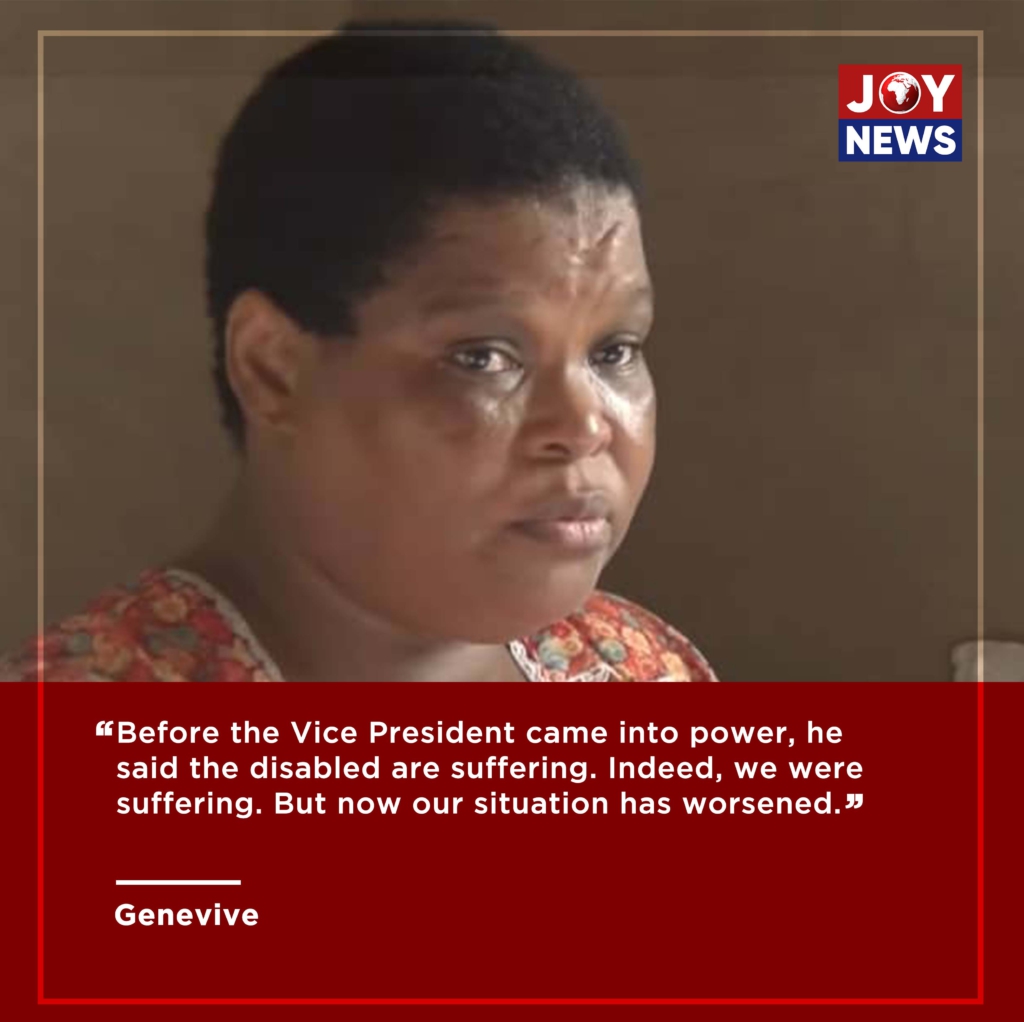 Operators of the tollbooth did not cover her hospital bill - she appealed for funds to undergo surgery and upon recovery, she was hit by the news that tollbooths had been shut down.
"I had just recovered and I was about to go to work and then we heard that I had lost my job. I just could not take it," she said.
She is now suicidal because of the high cost of living and also without a job. The ¢700 salary, though little, made a big difference in her life.
"The only money in my bank account is ¢50. My son attends Accra Technical University. Transportation alone cost him about ¢25 daily. I have not even added the money he uses for food.
"So, when I have no money, he stays at home. If God does not intervene, I don't know what I will do with my life because I am overwhelmed with different thoughts," she added.
The Ghana Federation of Disability Organisations says they are inundated with calls from their members.
The executives of the Federation say they have held many meetings with the Roads Minister but he has not given them a definite date.
"We have been told to hold on for some time, but our members are suffering. The children of some of our members are not going to school. It is not easy for them," Alexander Bankole Williams stated.
Government pledge to employ persons with disability
The New Patriotic Party (NPP) government put a smile on the faces of persons with disabilities when the Roads Minister pledged during his ministerial vetting in Parliament to employ them.
Subsequently, the Vice President, Dr Mahamudu Bawumia, made a firm commitment to do more.
He said at least a 50 percent quota will be reserved for persons with disabilities - that promise was fulfilled and the government touted it as a major achievement.
Dr Bawumia tweeted: "We have reduced the suffering of the disabled with the employment of many in 50% of our toll booths."
We have reduced the suffering of the disabled with the employment of many in 50% of our toll booths and increasing the share of the DACF to the disabled by 5O%.

We have reduced the suffering of the unemployed generally by recruiting over 350,000 people into the public sector. pic.twitter.com/2TBhwz0SDG

— Dr. Mahamudu Bawumia (@MBawumia) December 23, 2019
But now, the achievement touted by the Vice President has been eroded because the workers have not been reassigned.
Genevieve took the opportunity to Dr. Bawumia not to forget about them.
"Before he came into power, he said the disabled are suffering. Indeed, we were suffering. But now our situation has worsened," she said.
DISCLAIMER: The Views, Comments, Opinions, Contributions and Statements made by Readers and Contributors on this platform do not necessarily represent the views or policy of Multimedia Group Limited.